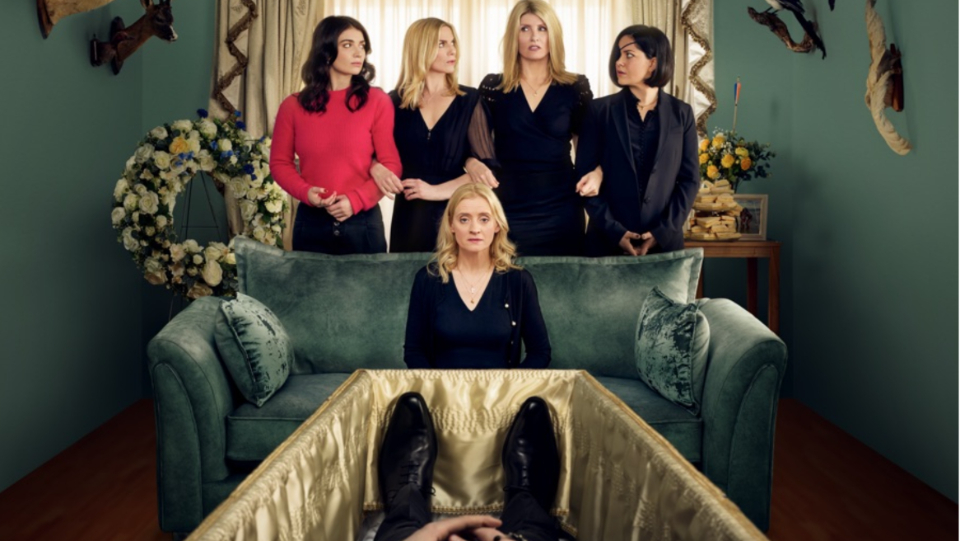 After Thanksgiving—it's the perfect time to reconsider what should be done about the painfully obnoxious right-wing relative who casts a pall over family festivities!
Sharon Hogan's clever, often uproarious, slightly dark new comedy Bad Sisters provides one answer. The brilliant Irish comedienne (Catastrophe, Pulling and Divorce) has previously won Britain's Comedy Award for Best TV Actress. In Bad Sisters she developed the show in addition to writing, producing, and playing the eldest Garvey sister.
Lead actor Horgan does everything to helm the ship. She is an astute, intuitive actress, holding the center mystery together well with her skillful timing and reactions. The other Garvey sisters, played by Eva Hewson, Anne Marie Duff, Eva Birthistle and Sarah Greene, shine in turn as well developed cameos clearly related in fun-loving spirit.
It's not Thanksgiving in Ireland. But what Horgan's five Garvey sisters have to deal with on a daily basis is the villainous John Paul (Claes Bang), a priggish hard conservative who has inflicted not only constant verbal abuse, but economic, emotional and social woes on their family. John Paul has married Grace Garvey and made her life a living hell as fundamentalists often will! He extends his daily drama to the rest of the Garvey clan, threatening their finances, betraying their trust, spreading havoc. The sisters repeatedly make clear that John Paul's anti-social actions are rooted in his racism, misogyny, homophobia, religiosity and discriminatory conservatism.
John Paul is mercifully dispensed with before the series begins, though we see all too much of him in explanatory flashbacks. Solving the mystery of his death is the puzzling task of Bad Sisters. The sisters themselves are not toe-the-line über moralists. They live a robust, often bawdy but always loving and caring existence. Besides, it's Ireland and they drink just a bit as well as frolic to the point of roughhousing.
John Paul's life had been built on the sorrows of those he abused. Of course, he deserved an early end to imposing his miseries on others. We just don't know who it was that helped fate find social justice. He so resembles another small-minded character whose nastiness has thrown a larger than life shadow over the American landscape for the last several years.
Less interested in finding John Paul's killer and more interested in making sure they do not have to pay out insurance monies are the Claflin and Sons Insurance firm. Brian Gleeson (Peaky Blinders, Snow White and the Huntsman) as Thomas Claffin is a lesser villain almost as ghastly as the loathsome John Paul. He's insulting, morally bankrupt and totally inept. He makes his attractive, soft-hearted half-brother Matt Claffin (Daryl McCormack) seem upright, almost heroic. Their investigation of John Paul's death is a smart, well constructed subplot which timely intersects the slow roll reveal of the main event.
Finally, special mention should be made of the menacingly effective use of Leonard Cohen's "Who by Fire" covered by PJ Harvey in the program's death credit montage.
Is whoever killed John Paul evil or a hero? Are the sisters really "bad?" The answer is streaming on Apple TV. Is the show worth watching? Here's one minor clue (no spoilers here): Bad Sisters has received a 100% rating by Rotten Tomatoes film critics!