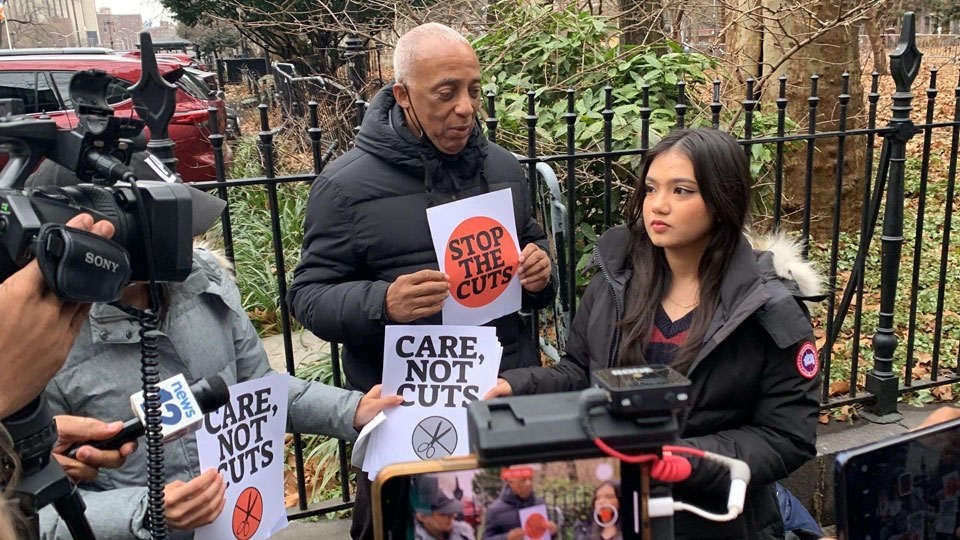 New York, N.Y. — On January 12, three students from Bard High School Early College (BHEC) Advocacy Club led a student wide walkout, citing widespread Department of Education (DOE) budget cuts which have impacted their quality of education.
This walkout comes in response to the adopted 2023 City Council budget which slashed nearly $557.5 million dollars in funding, and decreased the overall education budget by one billion dollars. The organizers' walkout coincided with a planned revisit of the 2023 budget on January 19, where students are demanding that Mayor Eric Adams and City Council invest in students' education instead of criminalizing them.
Although the City Council states there are increases in overall DOE budgeting amounting to $720 million, this does not account for the drop in the department's overall funds from $32 to $31 billion, a total of one billion dollars. This is in large part due to a drop in federal stimulus funds that was given as a result of the pandemic. This will result in particular programs and funds being slashed, and an overall decrease in funding that would help students.
Of the 1,600 schools within the Department of Education, only 400 received increased funding. Although there are differences in received funds for the city's public schools from 2022 to 2023, the trend shows an overall decrease in school budgets.
For example, one school— New Explorations into Science, Technology and Math (NEST+m)— went from receiving $12,649,978 in funding in 2022, to $10,690,876 in 2023. This is a decrease of two million dollars. Another school, MS 297, went from $6,280,818 in 2022 to $4,062,189 in 2023.
The student organizers, including BHEC Advocacy Club members Judah Firestone-Morrill, Leah Ali, and Victoria Chen, have seen the effects these cuts have made on their education. For instance, the funding for school clubs has decreased by one-third, leading to a constant necessity for fundraising, resulting in some programs being eliminated entirely. This lack of funding has led to additional problems, such as inadequate supplies for classrooms, broken equipment for science experiments, and the termination of multiple teachers within the school.
What programs will be cut in the 2023 DOE budget?
The City Comptroller, Brad Landers, stated that $469 million dollars had been cut from "Fair student Funding" alone. This is a program which aims to target systemic and personal inequalities for students. Over 1,000 schools will see this program cut, leading to a cycle of the most vulnerable New Yorkers not being able to receive adequate programs and care.
Additionally, per student funding has also decreased to a minimum of $25.81 per child, confirmed by the DOE. This is with principals receiving $4,197 for each general education— a decrease overall. It would appear that although the Adams administration continues to speak on unequal educational discrepancies, the actions taken cut the very programs that address these systemic challenges.
For small schools who are still adjusting from the pandemic, these cuts result in disastrous effects on students and teachers. Often, the first programs to be removed are after school programs, art programs, and school equipment. DOE teachers have cited budget as a major factor to them quitting or being fired.
Where is the money for the budget going?
It is perhaps worth noting that there is $4.6 billion dollars in unspent federal pandemic aid, money which could be used to fund education and pay teachers.
Student organizers have highlighted the glaring inequalities of what areas get funded while the education system suffers. One such comparison was made regarding the New York City Police Department (NYPD), which has a budget totaling $10.8 billion dollars.
As one of the organizers, Victoria Chan, shared, "A large part of the funds are going to the police. We have not seen a large decrease in crime, instead I think the police are focusing on smaller issues like homeless people sleeping on the subway, and harassing students for not paying the fare. A few of my friends have personal experiences where they have been harassed by the police for not having their Metrocards out."
What do the students demand, and has there been support?
The walkout was regarded as a success, featuring a number of student speakers, including Leani Hanson, who is part of the non-profit organization Class Size Matters. City Council members Tiffany Caban and Charles Barron showed their solidarity and support of the cause. The action to address students' concerns and efforts to reassess the overall city budget was well received by peers and teachers. Ali stated, "In terms of my school, everyone that I talked to was supportive, even if they couldn't make the walkout. It felt really powerful."
One student in attendance, who attends Beacon, shared that when she was leaving the building for the action, one of the teachers stopped her and said, "Thank you so much for what you're doing."
What are the students planning next?
Students have already communicated with a number of City Council members for future actions, and plan to continue to connect to even more schools. Their aim is to hold Eric Adams and his administration accountable to students, and readdress the budget by the January 19 hearings.
Organizer Ali shared, "Eric Adams introduced a new budget today but he hardly addressed restoring the cuts to the Department of Education. I think we need to definitely continue to hold him accountable for the budget cuts and make sure he actually takes action on this. We have gotten the attention of other Council members, and we've reached out to Council members and they support us. These are the people who are voting on the budget, so we need their support now more than ever. We are planning more events for the future. We want to have a large school walkout for next time and connect with many more schools!"