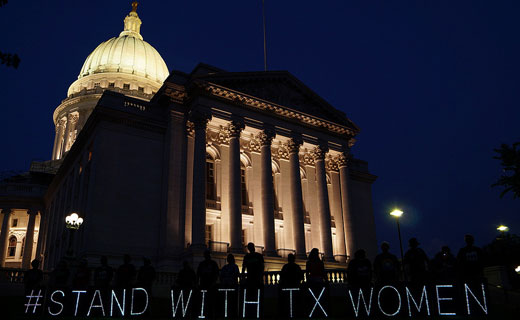 AUSTIN, Texas – As the saying goes, it ain't over 'til it's over.
Republicans in the Texas state legislature may have thought that their anti-abortion bill passed this summer had nailed the door shut on women's reproductive rights.
Texas Democrats, led by state Senator Wendy Davis with her instant-classic filibuster, fought to the last, but lacked the numbers in that small body of politicians to defend millions of Texas women by defeating the bill.
Last Friday, dozens of pro-choice groups and women's health care providers joined together to file suit in federal court to block two sections of the measure, House Bill 2. Republican State Attorney General Greg Abbott is named in the suit.
Plaintiffs include Planned Parenthood, the American Civil Liberties Union, the Center for Reproductive Rights, and a dozen-plus women's health care providers.
In a media conference call, representatives of the groups explained the need for a court challenge. "We're in court today to stop a terrible situation for women in Texas from getting even worse," said Cecile Richards, president of Planned Parenthood Federation of America.
The law requires abortion practitioners who administer abortion medicine to have admitting privileges at a hospital within 30 miles of where they perform abortions. It also places restrictions on medicated abortions, which are used to end early pregnancies.
Since some hospitals' standards for admitting privileges require a set number of patient admissions from a physician, this places a big burden on abortion practitioners, one that has nothing to do with their competence. In effect, the doctor is penalized for safely performing a procedure that rarely leads to hospital stays.
Texas clinic owners indicated during the conference call that the multiple hospital admissions regulation will effectively shut down 13 of the 36 abortion clinics in Texas.
The burden falls heavily on women living in rural areas of the state, such as in West Texas and the Panhandle, who live far away from clinics that may still be able to operate.
Other clinics around the state will remain open but will be unable to operate at the staffing levels they do now because not all of their physicians have hospital admitting privileges.
"The real purpose of this law is to make it impossible for women in Texas to get an abortion," said Jennifer Dalvin of the ACLU Reproductive Freedom Project.
Another factor is that hospitals, although many of them benefit from federal programs (such as Medicare), can deny admitting privileges to doctors based on the hospital's religious objections to abortion – even though the hospital itself isn't performing the procedure.
Another provision being challenged by the groups is one that requires outdated protocols in administering RU-486, an early-stage abortion pill.
The current protocol calls for a two-drug tandem through the ninth week of pregnancy, but the Texas law requires doses three times the strength of the current protocol, plus an extra visit to the clinic. It recommends usage up to seven weeks of pregnancy.
Filing the suit, defenders of women's health in Texas refused to concede defeat.
"I grew up in Texas and learned pretty early on that women only got what they fought for," said Richards, the daughter of former Texas Gov. Ann Richards.
Photo: Overpass Light Brigade demonstrates solidarity with Texas women in the fight for reproductive rights. Madison, Wis., June 4, 2012. Light Brigading CC 2.0