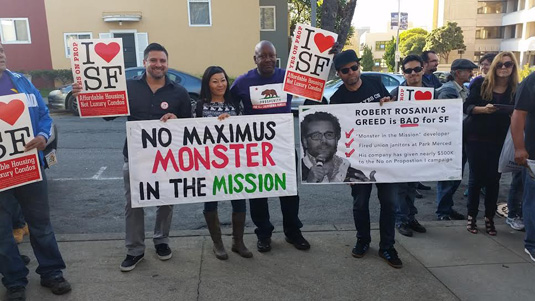 Workers made it clear last week that they are not going to stand for housing prices that make it impossible for them to work and live in the Bay Area.
On Thursday, Oct. 29 the big union SEIU-USWW, Oct. 29th, SEIU-USWW, former janitors and maintenance workers, along with local activists, rallied in front of the large Parkmerced housing development near the San Francisco State University campus.
Participants were there to support the Yes on Prop I campaign that will go up for a vote on November 3rd. As explained on Ballotpedia.com, Prop I is an initiative establishing an 18-month moratorium on new market-rate housing in the Mission district. If approved, Proposition I would establish a temporary, 18-month prohibition on the construction of any housing project larger than five units.
It was an initiative to combat the growing lack of affordable housing in San Francisco. John Elberling, the director of TODCO, a community development nonprofit corporation for San Francisco's South of Market Neighborhood, has been quoted as explaining that the "problem with any market rate development now isn't just that it's taking away prospective (affordable housing) sites. It's that once you generate a critical mass of new, high-end, market-rate housing, you fundamentally change the character of the neighborhood. The invading army takes over. You can't roll that back once it happens."
The question of gentrification, and the displacement of working-class residents, has been a hot button topic in San Francisco, and other parts of the Bay Area, for some time. More and more working-class residents have been forced to leave the city as rents grow higher or as their apartments are turned into condominiums costing twice their old rents.
As reported in the NY Times: "Studio apartments in the Mission are listed on Zillow, the real estate site, for $2,700 a month, and one-bedrooms for $3,800. When a family in a rent-controlled apartment leaves or is forced out, the rent is jacked up to market rate, apartments become condominiums or are advertised by the landlord on Airbnb as a good place for short-term visits."
The San Francisco Examiner has also gone on record supporting the proposition by noting, "Taking a pause from the break-neck luxury development in the Mission is a good idea for the neighborhood and for the city as a whole. The more measured and thoughtful we can be about the shifting makeup of our neighborhoods, the better. This is especially true for the Mission, which is shifting quicker than most. Proposition I arose from frustration that City Hall refused to take action to ease the city's housing crisis in the neighborhood."
The rally on Thursday marched along Holloway, the main street in front of the San Francisco State campus, before ending up in front of the main office of Parkmerced, where a variety of speakers spoke in support of Proposition I. The rally specifically targeted Parkmerced to speak out against New York real estate developer, Robert Rosania, who's group is the leading investor at the large housing development.
As explained by the press release for the rally, "Rosania leads the investment team that owns Parkmerced. In April, Rosania's group changed their janitorial and maintenance contractor, in effect replacing over 30 good, union jobs and replacing them with jobs that pay minimum wage with no benefits or job security… Rosania is also the developer of 1979 Mission St. or the "Monster in the Mission," which is a massive, luxury condominium development proposed for the 16th St. Bart Plaza. He has contributed almost a half a million dollars to a campaign that opposes Proposition I."
One of the former workers at Parkmerced, Romilo Domingo, who gave 16 years to the company before losing his job in April, explained, "When I was working at Parkmerced, I was making a good living. I could afford to rent a two-bedroom apartment where my wife and I could raise our three kids. After I lost my job, I couldn't afford rent, so we all moved in with my mother. My oldest daughter is starting college and I'd like to be able to help her out. I need my job back."
The rally called for Rosania to stop contributing to the affordability crises plaguing San Francisco, for the workers to get their jobs back, and for residents to vote yes on Proposition I this Tuesday.
Photo: Chauncey K. Robinson/PW