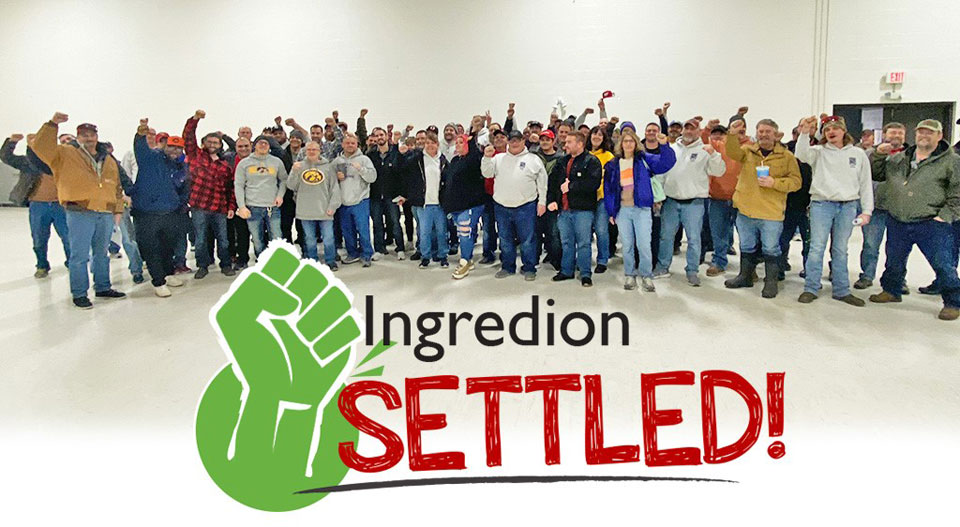 CEDAR RAPIDS, Iowa —After being forced to strike for 175 days, the 120 workers at Ingredion, a manufacturer of industrial starches, won a new 4-year contract with a 15% raise while beating back company giveback demands. The workers ratified it overwhelmingly on Jan. 25, though totals were undisclosed.
The workers, of Bakery, Confectionery and Tobacco Workers and Grain Millers Local 100-G, were forced to strike August 1. With their win, the BCTGM members join the lengthening line of workers nationally who, fed up with corporate greed and exploitation, have been forced to strike, or—if unorganized—unionize or walk away and successfully find better jobs.
"I am proud of the tenacity of our striking members at Ingredion and commend the union negotiating committee for their rock-solid commitment to achieving a fair and just contract for the members of Local 100-G," BCTGM President Anthony Shelton said in a statement. "The members went out as one, stood strong as one, and will all come back as one."
Ingredion demanded huge givebacks, workers said in the BCTGM video.  One said Ingredion basically ripped up the former contract.
"The company is just taking and taking and it's time for the people to stand up and get at least their share for the work that we do inside of the plant," worker James Halverson said.
"The changes they wanted to make in our contract were to basically control us by taking away our vacation, our guaranteed days off, increasing our insurance, changing most of our benefits, changing to 12-hour days, not paying us time and a half for our time after we work eight hours."
"We would also be on call with no compensation for our days off, meaning they can call us in whenever they wanted on our days off," James Kirsten added. "If we were planning a trip with your family or something (and) you don't have guaranteed days off, how do you have a home life, a family life, a social life, anything? You can't."
"As a mom, I can't afford to work more or be forced to work days off when I want to have a quality life with my children," Augusta Zapo Kruger explained.
Ingridion also brought in scabs, at a reported cost of $150,000 per day. That led worker Jeff Blazek to comment: "What Ingredion spends in one month to keep us all out here on the street is all of our salaries for one year."
It also broke labor law, leading Local 100-G to file unfair labor practice complaints—which the National Labor Relations Board's regional office planned to hearings on—over bad faith bargaining, direct dealing with workers, illegal spying, and refusal to recognize the union. As part of the settlement, the charges were dismissed.
The forced strike drew attention from Congress's longest and strongest union and worker supporter, Vermont independent Bernie Sanders, who now chairs the Senate Health, Education, Labor and Pensions committee.
"Ingredion is not a poor company. It is not going broke. Over the first nine months of last year, Ingredion made $378 million in profits–a 656% increase over the same period in 2021. If your company can afford to pay you $10 million per year and spend at least $245 million on stock buybacks and dividends to enrich its wealthy shareholders, it can afford to provide workers with better wages, benefits, and working conditions," he wrote to CEO James Zallie.
The workers also got wide community, BCTGM, and Iowa AFL-CIO support, including meals from the diner across the street from the Ingredion plant entrance.
"This is a union town," worker Luke Gronewold said in the video. "We have a lot of different companies…in this town. They're all union and we're all fighting for them as well because they all have contracts that are eventually going to be expiring that they're going to have to go through and they're going to have to negotiate and whatever it is that happens here can happen there.
"So if we don't stand up to basically corporate greed, then we're just setting those companies up to do the same thing to their employees."