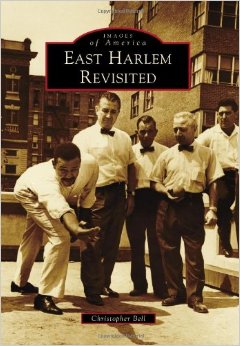 NEW YORK – The Vito Marcantonio Forum held another interesting event on Sat., Feb. 28 at the New York Public Library located at 10 Jersey Street in New York City.
The VMF is a historical, cultural, and educational organization that brings together people from a wide variety of backgrounds, dedicated to disseminating and sharing knowledge of the life and work of Vito Marcantonio (1902-1954). Marc, who ran on the American Labor Party line, served as the congressman from East Harlem for fourteen years (1932-1950).
Saturday's event featured Christopher Bell, an East Harlem historian who has authored three books about this historic district: East Harlem; East Harlem Revisited; and East Harlem Remembered, which is in its second printing. The author is a resident of East Harlem and gives great insight to this place called Harlem.
The author read excerpts of the oral histories from East Harlem Remembered. Bell gave a rich visual feel in his depiction of the place that was once home to 35 ethnicities and people who spoke 27 different languages.
East Harlem, an historic working-class community, became home to a succession of immigrant communities-Irish and Germans, Italians and Jews, and Latinos, especially Puerto Ricans. While sustaining their distinct cultures, these communities, more often than not, coalesced to perpetuate progressive politics. Inexplicably, prior to Bell, African-Americans, who have played such a large role in this history, have been left outside of this story.
Organized around the life and work of two of East Harlem's most distinguished African-American residents-Marian Anderson, and Langston Hughes-Bell rectified this huge omission in the historical record. In part, he accomplished this goal by documenting the enormous and fruitful work of Marcantonio to advance racial equality.
Bell talked about Langston Hughes, poet laureate of Harlem, who spent the last third of this life in East Harlem on 127th Street between Fifth and Madison Avenue. In spite of the enormous pressure put upon Hughes by the repression of the Left, Hughes continued to write and struggle against anti-communism and for progressive causes. Hughes' home in East Harlem is dedicated to this giant revolutionary and has been landmarked by the City.
Bell described how black people came from all parts of the world and settled in Harlem. With the aid of slides, Bell wove the story of Harlem and all its inhabitants. He pointed out that while providing decent housing at low cost, public housing damaged the cohesiveness of the earlier tenements. East Harlem's diversity declined when many Italian-American residents moved away leaving the projects mainly to African-Americans and Latinos.
The author puts into context Marcantonio's work to help move civil rights forward and his collaboration with Adam Clayton Powell Jr. who worked closely with Vito Marcantonio and took up the mantel of his colleague after his death. Annually, in the House of Representatives, Marcantonio led the fight to abolish the poll tax, which in many Southern states prevented most African-Americans and millions of poor whites from voting. During WWII, Marcantonio working with William Patterson and Benjamin Davis, Jr., succeeded in forcing the Red Cross to integrate the blood banks. At that time, he succeeded in bringing about the passage of the Fair Employment Practices Commission that outlawed discrimination based on race, religion, and nationality.
Throughout, the event was enriched by poetry. At the start of the activity, Gil Fagiani read his "The Litany of San Vito," where the audience is asked to respond to "The landlord's greed" and other misfortunes of the poor, with the refrain "deliver us."
Luis Romero read from Hughes poetry and commented on Hughes' generosity and "large soul."He helped writers and artists who were struggling such as James Baldwin, Ralph Ellison, Tony Morrison, and others. LuLu LoLo Pascale and Gigi Assante also read from Langston's voluminous collection of poetry. With great passion, Roberto Ragone read Langston's "Let America be America Again," which Gerald Meyer, the moderator of this activity described as "a cantata to the Popular Front."
Photo: Cover of "East Harlem Revisited" by Christopher Bell, the featured guest at the recent Marcantonio forum.