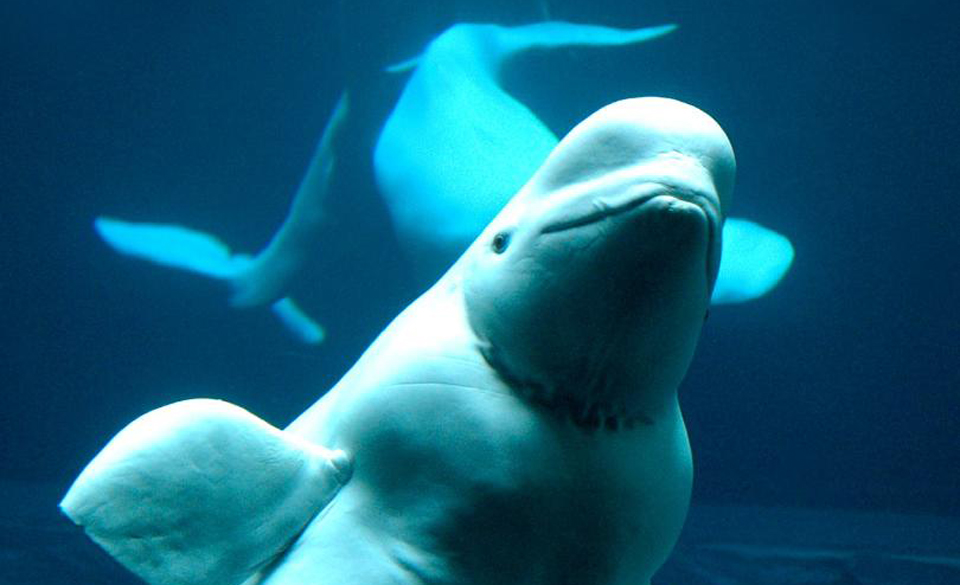 Two environmental groups made a formal announcement that they will file a lawsuit to protect endangered beluga whales whose numbers have plummeted recently, as the AP reported.
The suit aims to void permits allowed by the National Oceanic and Atmospheric Administration (NOAA) that opened up oil and gas exploration in Cook Inlet in southern Alaska. The suit alleges that NOAA violated the Endangered Species Act by issuing the permits without protecting Cook Island belugas. The law requires the formal 60-day notice before the agency can be sued, according to The Associated Press.
The Center for Biological Diversity and Cook Inletkeeper teamed up to send notice that they will sue NOAA.
NOAA's National Marine Fisheries Service (NMFS) released a disturbing new population estimate last week that showed whale numbers are far lower than previous estimates and their numbers are dropping rapidly, as Reuters reported.
The NMFS report estimated that only 279 beluga whales remain in Cook Inlet, a steep decline from the nearly 1,300 that lived there in 1979. The population decline has accelerated to an annual rate of 2.3 percent over the last decade, which is four times faster than previous estimates, according to NMFS, as Reuters reported.
Cook Inlet runs almost 200 miles from Anchorage to the Gulf of Alaska. It supplies energy for the south-central part of the state. The industrial activities there threaten beluga whales, which swim there and feast on salmon and other fish, according to The Independent.
The Center for Biological Diversity said these "daunting" numbers mean exploration planned by Hillcorp Alaska needs to stop immediately, as The Independent reported.
The plaintiffs are demanding a new assessment of oil and gas exploration since the Trump administration used higher, inaccurate beluga whale numbers when it gave a permit to Hillcorp Alaska. The permit allows the petroleum company to "take" beluga whales as part of its operations. "Take" is a nebulous term that allows the company to harass and harm whales. The environmental groups want a guarantee that Cook Inlet belugas can recover from any of Hillcorp Alaska's operations, according to The Associated Press.
"Since we pressed for listing the Cook Inlet Beluga whale as endangered in 2008, the drive for corporate profits and complacent government bureaucrats have conspired to stifle progress for this dwindling stock," said Bob Shavelson, advocacy director for Cook Inletkeeper, in a statement. "Hilcorp should do the right thing and abandon its plans for new drilling in Cook Inlet."
Last summer, the Trump administration loosened environmental regulations that allowed for new mining, oil and gas drilling where protected species live, according to The Independent.
"The tragic decline of these lovely little whales spotlights the risk of allowing oil exploration in their habitat," said Julie Teel Simmonds, an attorney at the Center for Biological Diversity, in a statement. "If we're going to save these belugas, the Trump administration must cancel permission for the oil industry to use seismic blasting and pile driving in Cook Inlet. These animals are hanging on by a thread, and we can't let them be hurt even more."
The groups said that seismic blasting used in exploration and deep-sea mining causes blasts heard miles away. The blasts can register up to 250 decibels. For reference, standing next to a jackhammer is 100 decibels. Those underwater blasts can cause hearing loss in marine mammals, severely disrupt communication between pods, disturb feeding and breeding grounds, and reduce their ability to catch fish, according to the environmental groups, as The Associated Press reported.
This article was reposted from EcoWatch.