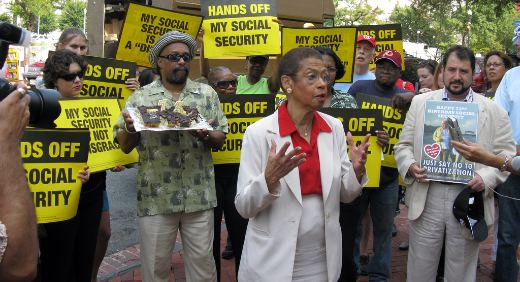 WASHINGTON – Last week, pro-labor and progressive activists were warning that the Obama administration was about to propose changes in the system for calculating Social Security cost-of-living increases that amounted to serious cuts in Social Security.
Next week the President is expected to do just that in a formal budget proposal that would base future cost-of-living hikes for Social Security recipients on the "chained CPI," instead of the Consumer Price Index.
Labor and its allies in a broad array of movements are rising up against the plan.
"Chained CPI is a Social Security cut plain and simple." said AFL-CIO Director of Policy Damon Silvers. "One of the key things that makes Social Security a real provider of economic security is that it has a Cost of Living Adjustment that protects the value of benefits as time passes. Chained CPI is a Washington trick."
Members of the Progressive Caucus and African American and minority lawmakers in particular are rejecting the plan.
"Everyone has a grandparent, a friend or a neighbor who relies on the Social Security benefits they earned to pay for medical care, food and housing," said Rep. Keith Ellison (D-Minn.) "A move toward chained CPI would be a long term benefit cut for every single person who receives a Social Security check."
To that end, senior and veterans' groups in particular, are up in arms. The chained CPI approach, according to the AARP, would slash $146 billion from senior and veterans' benefits over the next 10 years.
"The COLA change would hurt seniors and vets who are already on tighter budgets stretched now by prescriptions, utility bills, mortgage and health care costs," the association said in a statement..
Roger Hickey of the Campaign for America'sFuture said that "if Obama pushes the chained CPI as part of a proposed 'grand bargain' with the GOP to reduce future federal budget deficits he'll alienate key parts of his coalition, break faith with the voters and shatter the Democratic Party."
The CAF has been inundating the White House all week with e-mails opposing the chained CPI and any cuts to Medicare and Medicaid.
Fifty five percent of voters oppose the "chained" CPI. A recent poll, Strengthening Social Security: What Do Americans Want?, from the National Academy of Social Insurance (NASI), highlights a large majority, 64 percent, thought the COLA should be increased to better protect seniors and other beneficiaries from inflation and rising prices of food, utilities and other necessities.
The chained CPI produces a smaller measure of the prior year's inflation, to calculate smaller Social Security benefit hikes than the currently used measure – the Consumer Price Index. More than 50 million people now get Social Security and tens of millions more rely on it as their prime source of retirement income.
Obama is expected, on Wednesday, to send a budget plan to Capitol Hill that is different form the usual statements of principle regarding the budget that Republicans have rejected out of hand.
The idea is to get the Republicans to agree to new taxes on the wealthy and on corporations in exchange for the Social Security cuts.
Some commentators said this morning that since Republicans don't look like they are willing to give any ground on higher taxes for corporations, that the president's proposals don't really amount to much – no one, they say, has really moved off their original positions.
Progressives are not taking any chances, however, and since they expect the president to propose some very specific cuts they are speaking out.
"Let us not balance the budget on the backs of the most vulnerable," said independent Vermont Sen. Bernie Sanders.
"What the chained CPI would do to seniors on Social Security is bad," Sanders said. "Many of them are living on $13,000, $14,000 or $15,000 a year on Social Security benefits. The chained CPI would say to them, if you are 65 today, by the time you are 75, your benefits would be cut by some $650 a year. By the time you are 85, your benefits would be cut by $1,000 a year.
"What this whole debate is about is how do we go forward with deficit reduction in a way which is fair, a way which is moral, and a way which calls for good economic policy. I would argue when some of the largest corporations in America pay zero in federal income taxes, before we cut Social Security and benefits for disabled veterans, we ask those people to start paying their fair share of taxes."
"This must be stopped," Hickey warned. The "grand bargain" Obama proposes to reach with the GOP on deficits "would bargain away the pillars of the New Deal." Hickey calls the grand bargain "a grand swindle."
The proposal on budget deficit reduction coming from President Obama is supposed to replace the indiscriminate sequester cuts that went into effect several weeks ago. The administration has said that it would back things like the chained CPI and other cuts, however, only if Republicans agree to significant additional taxes on the rich.
The other spending reductions included in the 'compromise' Obama budget include $400 billion from health programs and $200 billion from farm subsidies, federal employee retirement programs and unemployment compensation. In Medicare, savings would come largely from payments to health care providers and pharmaceutical companies and by having higher income beneficiaries pay more for coverage, but also from what would amount to cuts in benefits, critics point out.
Advocates for Medicare point out that even with the sequester cuts, which were supposed to shield Medicare, there are reports now that Medicare patients are not getting needed chemotherapy treatments at clinics which themselves have been forced to make cuts due to the sequester.
Photo: Workers, joined by Democratic Rep. Eleanor Holmes Norton, speak out against Social Security cuts. Courtesy Talk Radio News Service // CC BY-NC-SA 2.0