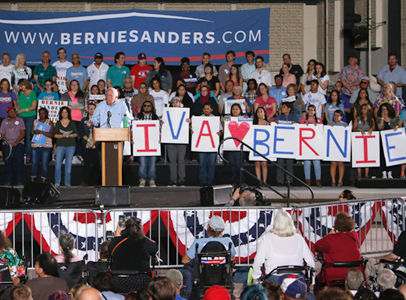 TUCSON, Ariz. – It was like a rock concert. In what was probably the largest rally so far in a metropolitan area of less than a million, a crowd of over 15,000 loud supporters turned out to cheer for Democratic presidential candidate Bernie Sanders Oct. 9 evening here. They came to hear Sanders call for economic justice and equality and for his criticism of the billionaire class, happy to finally have a candidate that speaks to their working class interests. The multi-racial, younger and older crowd roared their approval when he called for free college tuition, jobs for youth, livable wages, Medicare for all, and the need to stand together to transform America.
But this Tucson stop had a special purpose. Rep. Raul Grijalva, co-chair of the Congressional Progressive Caucus who became the first member of Congress to endorse the Vermont senator for president, introduced Sanders on stage at Reid Park. Grijalva explained his endorsement came not only because of his friendship and his agreement with Sanders' values, but also because "It's way past time we have a voice that speaks truth to power."
This rally was also an opportunity for Sanders to address immigration issues so important to us who live near the Mexican border. Setting the tone for the evening was the choice of immigration rights activist Isabel Garcia to emcee the rally, and by 10-year-old Bobby de la Rosa, born in the United States, whose Mexican-born mother has been deported while Bobby, his siblings and ailing father are struggling to survive in Tucson. Bobby pleaded for the right of his family to be together.
Sanders began his comments on immigration, "It is not acceptable to stoop to racism and demagoguery to win a political race!"
He said it was disgusting to call Mexican immigrants criminals and rapists, in what was clearly a reference to Republican candidate Donald Trump's libelous and racist remarks. Sanders said, "Undocumented workers are doing the hardest work in the country. They are harvesting our crops, building our homes, cooking our meals and caring for our kids. They are part of the fabric of our country."
He called for a stop to separation of families like Bobby de la Rosa's and for a policy of real family values. He spoke in support of the Dreamers and promised that as president he will use his authority to unite families, and push for comprehensive immigration reform with a clear path to citizenship for all the estimated 11 million undocumented immigrants who came here to escape repression and poverty, just like his father had done when he immigrated from Poland as a 17-year-old. The current policies only perpetuate a system of slave wages, he added, in which the employers are complicit, which drives down the wages and living conditions of all workers.
Photo: Democratic presidential candidate Sen. Bernie Sanders, I-Vt. speaks during a rally, Oct. 9, in Tucson, Ariz. (AP Photo/Rick Scuteri)