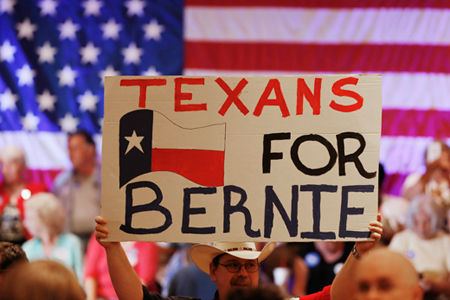 DALLAS – Bernie Sanders' presidential campaign has been petitioning for ballot status all over the Lone Star state, and the payoff is now. Dallas activists say that over 10,000 signatures will be turned in to the election authorities in Austin this week! No other presidential candidate has gathered petitions to meet the state's signature quota!
Texas law says that major party candidates can get on the primary election ballot with signatures or with money. The Sanders campaign will save several thousand dollars when their petitions are accepted. More importantly, they have a data-base of supporters far in excess of any other candidate. In fact, their levels of individual donations and volunteer activism even exceed those of the vigorous Obama campaign in 2007, according to the state organizer.
In Dallas, the Sanders campaign rented an office in the Communications Workers Local 6215 hall, where the AFL-CIO offices and most labor-related meetings are held. The largest local union in Dallas is the school personnel (AFT) affiliate, and the AFT was the first big union to endorse Hillary Clinton; but the recent endorsement from the Postal Employees (APWU) gives the Sanders campaign a powerful ally among Dallas union activists.
Phone banking is taking place every day at Sanders' Dallas headquarters.
In North Texas, individual activists began appearing at progressive activities before Labor Day. Meetings in people's homes and back yards drew big and enthusiastic crowds. Younger people, many of them first-time voters, predominate at Bernie meetings. The giant of Texas electoral demographics, Spanish-speaking voters, is strongly represented among the volunteers.
Photo: A supporter of Democratic presidential candidate Sen. Bernie Sanders holds up a sign before a campaign rally, July 19, in Dallas. AP | Brandon Wade