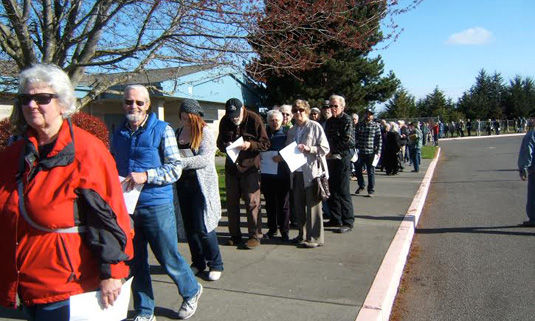 CARLSBORG, Wash. – Savoring landslide victories in Washington State, Alaska, Hawaii, and earlier in Utah and Idaho, Vermont Sen. Bernie Sanders hailed the vote for clearing a path to his winning the Democratic nomination for President.
"We knew we were going to improve when we headed west," Sanders told a cheering crowd at a rally in Madison, Wisconsin, last Saturday.
That was putting it mildly. The Washington State Democratic Party announced that over 230,000 voters attended caucus meetings only a few thousand less than the 244,458 who caucused in 2008 when Barack Obama won the nomination and the presidency.
Bernie Sanders won a landslide 72 percent in the Evergreen State sweeping every one of the state's 39 counties. Hillary Clinton garnered 28 percent of the vote.
Noteworthy were the numbers of young people who turned out for Sanders in all five of the states he won. "He is the candidate I have been waiting for my entire life," Tammy French, a high school teacher in Port Angeles told this reporter as she marched with her child in a Labor for Bernie march in Port Townsend recently.
At Greywolf Elementary School here in this former sawmill town, the line started to form before 9 a.m. for caucuses scheduled to begin at 10 a.m. When the doors were opened, the gymnasium filled to capacity with nearly 300 voters.
Sanders and Clinton supporters were cordial to each other. Earl Archer, a Hillary Clinton supporter and a veteran Democratic Party activist commented aloud as he sat in the hallway of Greywolf Elementary School that he will support Bernie Sanders wholeheartedly if he is the Democratic nominee. A Bernie Sanders supporter answered, "I will go door-to-door for Hillary if she is the nominee. We must all work together to keep Trump or any other Republican out of the White House."
Sanders carried the caucus at Greywolf 62 percent to 21 percent for Clinton.
At Helen Haller Elementary School in Sequim, the line encircled the school twice, a crowd so large they had to convene two caucus meetings, one after the other. There were so many people drawn by the Bernie Sanders campaign, that some precincts caucused in parking lots.
The Bernie Sanders campaign was energized by huge rallies in the Pacific Northwest including two Seattle rallies in one week, one at Key Arena March 19 attended by about 30,000 and the following Friday, March 25 attended by another 25,000 or 30,000.
It seemed to catch the spirit of the moment that a tiny sparrow landed on the lectern as Sanders was speaking at an outdoor rally in Portland, Oregon. Sanders quipped that although it was small, with the wrong colored plumage, it was a "dove" that symbolizes his quest for world peace. The crowd roared.
Sanders ignited a powerful grassroots movement that has swept the West, hammering against the "billionaire class" and their "bought and paid for" henchmen in the U.S. Congress, U.S. Senate, and state and local governments across the nation. While both Democratic candidates have directed most of their fire at Donald Trump and the Republican right, they have held a series of debates in which they spell out their differences.
Clinton's pitch stresses her "experience," but at least here in the Pacific Northwest, that is transcribed by a majority as "baggage." Her campaign has taken heat for close ties to giant banks and corporations, her acceptance of millions of dollars in "speaking fees" from Wall Street firms and for reliance on corporate "SuperPACs." Her vote to authorize President Bush's use of military force in Iraq remains an issue too.
Bernie Sanders, by contrast, voted against that authorization and against the "bail out" of Wall Street banks. He calls for assistance to Main Street, not Wall Street. He vows to block cuts to Social Security and calls for "Medicare for All." He also calls for tuition-free higher education at public universities and immigration reform with a path to citizenship for 11 million undocumented immigrants.
Sanders has called for an end of the nation's "corrupt political system" in which the corporate rich pour billions in secret money into the coffers of politicians who defend the interests of the rich while betraying the interests of working people.
The Bernie Sanders movement is not resting. They are phonebanking into Wisconsin hoping to galvanize the same kind of huge voter turnout that has given him victories in the West. Sanders is also campaigning hard to win in Oregon and California, states that can dramatically swell his delegate count.
Photo: Tim Wheeler/PW