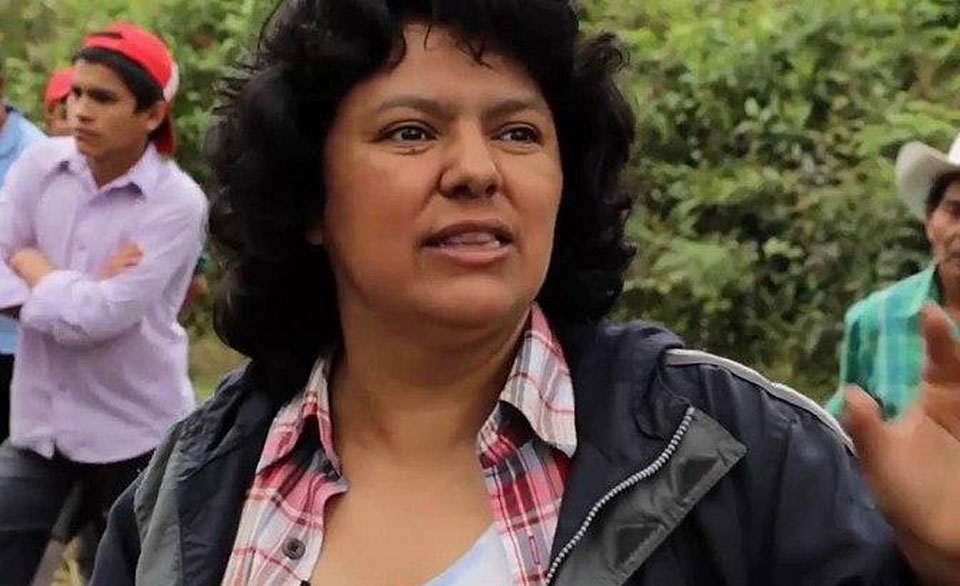 TEGUCIGALPA, Honduras—In an unusual development in a nation known for rule by its capitalist anti-democratic elite, one member of that small cabal, who shares responsibility for the murder of Indigenous leader Berta Cáceres 63 months ago, was convicted of the crime in early July.
The conviction of Roberto David Castillo Mejia, former president of DESA, the corporate conglomerate sponsor of the controversial Agua Zarca four-dam project which Berta Cáceres and her group campaigned against, cheered both her family and the organization, the Civic Council of Popular and Indigenous Organizations of Honduras (COPINH), Castillo will be sentenced August 4.
"This is a collective victory," tweeted Laura Zúñiga Cáceres, Berta Cáceres's daughter and now director of COPINH. "The verdict is an important first step to accountability by all who had a role in ordering, financing & enabling Berta Cáceres's murder—as well as in the attempted cover-up after. #JusticiaParaBerta
"In the end, as my mom said, that we are going to triumph and we are going to dismantle the violence against our people," she added in another tweet.
"This is a very important guilty verdict for us…It underlines the struggle we Indigenous communities face where the govt continues to authorize megaprojects in our territories," tweeted José Felipe Gámez, another COPINH leader.
But they also stressed the probe must not stop now. The next step, COPINH said, is  "bringing the masterminds behind the crime to justice, Daniel Atala Midence, José Eduardo Atala, Pedro Atala, and Jacobo Atala and the other people and institutions involved."
Honduras's public prosecutor produced both testimony and evidence that showed Castillo, a former West Point-trained Honduran military intelligence officer was the link between moneymen who financed the dam—and Cáceres's murder—and the seven-man hit squad that carried it out.
The hit squad broke into Cáceres's home in La Esperanza on March 2, 2016, and assassinated Cáceres, who had won international human rights awards for leading the Indigenous Lenca tribe's opposition to DESA's dam project and its threat to Lenca sacred lands and livelihood, as well as the environment.
The hit squad members were subsequently arrested and convicted two years later. But the higher-ups who arranged the hit got off, until now.
Cáceres and COPINH organized the campaign against the hydroelectric project, challenging it on economic, environmental, and legal grounds. Not only would the lakes the dams create flood Lenca lands, but its economics were questionable, its environmental impact was ruinous, and DESA violated Honduran law by not even consulting the Lenca before seeking a construction permit.
DESA and its operatives met COPINH's campaign by arrests, burglaries, intimidation, death threats, and violence, culminating in the murder. COPINH had asked for police protection for Cáceres. Its request was ignored by government officials, whose president had been installed in a 2009 U.S.-backed coup d'état. COPINH opposes the coup and agitates for a return of democracy, too.
Castillo's trial occurred only after years of international pressure to pursue the higher-ups who authorized and bankrolled her murder. In hailing the verdict, COPINH and the Cáceres family thanked those international backers as a group. Backers included the Washington Office on Latin America (WOLA), the AFL-CIO, and Rep. Jesus "Chuy" Garcia, D-Ill., whose Chicago district is 70.09% Spanish-speaking, the tenth-highest share in the U.S.
"For the family of Berta Cáceres, the Lenca community, other Indigenous and environmental activists, and Honduras as a whole, this verdict is an important victory in the search for truth and justice for the murder of Berta Cáceres," said Adriana Beltrán of WOLA, a prominent human rights group.
"It's imperative the Honduran authorities continue impartial investigations until all those who took part in her assassination, including those who planned it are held accountable. The international community must continue its support for justice and the fight against impunity in Honduras."
"When I met Berta Cáceres' mother and sister in Honduras" and D.C., "I promised to keep fighting for justice for Berta. Violations of human rights should never be fueled by American dollars," Garcia said earlier this year. He unveiled a bill,  The Berta Cáceres Human Rights In Honduras Act, to "suspend security assistance to the country until these violations committed by police and government officials against their own people cease, and all the perpetrators of Berta's murder are brought to justice."
Despite the convictions of both the hit squad and Castillo, along with questions about its economic projections, DESA is still going ahead with the dam project. In hailing the verdict, COPINH again pressed for the government to pull DESA's construction license for Agua Zarca.
It also again urged "dismantling of the criminal structures that continue to operate" in Honduras. Those structures "acted during the trial to guarantee impunity for those responsible for the grave crimes presented during the trial." And COPINH condemned the "systematic and constant mistreatment towards the victims by public officials."
But in an indication of how rare the conviction of a higher-up such as Castillo is, 11 organizations, led by WOLA, denounced government intimidation of independent prosecutors there, a week before the Castillo verdict. They criticized "recent pressures against members of the Specialized Prosecutorial Unit against Corruption Networks (UFERCO) in Honduras," in particular against lead anti-corruption prosecutor Luis Javier Santos.
"This latest attempt at intimidation, in the form of two new disciplinary proceedings against at least three of UFERCO's prosecutors by the Inspectorate of the Public Prosecutor's Office and a new criminal case by the Prosecutor's Office for the Prosecution of Justice Sector Officials and Servants, are part of a systematic pattern of criminalization of prosecutors in charge of investigating and litigating cases of grand corruption involving powerful interests," said the statement by 11 groups, led by WOLA.
"The fight against corruption requires prosecutors and prosecutor's offices be able to exercise their functions independently, without fear of reprisals or external pressures," they concluded.