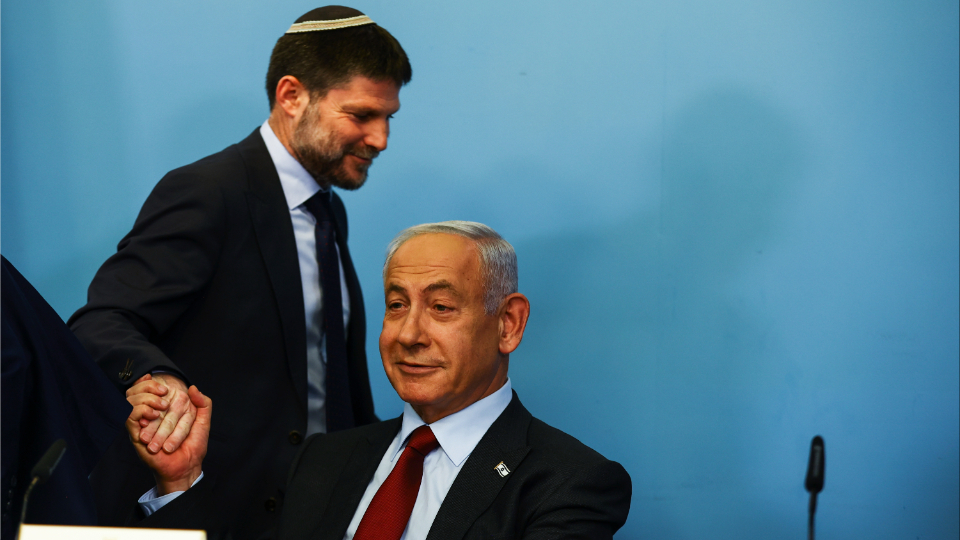 Israeli Prime Minister Benjamin Netanyahu grudgingly conceded Friday that a Cabinet ally's demand for a Palestinian village to be "wiped out" was "inappropriate."
Finance Minister Bezalel Smotrich said last Wednesday the town of Hawara should be "erased" and that "the State of Israel should do it." His remark sparked an international uproar, with Israel's key ally, the United States, describing it as "repugnant."
The leader of the Religious Zionism Party, who has described himself as a "fascist homophobe," made the comments following a violent rampage through Hawara in which a mob of illegal Israeli settlers torched Palestinian homes and vehicles after the shooting of two Israelis.
Netanyahu had refrained from criticizing Smotrich's remarks, despite a call from Washington to "publicly and clearly reject and disavow them," but he thanked his finance minister on Twitter for having subsequently made clear that "his choice of words was inappropriate."
The scandal—arising at a time when Israeli violence in the occupied West Bank is intensifying and as the country's own citizens stage huge weekly protests against Netanyahu's judicial reform plans, which will allow the Knesset to overturn Supreme Court judgments—underlines how the extremist character of Israel's current government is alarming even the U.S.
Smotrich, who was once arrested in possession of 700 liters of gasoline on suspicion of planning to blow up a motorway, and who has previously organized "beast parades" of animals as counter-protests against what he terms "bestial" gay pride marches—is among the more controversial of Netanyahu's appointments.
Israeli television reported last week that U.S. ambassador to Israel, Tom Nides, had said he wished he could "throw him off the plane" when he visits Washington this week.
Though the U.S. embassy denied it, Smotrich appeared to give credence to the story, saying at the weekend that he was "convinced that [Nides] did not mean to incite to kill me when he said I must be thrown from the plane, just as I didn't mean to harm innocents when I said Hawara must be erased."
More than 120 Jewish organizations in the U.S. have called on the government to block Smotrich from entering the country—a rare instance of mainstream Jewish groups taking such a stance toward an Israeli government official.
"Smotrich has long expressed views that are abhorrent to the vast majority of American Jews, from anti-Arab racism to virulent homophobia, to a full-throated embrace of Jewish supremacy. To this list, we can now add his endorsement of violence against innocents based on their ethnic heritage," said the statement from the Israel Policy Forum.
The most powerful of the pro-Israel lobbying groups, however, have resisted calls to criticize Smotrich. The American Israel Public Affairs Committee (AIPAC) has said nothing about Smotrich's comments and was silent on the push to block his visit to the U.S.
Israel Bonds, the Israeli government-controlled seller of debt securities in the U.S., still plans to host Smotrich as a featured speaker at its conference. The company said on Thursday that it "remains unbiased with regard to any political party or affiliation" and that "finance ministers from across the political spectrum have historically" attended its events.
Bernie Sanders, the socialist senator from Vermont and a prominent Jewish member of the U.S. Congress, declared that Smotrich's "disgusting rhetoric will get more innocent people killed." He continued, "The extreme, right-wing Israeli government is creating the conditions for more violence and undermining democracy."
The White House and the U.S. State Department have reportedly held internal consultations on whether to cancel Smotrich's visa and "hinted" to the Israeli government that the U.S. would be happy if Smotrich were to "cancel" his trip. Experts do not expect, however, that the U.S. will actually deny a visa to a serving Israeli finance minister.
This article features material from the Morning Star and other sources.