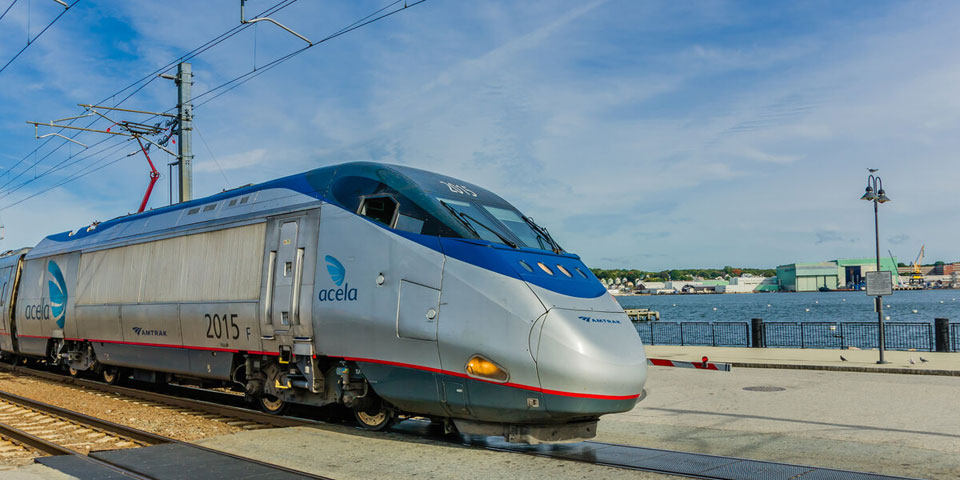 Cars, trucks, planes, trains, and ships make up the U.S.'s biggest source of greenhouse gas emissions — about one-third of the nation's total. Now, the Biden administration is laying out a strategy to clean up the transportation sector while also making it more convenient and just.
Four federal agencies unveiled a "national blueprint for transportation decarbonization" earlier this month, a collaboration they described as the first of its kind for the federal government.. Co-published by the Departments of Energy, Transportation, and Housing and Urban Development, as well as the Environmental Protection Agency, the 88-page roadmap envisions a low-emissions mobility system that is "clean, safe, secure, accessible, affordable, and equitable, and provides sustainable transportation options for people and goods."
"The domestic transportation sector presents an enormous opportunity to drastically reduce emissions that accelerate climate change and reduce harmful pollution," Jennifer Granholm, secretary of the Department of Energy, said in a statement.
The document lays out three overarching strategies for decarbonizing transportation. The most straightforward — and the one that's expected to cut greenhouse gases the most — involves replacing fossil fuels with cleaner alternatives. For the most part, this means cars, trains, and planes powered by batteries or green hydrogen, a fuel made using renewable electricity and water. The agencies also propose some level of decarbonization via "sustainable liquid fuels," a category that includes biofuels made from corn, agricultural waste, or algae.
The two other strategies, "increasing convenience" and "improving efficiency," are more cross-cutting, a nod to the interconnected nature of the transportation sector. Putting schools, workplaces, and businesses closer to people's homes could cut down on traffic, simultaneously cutting greenhouse gas emissions and boosting quality of life. Better walking and biking infrastructure can also encourage physical activity and make travel safer.
Improving efficiency involves fewer single-occupant vehicles and more people on trains and buses, which can shuttle more people around while using less space and energy. Cars, buses, and trains can also become more efficient themselves, using newer technology to go farther with less fuel or electricity. Such improvements can reduce energy use and save people money.
The report identifies opportunities within both strategies — increasing convenience and improving efficiency — to rectify environmental injustices related to the transportation sector. As a result of decades of restrictive housing policies and zoning laws, poor people and people of color tend to face a disproportionate burden of air pollution from major transit corridors like highways — all while living farther from reliable public transit than their whiter and more affluent counterparts. The roadmap says new transportation investments should benefit these people, including through new job opportunities and by building more affordable housing near transit centers.
Environmental advocates have applauded the roadmap for highlighting decarbonization solutions that go beyond electric cars, although some have raised eyebrows at its "ambivalence" on biofuels. According to the roadmap, 50 billion gallons of these fuels will be needed by 2050 for every mode of transportation except passenger vehicles — but especially for aviation and shipping. Environmental advocates argue that crop-based biofuels can drive deforestation and biodiversity loss and that other kinds of biofuels are not technologically viable. Even when they decrease greenhouse gas emissions, research suggests they may have unintended knock-on effects, like when fertilizer runoff causes rivers, lakes, and ocean areas to lose their oxygen, suffocating the animals that live there.
The federal agencies emphasize more research is needed to produce sustainable fuels in a way that "considers climate change, land use, water, and ecosystem implications."
The roadmap doesn't represent a commitment from the federal government to clean up the transportation sector, but Deron Lovaas, a senior policy adviser for the Natural Resources Defense Council, said in a blog post that it's a promising "starting gun" — a vision that can become reality with concrete action plans from each of the four federal agencies, as well as coordinated action from states and companies.
Federal agencies "have a lot of leverage and influence," Lovaas told Grist, but they'll be hard-pressed to reach their decarbonization targets on their own. "State agencies are key," he added, urging them to support the federal roadmap by launching their own transportation projects, taking advantage of unprecedented federal funding from President Joe Biden's climate spending and bipartisan infrastructure laws.
This article was reposted from Grist.org.