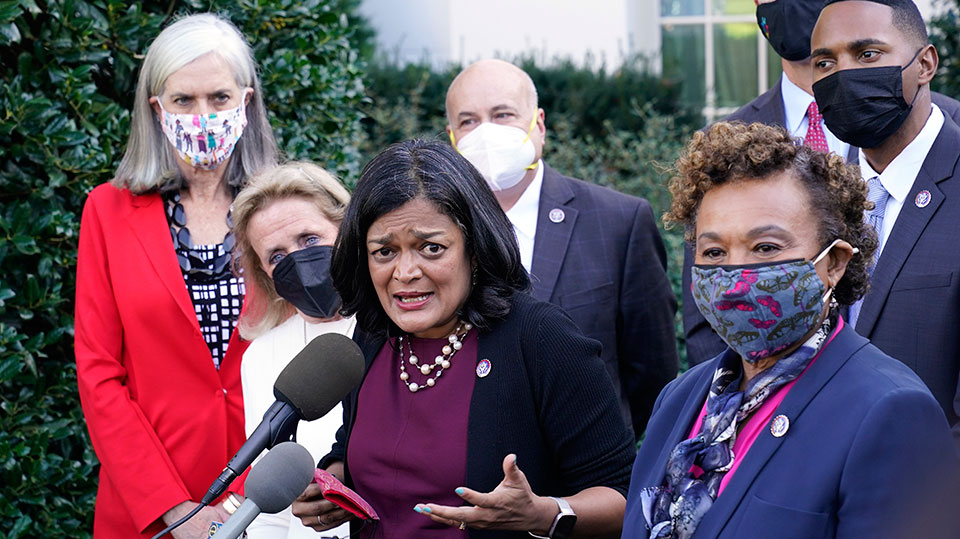 WASHINGTON—Tax the rich to reduce the nation's yearly budget deficit but give the military more than ever.
Taxing the rich and making corporations pay more, not padding the military, is the big takeaway Democratic President Joe Biden wants voters—and some centrist lawmakers—to get from his proposed $5.8 trillion spending plan for the fiscal year starting October 1.
But there's a big problem in Biden's budget, as far as progressives are concerned: The record amount of money for the military and its dependent war corporate contractors: $813 billion, counting some extra defense spending hidden elsewhere than in the Pentagon's own budget line.
"Right now, billionaires pay an average rate of 8% on their total income. Eight—that's the average they pay," the president declared when he unveiled the budget blueprint on March 28.
"If you make a billion bucks, great. Just pay your fair share. Pay a little bit. A firefighter and a teacher pay more than double the tax rate that a billionaire pays. That's not right. That's not fair."
But on spending, Biden's numbers contradict his words. As he drums up support for the war in Ukraine and paying for the weapons he is pumping in there, he increases defense spending by $31 billion and reduces non-defense spending—for education, labor, health, fighting the coronavirus, and other "discretionary" programs—by $13 billion, to $915 billion. The president attributed that decline to winding down and ending anti-pandemic aid. He said nothing about whether the budget could allow revival, in whole or in part, of his Build Back Better agenda killed by Democratic Party conservatives led by West Virginia's Joe Manchin.
And he justified the Pentagon dollar hike by claiming the military needs more money so it can help Ukraine. And even if the Ukraine war is not enough of an excuse to fatten the military budget, he raised the alleged threat the nation faces down the line from China to justify the increase. "We're once again facing increased competition from other nation states—China and Russia," he declared.
That analysis irks critics of war spending and gladdens the hearts of the military contractors who dine and drink at the Pentagon's table.
"At a time when we are already spending more on the military than the next 11 countries combined, no we do not need a massive increase in the defense budget," Senate Budget Committee Chairman Bernie Sanders, Ind-Vt., said in advance of his panel's March 30 hearing on Biden's budget blueprint.
"Appropriators and advocates" must always defend spending "to expand access to health care" while cutting its costs to workers and families, to build affordable housing, to fight climate change, and to combat the coronavirus pandemic, said Congressional Progressive Caucus Chair Pramila Jayapal, D-Wash., former chair Mark Pocan, D-Wash., and longtime anti-war Rep. Barbara Lee, D-Calif., in a joint press conference.
"But such concerns evaporate when it comes to the Pentagon's endlessly growing, unaudited budget. We will continue to vigorously advocate against this military spending proposal, as we have in years past," the three promised.
Biden preferred to concentrate on hammering the rich.
"My budget contains a 'billionaire minimum tax'" of 20%, he said. The top "one-hundredth of 1% of the Americans will pay this tax. The billionaire minimum tax is fair, and it raises $360 billion that can be used to lower costs for families and cut the deficit."
And Biden would raise the top tax rate on the highest end of income of all the superrich to 39.6%–its level before the GOP-Trump tax cut four years ago for corporations and the rich. The corporate tax rate would rise from the current 21% to a proposed 28%. It was 35% before the Trump-GOP cut.
Biden also would eliminate the "carried interest" deduction, a bonanza which lets hedge fund Wall Streeters pay on their gains at lower tax rates. Killing that tax break alone would raise $406 billion in fiscal 2023, the budget tables show. Biden also would increase estate taxes on the rich—rolling back part of the Trump-GOP giveaway—by $48 billion.
What Biden did not say was hedge fund vultures who claim "carried interest" use the windfall to grab loans to buy and destroy companies, notably newspapers, and lives, all in the name of corporate greed.
Instead, "My budget also ensures corporations pay their fair share. In 2020, there were 50 Fortune 500 companies that made $40 billion in profit combined but didn't pay a single, solitary cent in federal taxes. My budget raises the corporate tax rate to 28%, far lower than the rate it was between World War II and 2017 when it was lowered," he said.
Overall, all of Biden's tax hikes on corporations and the rich, if enacted, and that's in doubt, would raise $2.5 trillion. But that sum stretches over a decade.
So, for example, the billionaire minimum tax doesn't kick in—if Congress approves it—until fiscal 2024, which starts Oct. 1, 2023. And it raises only 10% of its $3.6 trillion decade-long total in that fiscal year.
One revenue raiser not in Biden's budget: The increased money that would come into the Treasury from higher fines and the wider reach of those fines—to corporate honchos and covering more offenses—for company labor law-breaking. The new basic fine for a first-time law-breaker would be $50,000, rather than net back pay to illegally hurt workers. Corporate repeat offenders would pay $100,000 per abuse.
Those higher fines and related provisions, taken from the Protect The Right To Organize Act, labor's #1 legislative priority, were in Biden's Build Back Better budget "reconciliation" bill for this fiscal year. They're not in his budget blueprint.
The Democratic-run House passed BBB on party lines. The evenly split Senate didn't even debate it. The revenue raisers from BBB carried into Biden's budget were the corporate and individual income tax hikes and elimination of $45 billion in tax breaks for fossil fuel firms. Those companies benefit in other ways not contained in the budget: Gaining European market share as sanctions hit against Ukraine.
Biden's budget, like any other presidential spending blueprint, is a political document, intended to set out priorities. "Don't tell me what you value. Show me your budget, and I'll tell you what you value," the president said. So here are some other Biden values:
More money for schools, especially those whose teachers have classes full of low-income kids.
Funds for that program, called Title I, would double, which cheered Teachers (AFT) President Randi Weingarten, one of the earliest union commenters on the budget plan.
"It includes $1 billion to help schools hire additional counselors, school psychologists, and other health professionals to address the mental health crisis," she added—a crisis the coronavirus pandemic illuminated. And Biden adds $400 million "for the Education Department's Full-Service Community Schools Program, which aims to bring healthcare and other social service programs onto school campuses." Adding such wraparound services in schools is a longtime AFT aim.
"It's clear Biden is making important investments in helping our public schools meet the needs of every child and provide more opportunities for students to recover and thrive after two years of disruption," Weingarten said.
More money for pro-worker enforcement programs. Biden again seeks $319.4 million for the National Labor Relations Board. That's $45 million more than this year—and the figure the House OKd before the Senate eliminated that hike, leaving NLRB at $274 million,
And the Occupational Safety and Health Administration would get a record $704 million, which would let it hire 330 more staffers, rising to 2,346. The budget envisions a 7.6% increase in OSHA inspections, from 31,400 to 33,790. That doesn't count state OSHA inspections.
The NLRB's staff union welcomed that agency's hike with "Yes, but…" tweets. The first one noted the NLRB budget stalled at $274 million yearly in 2014. "While this proposal is encouraging, the agency needs these resources now," the staff union said.
"If the NLRB's 2014 budget had merely been increased to match inflation, our budget would stand at $328 million this year…We need these resources in FY2022"—the current fiscal year—"to adequately carry out our agency's mission of enforcing federal labor law." Its current year total: $274 million, again.
The comparison between military money and domestic spending led to political fireworks when Biden Budget Director Shalanda Young testified on March 29 before the Senate Budget Committee. Chairman Bernie Sanders is labor's longest-tenured supporter in Congress. He also hates growing the military, especially when the Pentagon outspends the next 11 nations' military budgets, combined.
"At a time when corporations are making obscene profits by charging outrageously high prices for gas, food, and rent, we need a budget that takes on the unprecedented corporate greed that is taking place in America today by enacting a windfall profits tax and preventing corporations from ripping off working families," Sanders added.
"At a time when over 700 billionaires in America became nearly $2 trillion richer during the pandemic while tens of millions continue to struggle, we need a budget that demands that the wealthiest Americans pay their fair share of taxes and substantially improves the lives of working families with children, the elderly, the sick and the poor."
Flak also came from the right. Sen. Lindsay Graham, R-S.C., who will take over the panel if the GOP wins control in November, slammed Biden's budget, too…for not spending enough on war. "The Biden budget fails once again to fund our national defense at adequate levels," was one Graham complaint.