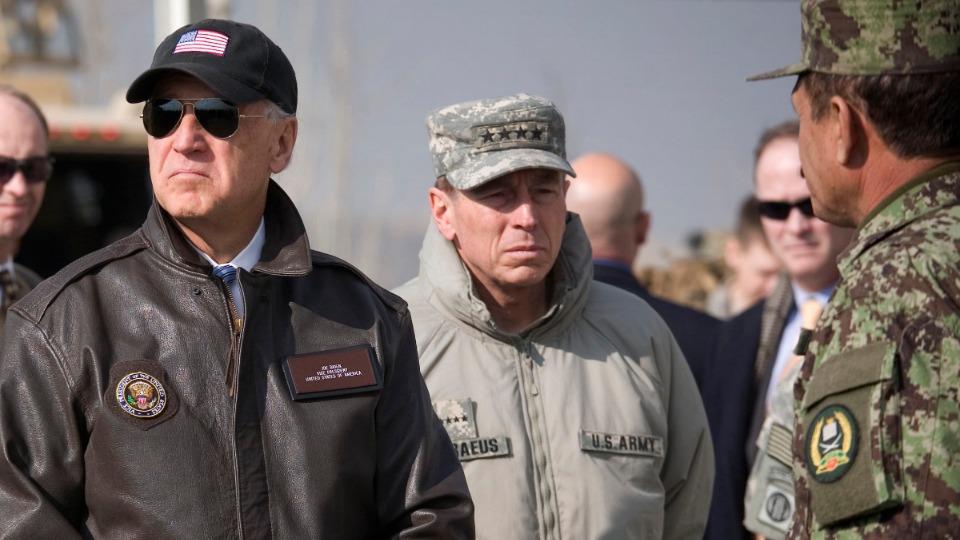 President Joe Biden declared Monday he would not back down on his withdrawal of U.S. troops from Afghanistan. Republicans, fearful that he or future presidents might just be serious about discarding the long-time imperialist policy of so-called "nation building," united around a barrage of attacks on the president. Using images broadcast around the world of the fall of the Afghan government and the Taliban's swift return to power, they blamed Biden for not seeing, ahead of time, the disaster that unfolded.
Among those condemning Biden were long-time advocates of continued U.S. intervention in Afghanistan, which began generations ago with the overthrow of the progressive socialist government in power there and the replacement of that government by the same Taliban that has now come back into power. The advocates of endless warfare have been joined in their attack on Biden by others, including some Republicans, who have said they backed a pull-out but are "horrified" with the way it has unfolded.
Flights in and out of Afghanistan resumed Tuesday as the U.S., holding Hamid Karzai International Airport in Kabul, tries to shuttle out diplomats, contractors, and Afghans who worked with the U.S. occupation forces. It is clear that reports the U.S. is talking now with the Taliban are clearly credible because the Taliban has, thus far, not attacked the 3,500 U.S. troops conducting evacuation operations at the airport.
Hypocritically, Republicans have all united in attacking and blaming Biden for both the war and for the problems connected with the withdrawal. The GOP and right-wingers across the board are determined to turn the chaos in Afghanistan into a political opportunity. The retreat is "an embarrassing spectacle, a diplomatic humiliation, and a national security catastrophe," said the opportunistic Sen. Ted Cruz, R-Texas.
Those attacking Biden argue that the Taliban was allowed to just "waltz in" and take over and that women will be set back into the dark ages. That is exactly what happened with U.S. backing when it helped the Mujahideen forces (from which the Taliban emerged) oust a socialist government in Kabul years ago, triggering more than a generation of suffering in that country as a result. Before the U.S. supported the overthrow of that socialist government, millions of Afghan women were going to school and receiving training for a variety of jobs and professions. Thousands traveled to the Soviet Union where they were trained to become doctors.
Flip flops on the Taliban
Later, it was Republicans who pushed, after the Sept. 11, 2001, terrorist attacks, for the George-Bush-led invasion of Afghanistan to overthrow the very Taliban they had earlier helped to power. The Republicans were the champions of so-called "nation building" there and in Iraq, so when Biden talks about rejecting that policy, war hawks and right-wingers have cause to worry.
The U.S-backed government that folded almost overnight this week presided over a system under which billions of dollars of U.S. taxpayer money were funneled annually for almost 20 years into the hands of U.S. armaments companies and corrupt Afghan elites all over the country, with most of that money never reaching any organizations or people that had anything to do with fostering a democratic nation in Afghanistan. The government collapsed so quickly not because of Biden's missteps, real or unreal, but because, as a result of the corruption, it had no support from the people.
Some Republicans pulled what looked like a U-turn during the Trump administration away from their hawkishness and backed Trump when he negotiated a deal with the Taliban to withdraw U.S. troops. That agreement—which entailed the Afghan government releasing 5,000 prisoners who have now joined the Taliban takeover—was supported by the same Republicans currently attacking Biden for allowing the Taliban to "waltz in" to power. Cruz was among those who welcomed that Trump decision. He said in April he was "glad" troops were coming home.
"U.S. efforts at nation building actually makes things worse, not better," Rep. Matt Gaetz, R-Fla., a close ally of Trump, said on his podcast only this week.
Biden, in his speech Monday, tried to sweep aside the crass opportunism of Republicans by focusing discussion on what is most important. "I'm now the fourth American president to preside over war in Afghanistan," he said. "I will not pass this responsibility on to a fifth."
The Taliban, meanwhile, are busy trying to change their reputation as cruel Medieval fundamentalists determined to return areas they take over to the Dark Ages.
Zabihullah Mujahid, a spokesman for them, also addressed concern about the precarious position of Afghan women, claiming that women's rights will be honored under Islamic law. When they last held power, the Taliban severely restricted women's lives, and they have already been busy painting over public pictures or advertisements featuring the faces of women. The spokesperson said the Taliban sought no revenge and that "everyone is forgiven."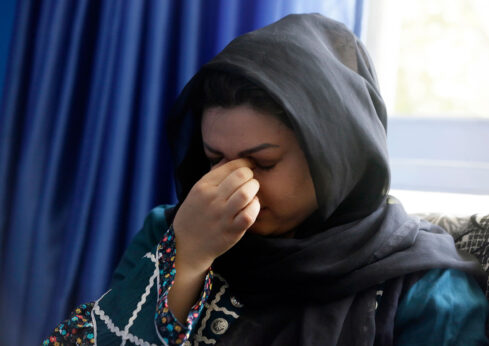 Many Afghans have expressed fear that the Taliban will return the country to the brutal rule they used when last in charge, from 1996 to 2001. The Taliban have long held ultraconservative Islamic views, which included not only severe restrictions on women but also public stonings and punitive amputations, the closing of schools and universities, and the destruction of cultural sites and heritage. Their government was ousted by the U.S-led invasion following the 9/11 attacks, but they continued to thrive in rural areas of the country despite prolonged U.S. bombardment and offensives.
Many women have expressed dread that the push to expand their rights and remake Afghanistan, which started under the socialist government of the 1980s and resumed unevenly over the past 20 years, will not survive the resurgent Taliban.
The last time the Taliban were in power, women were mainly confined to their homes. In another sign of the Taliban's efforts to portray a new image, a female television anchor on the private broadcaster Tolo interviewed a Taliban official on camera Tuesday in a studio—an interaction that once would have been unthinkable. Meanwhile, women in hijabs demonstrated in Kabul, holding signs demanding the Taliban not "eliminate women" from public life.
Peace groups praise Biden
On the domestic front, as expected, pro-peace groups praised Biden's decision to end U.S. involvement in Afghanistan, while turning their attention to future issues. Concluding endless wars, resettling fleeing Afghans in the U.S. as a humanitarian measure, and cutting the U.S. military budget were among them.
The United Electrical Workers lauded Biden and also criticized those in the labor movement who, in the past, supported U.S. interventions and wars.
"War is never the answer," said Dianne Randall, General Secretary of the Friends Committee on National Legislation (Quakers). "From invasion to withdrawal, for 20 years the U.S. government has declined to use the full extent of its diplomatic and humanitarian tools to mitigate harm, to pursue inclusive political solutions, and to address urgent human needs.
"By prioritizing militarism over diplomacy and consistently heeding calls for more force over calls for more peacebuilding, the United States has exacerbated a humanitarian crisis in Afghanistan."
After praising Biden for being "right to withdraw," Randall added the U.S. should "immediately welcome Afghans who are fleeing the country" and "be honest about the harms it has caused, by using any remaining diplomatic leverage it may have to support multilateral violence-reduction efforts."
"Nothing good has come from this war," declared Tre Graves, campaign organizer for Democracy for America. "The United States occupation of Afghanistan that began two decades ago couldn't go on forever."
Now, Graves said, the U.S. must prioritize granting visas and resettling all 88,000 Afghans and their families—interpreters and others—who aided U.S. forces. Only 2,000 have gotten visas so far. DFA posted a petition to Biden urging him to admit all the Afghans involved.
Related stories on the end of the war in Afghanistan:

> As U.S. empire falters, people of Afghanistan pay the price

> Afghanistan's socialist years: The promising future killed off by U.S. imperialism
LeftNet posted a long list of organizations devoted to helping Afghans, particularly women, whose status in Afghanistan could take a step backwards with the Taliban's ascension.
CodePink's co-directors, Ariel Gold and Medea Benjamin, had two separate points, in tweets.
"The U.S. should recognize the Taliban as the ruling government of Afghanistan and reopen our embassy in Kabul. Diplomacy is the art of working with your adversaries," Gold tweeted.
"From Bush to Obama, we called for our troops to come home. Now we have to stop the military-industrial complex from dragging us into new wars. #DefundThePentagon," Benjamin's tweet added.
Public Citizen's tweet echoed that "defund the Pentagon" point. "Now would be a good time to cut America's $740,000,000,000 defense budget and reinvest funding in human needs," it read.
Unwinnable from the beginning
In a long commentary posted on the website of The Nation, Phyllis Bennis of the Institute for Policy Studies basically called the war unwinnable from the beginning.
"President Biden was right when he said, 'One more year, or five more years, of U.S. military presence would not have made a difference if the Afghan military cannot or will not hold its own country.' Of course, he didn't acknowledge it wasn't their country the troops were being asked to protect but a corrupt and wildly unpopular government imposed by an occupying army."
"Despite 20 years of occupation, the United States couldn't 'win' militarily either—because there is no military solution to terrorism," she added.
MoveOn.org posted a petition demanding help for the refugees and citing a tweet from Sen. Bernie Sanders, Ind-Vt., the longest-serving anti-war lawmaker.
"The U.S. can't hide from our responsibility in this crisis," MoveOn urged. Then it posted Sanders's tweet: "Foreign policy matters: After 20 years of U.S. effort, the loss of 2,448 soldiers and a trillion (dollars) spent, Afghanistan was left with a corrupt government and an ineffectual military. At this moment, we must do everything we can to evacuate our allies and open our doors to refugees."
Reps. Alexandria Ocasio-Cortez, D-N.Y., and Barbara Lee, D-Calif., among others, sounded the same themes. Lee was the sole House member in 2001 to vote against then-GOP President George W. Bush's Authorization to Use Military Force to launch the Afghanistan invasion. By a bipartisan 14-8 vote on Aug. 4, the Senate Foreign Relations Committee approved her resolutions repealing both that AUMF and the 2002 one Bush used to justify invading Iraq.
"Our focus now has got to be the safety and security of everyone at this moment, and I think it's a very dire situation," Lee told MSNBC. "This is an example, though, that there is no military solution. We've been there 20 years, we have spent over a trillion dollars, and we have trained over 300,000 of the Afghan forces.
"Listen, 20 years ago I said there was no military solution in Afghanistan. Of course, we have to deal with the terrorist threats, of course, we have to deal with national security."
There's been too much emphasis on the military and not enough on diplomacy and development, Lee added. "We need to get back to rebalancing," the three. That's why Biden "is doing the right thing."
A moral obligation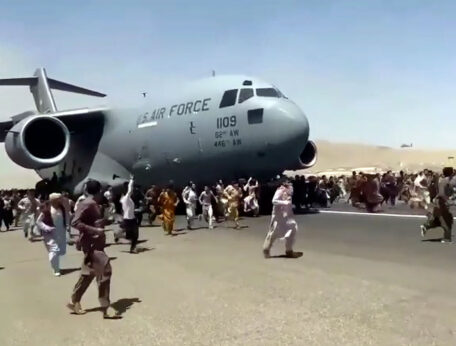 "We have a moral obligation to the Afghan people. The U.S. role in this crisis is indisputable. We must waste no time or expense in helping refugees safely and swiftly leave Afghanistan. We must immediately welcome them to the U.S. and provide real support as they rebuild their lives," Ocasio-Cortez tweeted.
Except the United Electrical Workers, no unions surveyed who would be expected to comment on the Taliban's ascension to complete control of Afghanistan either way—from Labor Against Racism and War (formerly U.S. Labor Against War) and the International Longshore and Warehouse Union to the Fire Fighters and parts of the Government Employees—did so on their websites or social media as of press time.
UE's resolution in May 2021 denounced wars in Afghanistan and Iraq, aid to Israel against the Palestinians, and acquiescence of U.S. unions, pre-1995, in U.S. foreign policy. That get-along go-along policy only harms international solidarity against global capital, UE said.
"In pursuit of empire and control of natural resources, the U.S. wars in Afghanistan and Iraq have cost our nation billions of dollars and the lives of thousands of our young soldiers, while producing only more extremism, more war, more instability, and more danger," UE's statement, signed by President Carl Rosen and its other two top officers, said.
"President Biden's announcement that he intends to withdraw U.S. troops from Afghanistan, where they have been for close to two decades, is welcome. However, replacing U.S. troops with mercenaries paid for by U.S. tax dollars, or continued U.S. military attacks on targets in Afghanistan from outside the country's borders, will not bring stability or peace to the region.
"Our nation must learn from our long and costly mistakes in Iraq and Afghanistan, and our ongoing military aid to Israel, that military responses to long-standing political and social problems almost always escalate violence and exacerbate problems rather than solving them. Working people need and deserve, instead, a foreign policy based on diplomacy, peace, and international solidarity."
Other unions that opposed the Afghan war did so in 2017, or in several cases, before that. That included the AFL-CIO. Indeed, when the late AFL-CIO President Richard Trumka died on Aug. 5, Labor Against Racism and War included an anti-war quote from him in its tweeted tribute.
''Real national security means reaching a helpful hand to workers in other countries instead of sending them bombs and bullets.' —a young, recently elected president of the United Mine Workers, @RichardTrumka #RIP" it read.
The AFL-CIO's extensive resolution, approved at its last convention, in 2017 in St. Louis, reminded readers that six years before, the federation's "executive council declared American troops must be brought home from Iraq and Afghanistan, and the militarization of our foreign policy has proven to be a costly mistake.
"The AFL-CIO calls upon the president and Congress to bring the war dollars home and make our priority as a nation rebuilding this country's crumbling infrastructure, creating millions of living wage jobs, and addressing human needs such as education, health care, housing, retirement security, and jobs," the 2017 convention resolution added. "It is time to invest at home."
AFT was even more caustic that year when it demanded withdrawal from both Afghanistan and Iraq. It opposed and condemned "forever wars," such as Afghanistan, and authorized "support (for) anti-war groups in exposing and opposing the policy behind these endless wars.
"The primary agenda of these wars is to further the interests of U.S. corporations and the ruling elite, with the consequence of lower investments in public services like healthcare, education, and environmental protection," the big teachers union said then.
"The United States historically has pursued a foreign policy motivated by the aim of controlling resources, markets, and labor, starting with territorial expansion" in the 1800s and continuing through annexing overseas islands, "arming friendly military regimes," and outright occupations in Haiti and elsewhere in the Americas—"a policy the United States continued in Afghanistan and Iraq."
"Imperialist wars historically depended on racism, from the genocide in the Americas and the African slave trade, through the wars for control of key areas in Indochina and Latin America, to today's mass bombing and displacement of populations in the Middle East," AFT said then.
Associated Press contributed to this article.