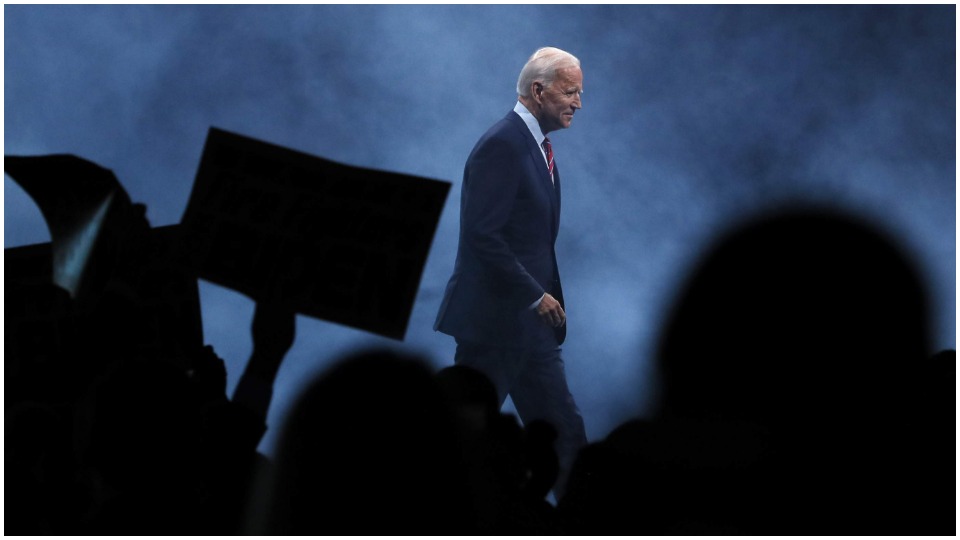 WILMINGTON, Del.—Asking the country to "choose hope over fear," former Vice President Joe Biden formally accepted the Democratic Party's presidential nomination on Thursday night. "Here and now, I give you my word: If you entrust me with the presidency, I will draw on the best of us not the worst. I will be an ally of the light, not of the darkness."
"The current president has cloaked America in darkness for much too long. Too much anger. Too much fear. Too much division," Biden said. "United we can, and will, overcome this season of darkness in America. We will choose hope over fear, facts over fiction, fairness over privilege."
In his Aug. 20 address, Biden talked about the nation's pain, particularly hemorrhaging jobs and a rampaging coronavirus pandemic, while highlighting his own blue-collar roots. That, and being just plain Joe, may well help him win back many working-class white voters, especially men, who went with Trump in 2016. Many of those voters went to Trump four years ago, helping him take the White House by narrowly carrying the key Great Lakes factory states of Michigan, Wisconsin, Pennsylvania, and Ohio.
Current opinion polls show Biden carrying those states.
Pain is being felt by all workers under Trump, Biden said, ticking off the traumas: Five million people testing positive for the coronavirus, more than 170,000 dead, 50 million jobless, and 10 million who lost their health insurance—all avoidable, he declared.
And all occurred because Trump "failed in his most basic duty…to protect us. That is unforgivable."
So without naming the GOP incumbent, Biden pledged to lead the nation—the whole nation—out of "the four historic crises" it faces, "a perfect storm."
He listed three as the coronavirus pandemic, the economic depression its closures have caused, and the threat of massive and irreversible climate change. While he called the fourth, centuries of systematic racism, a crisis, it really is more of a needed confrontation with that horrible history and an opportunity to start rooting it out.
If Trump is reelected, Biden warned more people will die from the coronavirus pandemic, more businesses will shutter, and more working people will struggle, while the 1% gets another tax cut. And Trump "will wake up every day believing the job is all about him, not about you," Biden said.
Biden spoke to a nationwide TV audience from Wilmington, Del. Listening on site were a small select crowd of reporters and a few others, thanks to the coronavirus pandemic. Everyone else—delegates, guests, reporters, lobbyists, and the entire country—watched on television and online.
That's because the coronavirus scourge forced elimination of large gatherings, such as a convention's usual jam-packed arena filled with cheering thousands and festooned with flags, streamers, falling balloons, and other traditional trappings of a made-for-TV extravaganza. Outside the location where Biden spoke, though, a crowd watched from their cars, drive-in theater style, with fireworks at the end following Biden's and Harris's appearance.
"While I will be a Democratic candidate, I will be an American president," Biden pledged. "I will work as hard for those who didn't support me as I will for those who did. That's the job of a president. To represent all of us, not just our base or our party. This is not a partisan moment. This must be an American moment. It's a moment that calls for hope and light and love. Hope for our futures, light to see our way forward, and love for one another."
While he didn't present a point-by-point program, Biden sketched what he plans to do if voters send him to the Oval Office. One "better economy" point: Elevate workers. He pledged an economy with "newly empowered labor unions." Biden strongly supports the Protect The Right To Organize (PRO) Act, the most pro-worker labor law reform since the original 1935 labor law. And Biden would go further in one aspect: "Perp walks" for constant corporate labor law-breakers.
"My economic plan is all about jobs, dignity, respect, and community.  Together, we can, and we will, rebuild our economy. And when we do, we'll not only build it back, we'll build it back better," Biden said. One way to pay, he added: Repeal the Trump-GOP $1.7 trillion tax cut for the 1% and the rich.
Elevating unions and workers is in character. Biden has been a supporter of them for decades, and vice versa. Weeks before he officially announced his candidacy, the Fire Fighters' Legislative-Political Conference in D.C. greeted Biden with a sea of yellow-and-black waving "Run, Joe, Run!" signs and a roaring crowd, for example. He thanked them at the time, adding: "Save that enthusiasm."
Biden pledged to add five million new jobs, in factories and in technology, by converting the economy to carbon neutrality and by bringing supply chains back from overseas to produce needed gear, such as anti-virus protective masks, here. "Our economy is in tatters, with Black, Latino, Asian American, and Native American communities bearing the brunt of it. And after all this time, the president still does not have a plan," Biden said. "Well, I do."
His economy would include "a health care system that lowers premiums, deductibles, and drug prices by building on the Affordable Care Act he's trying to rip away," referring to Trump-GOP efforts, first in Congress and now in the courts, to delete it. The U.S. Supreme Court, with a five-man GOP-named majority, including two Trump-named justices, will hear the Trump regime's case against the ACA this fall—after the election.
Biden's economy would also include "an education system that trains our people for the best jobs of the 21st century, where cost doesn't prevent young people from going to college, and student debt doesn't crush them when they get out." Those were planks of the party's progressives, led by Sens. Bernie Sanders, Ind-Vt., and Elizabeth Warren, D-Mass., who also ran in the primaries, and Rep. Alexandria Ocasio-Cortez, D-N.Y., the rising young democratic socialist. Biden rejected another demand of the progressive wing of the party, however, to replace the ACA with Medicare For All.
Biden's "better" also would include well-paid child care and elder care, "an immigration system that powers our economy and reflects our values," the "newly empowered labor unions," equal pay for women, and "rising wages you can raise a family on."
"Yes, we're going to do more than praise our essential workers. We're finally going to pay them," he pledged. Those essential workers during the pandemic—nurses, truckers, grocery workers, and warehouse workers among them—have been demanding hazardous duty pay for putting themselves in peril during the pandemic. Some have received it from firms. Others got it, but then saw it yanked. Some, such as farm workers, who are not covered by labor laws, never got it at all.
Biden's new economy would also tackle the pandemic, starting "on day one," he said. "We'll develop and deploy rapid tests" for the virus "with results available immediately." The U.S is far short of mass testing, and results often take a week or more. "We will never get our economy back on track, we will never get our kids safely back to school, we will never have our lives back, until we deal with this virus. The tragedy of where we are today is it didn't have to be this bad," he said.
His plan, which Biden started developing in March, will include everyone wearing anti-viral masks in public as long as the pandemic exists. It's "a patriotic duty," he said.
"We'll make the medical supplies and protective equipment our country needs…. We'll make sure our schools have the resources they need to be open, safe, and effective."
"And we'll put the politics aside and take the muzzle off our experts so the public gets the information they need and deserve. The honest, unvarnished truth. They can deal with that."
Those were also slams at Trump, who first ignored the pandemic threat, then treated it dismissively, and who even now, another speaker said, hopes for "a miracle cure."
Trump's reaction to the demands for ending systemic racism also earned Biden's scorn, and a pledge to start the work of repair, reconciliation and justice.
That may be the responsibility of Biden's vice-presidential nominee, Sen. Kamala Harris, D-Calif., the first Black woman and first Asian-American on any major-party ticket. For after praising young people for hitting the streets for racial and economic justice, Biden pivoted to her knowledge of injustice.
"She knows about all the obstacles thrown in the way of so many in our country. Women, Black women, Black Americans, South Asian Americans, immigrants, the left-out and left-behind," he said of Harris.
"But she's overcome every obstacle she's ever faced. No one's been tougher on the big banks or the gun lobby. No one's been tougher in calling out this current administration for its extremism, its failure to follow the law, and its failure to simply tell the truth."
"Nearly a century ago, Franklin Roosevelt pledged a New Deal in a time of massive unemployment, uncertainty, and fear. Stricken by disease, stricken by a virus, FDR insisted that he would recover and prevail and he believed America could as well," Biden said near the start of his speech.
"And he did. And so can we."
Like free stuff? So do we. Here at People's World, we believe strongly in the mission of keeping the labor and democratic movements informed so they are prepared for the struggle. But we need your help. While our content is free for readers (something we are proud of) it takes money — a lot of it — to produce and cover the stories you see in our pages. Only you, our readers and supporters, can keep us going. Only you can make sure we keep the news that matters free of paywalls and advertisements. If you enjoy reading People's World and the stories we bring you, support our work by becoming a $5 monthly sustainer today.