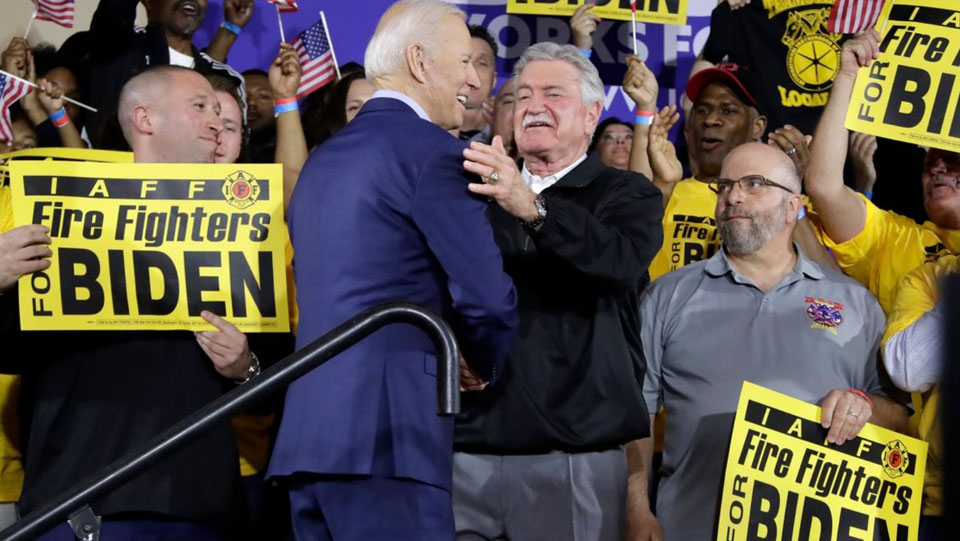 WASHINGTON—Last winter, Joe Biden stood and smiled behind an International Association of Fire Fighters podium as more than 800 Fire Fighters stood, cheered, and waved yellow-and-black signs that declared "Run, Joe, Run" for the White House.
This winter, there were no signs, but the man, Joe Biden, addressing the union's 4,000-delegate virtual convention via Zoom and YouTube on Jan. 27, had a seal on his podium: President of the United States.
And the President of the United States was making a key promise to the union: Backing legislation ordering all state and local governments to collectively bargain with public workers.
After just a week in the Oval Office, the IAFF's convention was the first union audience Biden addressed as president. In 2020, its legislative conference in D.C. was his first big union audience that year and the last before he officially launched his White House bid.
Biden broke no new ground in this year's four-minute 13-second speech. But he did restate a pledge he became known for during his long Senate career, the mandatory collective bargaining, which would have particular impact in Southern and right-to-work states.
"I'll always, always protect your rights to collective bargaining," Biden declared.
That's been a top IAFF issue for decades. IAFF and Biden first pushed it after the New York Fire Fighters lost 343 members and their Catholic priest in the Sept. 11, 2001, al-Qaeda destruction of New York's Twin Towers. Senate Republicans have blocked it then and since.
As for larger issues, such as aid to state and local governments to overcome tanking revenues due to the coronavirus pandemic, Biden pledged: "Help is on the way." His $1.9 trillion economic aid package includes $350 billion for those governments.
The money is "to keep you on the job," Biden said. The GOP opposes it, too.
In both conclaves, Biden repeated his and his family's long personal relationships with Delaware Fire Fighters, including their saving his life twice, and thanked them. And he had his jocular moments both in 2020 and this year. Last year, between the waves of cheers, Biden smilingly told those 900 attendees to "save your energy" for a few weeks, when he would, and did, officially run for president.
This year, Biden's jocular note came while hailing IAFF President Harold Schaitberger, who will retire in April after decades at the union's helm, which has seen numbers rise to 324,000. "No matter how hard you try" to retire, "I'll find you," Biden warned the union leader.
Delegates spent the rest of the convention on resolutions and nominating potential successors to Schaitberger and other officers. The election, by mail due to the coronavirus pandemic, starts Feb. 3 and runs through March 2, with delegates reconvening, remotely, eight days later, to hear the results. Edward Kelly, the union Secretary-Treasurer who has jousted internally against Schaitberger, is expected to seek the top job.