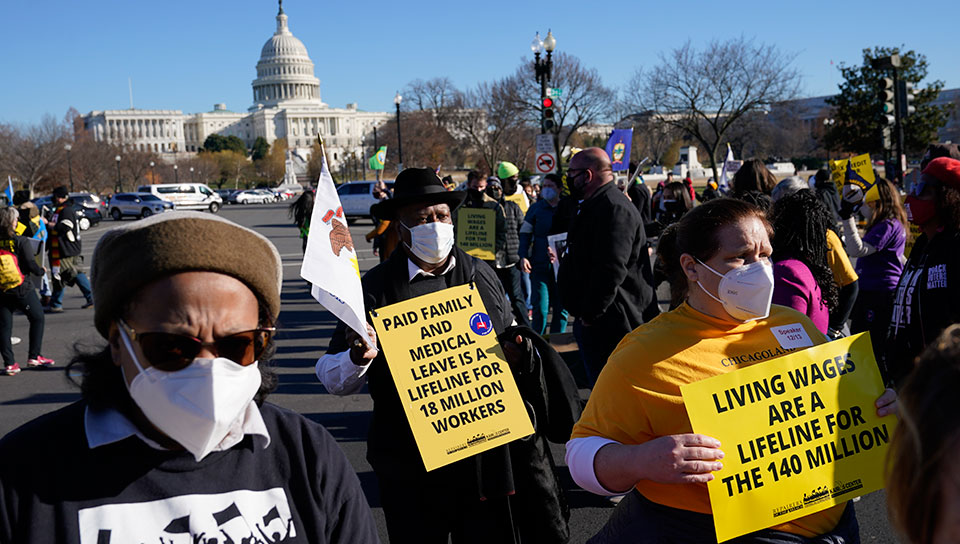 WASHINGTON—In a skillful State of the Union address, Democratic President Joe Biden offered unifying themes at the beginning—countering the Russian invasion of Ukraine—and the end—fighting cancer and the coronavirus pandemic.
For example, Biden attacked oligopolies in meatpacking and ocean shipping, and Wall Street control, for profits, of nursing homes. In one of his few partisan shots, Biden criticized the prior GOP regime's $2 trillion tax cut for benefiting the rich, while stating his American Recovery Act benefited everyone.
And Biden again demanded raising taxes on corporations and the wealthy, declaring they must pay their fair share. But he didn't explain all those ills are symptoms of the wider disease of the lopsided capitalist system and its corporate control of workers.
Biden also urged lawmakers to defend and restore voting rights, bypassing the John Lewis Voting Rights Advancement Act and the Freedom To Vote Act. But he didn't specifically call out the GOP by name for–again at the behest of ideologues and the rich–making voting difficult for people of color, students, and workers. Or calling out the Supreme Court's GOP-named majority for emasculating the 1965 Voting Rights Act.
"And while you're at it, pass the Disclose Act so Americans can know who is funding our elections," he said. The GOP and its corporate sponsors oppose that, too. They sat on their hands. Dems clapped.
Biden also advocated for, key parts of his Build Back Better agenda—such as paid family and medical leave–and of fighting climate change, without actually using the BBB name.
Biden strongly reproductive rights, without uttering the word "abortion."
"If we want to go forward—not backward—we must protect access to health care. Preserve a woman's right to choose. And let's continue to advance maternal health care in America," he declared. "And for our LGBTQ+ Americans, let's finally get the bipartisan Equality Act to my desk. The onslaught of state laws targeting transgender Americans and their families is wrong."
The GOP hates paid leave, reproductive rights, immigration reform, and fighting climate change. It uses them—and social issues such as anti-abortion and anti-transgender laws—to rouse its "base." Counters to those right-wing themes also are marooned in the 50-50 Senate, due to Republican filibuster threats.
But Biden was more direct when it came to pro-worker legislation. There, too, the GOP sat on its hands.
Notable among pro-worker themes, which drew praise from union leaders afterwards, was his restated demands lawmakers pass the Protect The Right To Organize (PRO) Act, labor's #1 legislative priority, along with raising the minimum wage to $15 an hour, enacting paid family and medical leave and restoring the child care tax credit.
"Let's pass the PRO Act," Biden declared. "When a majority of workers want to form a union, they shouldn't be stopped."
Opinion polls show two-thirds of those responding, including a plurality of Republicans, support unionization, especially as a counterweight to corporate control of the economy and people's lives. But an overwhelming majority of congressional Republicans cater to corporate puppeteers and right-wing ideologues and hate unions and workers.
"Let's pass the Paycheck Fairness Act and paid leave," Biden said, to a standing ovation, led by House
Speaker Nancy Pelosi and Vice President Kamala Harris, both D-Calif., sat behind him. "Raise the (federal) minimum wage to $15 an hour and extend the Child Tax Credit, so no one has to raise a family in poverty."
Those ideas, and more, are in BBB, Biden's measure, now $175 billion yearly over 10 years, to repair and improve the nation's frayed social safety net. There, however, defecting Sens. Kyrsten Sinema, D-Ariz., and Joe Manchin, D-W. Va., join all the Republicans in adamant opposition, and it's stalled, too.
Biden carefully did not mention the defectors. He's unsuccessfully lobbied both to switch to support.
Biden also reclaimed his campaign theme of reuniting the nation, by touting 80 pieces of bipartisan legislation he's signed, notably the $1 trillion-plus infrastructure law—an achievement his GOP predecessor never accomplished. Now, Biden said, the U.S. can talk of "an infrastructure decade."
"We'll create good jobs for millions of Americans, modernizing roads, airports, ports, and waterways" nationally, he stated. "And we'll do it all to withstand the devastating effects of the climate crisis and promote environmental justice."
That includes 4,000 projects "already announced," plus replacing "poisonous" lead-lined water pipes and creating affordable nationwide high-speed Internet.
And "this year we will start fixing over 65,000 miles of highway and 1,500 bridges in disrepair," he declared. All will be done via "Buy America…to support American jobs."
"Now our infrastructure is ranked 13th in the world. We won't be able to compete for the jobs of the 21st century if we don't fix that."
Both sides of the aisle in the U.S. House chamber and galleries applauded Biden's measures to counter the invasion of Ukraine. He personalized them by going after Russian President Vladimir Putin by name, declaring the Russian leader "is now more isolated from the world than ever."
Biden announced specific economic sanctions but pledged not to send troops in to fight—unless Russia also attacked fellow North Atlantic Treaty Organization member nations. What Biden did not say: Ukrainian President Volodymyr Zelensky, that afternoon, had formally asked NATO to admit Ukraine.
The economic measures freeze Russia out of the international banking system, "preventing Russia's central bank from defending the Russian ruble, making Putin's $630 Billion 'war fund' worthless," assembling a Justice Department task force to pursue "the crimes of Russian oligarchs"—and their yachts and fancy houses, too—and even banning Aeroflot from U.S. air space.
"When dictators do not pay a price for their aggression they cause more chaos. They keep moving," the president explained. He did not say so but learned that as a child born 11 months after Pearl Harbor.
All those were sure-fire applause lines at the start of the speech, given the anti-Russian attitude pervading Congress. Dissenters like Sen. Bernie Sanders who want more of a focus on negotiations as opposed to just sanctions played no role in the media coverage of the speech.
Biden also pleaded for bipartisan unity on a key problem facing the country: The coronavirus (Covid-19) pandemic, which, as of the morning of March 2 has killed 952,509 people since its official proclamation almost exactly two years ago.
First, Biden touted past achievements to control and reduce the coronavirus, and its hospitalization and death rates: Vaccinations, mask-wearing, physical distancing, and the like. He declared restrictions are now being eased. But then he warned fighting the pandemic shouldn't be partisan. Left unsaid: Donald Trump-pushed GOP lemmings make it so.
"Let's use this moment to reset. Let's stop looking at Covid-19 as a partisan dividing line and see it for what it is: A God-awful disease," Biden asked the country. "Let's stop seeing each other as enemies, and start seeing each other for who we really are: Fellow Americans.
"We can't change how divided we've been. But we can change how we move forward—on Covid-19 and other issues we must face together."
Biden's speech, which played to a nationwide broadcast audience in prime time, also hit on some key issues important to workers and their allies.
One was inflation, now rising at a 7% annual rate. "I get it," Biden said. He touted moves against the oligopolies, which rig and drive up prices, and to eliminate bottlenecks in the supply chain, to bring inflation down. The solution, he pointedly declared, is not to cut workers' wages and benefits.
The House has passed the PRO Act once each in this Congress and last. Its provisions for higher taxes on labor law-breaking and a wider reach for more lawbreakers—fining CEOs and board members, for example—and crimes, such as holding captive audience meetings, are also in the Build Back Better "reconciliation" bill.
The GOP Senate filibuster threat, manipulated by the capitalist class, has halted Build Back Better/ reconciliation, as well as the PRO Act, raising the minimum wage to $15 an hour and other pro-worker measures.
Biden placed his support for unions and workers in economic terms.
"When we invest in our workers, when we build the economy from the bottom up and the middle out together, we can do something we haven't done in a long time: Build a better America," he declared. "Middle out" seems to be a term without definition except to say it may be meant to soften to0 much emphasis on the poor.
"Invest in America. Educate Americans. Grow the workforce. Build the economy from the bottom up and the middle out, not from the top down. Because we know that when the middle class grows, the poor have a ladder up and the wealthy do very well."
Union leaders lauded those remarks. "One year of progress and more good paying union jobs. #SOTU," an AFL-CIO tweet during the speech read. In her own initial tweet, federation President Liz Shuler stood by Biden against the Russian invasion of Ukraine but put more emphasis than did the president on peace and diplomacy.
"We need peace, dialogue, and diplomacy. Long live international solidarity. #StandwithUkraine,"
"The Biden-Harris Administration is getting started on 65,000 miles of highways and roads needing repair. That's delivering for working families. #BuildBackBetter #UnionStrong #SOTU," the Laborers tweeted.
Other leaders praised Biden's domestic agenda, notably the PRO Act advocacy.
"CWA (the Communications Workers) applauds President Biden's focus on worker empowerment and we will continue to support the administration in its effort to create more good union jobs, support workers' organizing for better pay and working conditions and reform weak and outdated labor laws," its statement said.
Office and Professional Employees "members, like most working Americans, are concerned" about "how rising wages due to a tight labor market are being nullified by inflation, driven in no small part by corporate greed, about the growing wage and health inequities" the coronavirus exposed and enlarged, and by "how corporate America continues to get away with union-busting, tax-dodging and destroying the planet."
"That's why President Biden's call to pass the PRO Act, the most consequential labor law reform legislation in modern history, is so important. If signed, it can and will rebalance labor relations in the U.S., creating a more level playing field between disempowered workers and employers who regularly violate employees' rights without penalty."
"Exactly @POTUS! We need to make it easier for working people to come together in a union. #ProAct #StateOfTheUnion #SCOTUS," the Service Employees enthused in a tweet.
"Scotus" referred to Biden's recent nomination of federal appellate judge Ketanji Brown Jackson to the Supreme Court. She would be the first Black woman justice. In his speech, Biden advocated for her Senate confirmation, too. Sen. Ted Cruz, R-Texas, and other right-wing ideologues already prejudge her as unqualified. The High Court has a 6-3 GOP-named majority. Jackson would succeed retiring Democratic-named Justice Stephen Breyer.
Biden also co-opted the GOP one other way. He lingered on the U.S. House chamber floor for almost half an hour after his address, engaging in long conversations with lawmakers. That delayed the Republicans' televised reply. Eventually, Gov. Kim Reynolds, R-Iowa, wrapped the party in so-called "family values," notably parental "control" of schools. That's tantamount to giving white nationalists a veto over curriculum, especially history teaching.
The Working Families Party also aired its reply, with Rep. Rashida Tlaib, D-Mich., speaking for them.
"The majority of the Build Back Better agenda is stalled, Mr. President," Tlaib said. "Our work is unfinished. We are ready to jumpstart our work again." After praising the bipartisan infrastructure bill, she declared: "We campaigned on doing even more. Roads and bridges are critical but so are child care and prescription drugs. And we shouldn't have to choose."