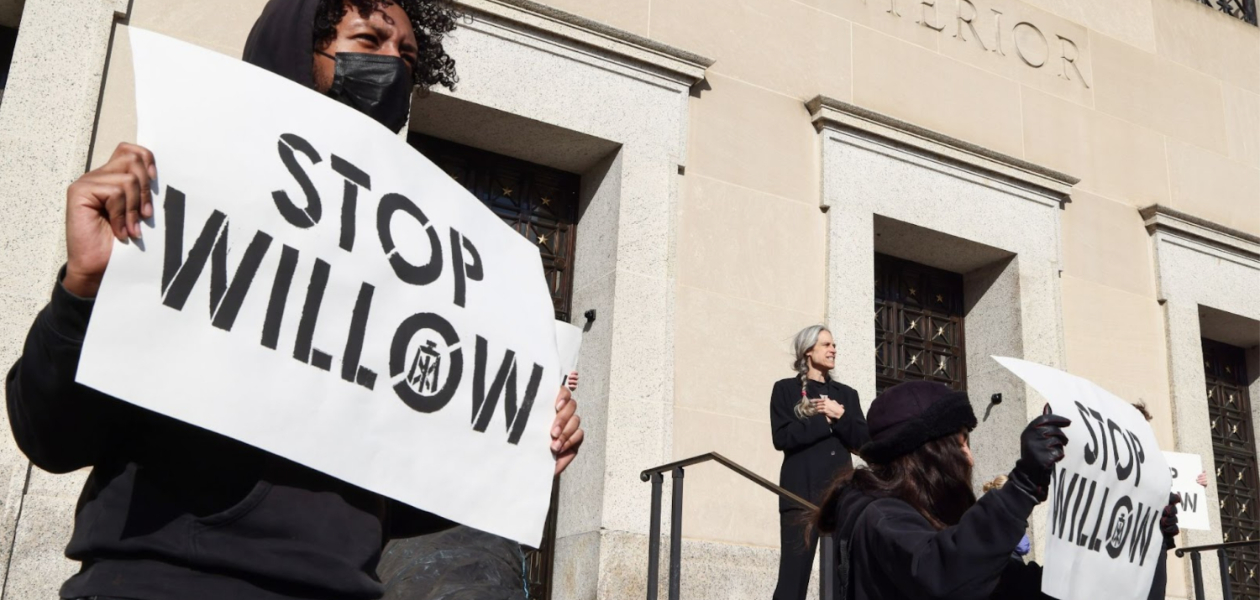 WASHINGTON—During his campaign for the presidency, Joe Biden may have promised "no more drilling on federal lands, period," but that pledge is now out the window. Belying his reputation as the "green" president, Biden has upset progressive lawmakers, environmentalists, and an Inuit group in Alaska by approving the massive Willow oil drilling project there.
And it's not just organizations that are angry with his OK of ConocoPhillips's $8 billion plan to drill 199 oil wells on Alaska's environmentally fragile North Slope. CNN reported the White House was bombarded with a million letters of protest.
Change.org's petition against Willow had 3.464 million signers as of Tuesday afternoon, March 14. Ben Jealous of the Sierra Club said Biden Interior Secretary Deb Haaland received 5.6 million opposition comments.
Haaland, a former New Mexico congresswoman and the first Native American to hold that job, tried to soften the impact of the Willow OK. It didn't work.
Haaland emphasized Interior cut ConocoPhillips' size, in the National Petroleum Reserve on Alaska's North Slope, by 40% (68,000 acres) and virtually banned drilling in the rest of the reserve and in the nearby Arctic Ocean.
She also didn't make the announcement. Her deputy, Tommy Beaudreau, an Alaskan, did.
Haaland added Interior's hands were tied since the predecessor Republican Trump regime, catering to corporate interests, had approved the whole thing—and that banning Willow entirely would not have survived a court challenge. ConocoPhillips has existing lease rights in the area that already allow it to drill.
Biden administration officials are stressing the other ways the president supposedly tried to re-shape the project by adding in land and water protections and bans on future fossil fuel drilling for other areas of the northern Alaska coast.
At least one environmental group vowed to challenge Willow in court, anyway.
The bans elsewhere irked Trumpite Sen. Dan Sullivan, R-Alaska, who claims Native Americans in the area need the jobs it would bring. He didn't mention the profits Willow would bring ConocoPhillips.
Neither did Alaska's other two lawmakers, Sen. Lisa Murkowski (R), and Rep. Mary Peltola (D), the state's first-ever Native American federal lawmaker. All three backed it. And ConocoPhillips' CEO said the jobs constructing Willow's drills and other structures would be union jobs.
Oil boss Ryan Lance said the approval "was the right decision for Alaska and our nation." Phillips lauded the president, saying the Willow project "fits within the Biden administration's priorities on environmental and social justice, facilitating the energy transition, and enhancing our energy security."
Among environmentalists and conservationists, though, few are convinced. That's not surprising, given the petrochemical firm's reputation, and the fact that ConocoPhillips would still be able to extract 90% of the oil it originally planned to drill for.
The project, which has yet to begin, covers an oil field with an estimated 600 million barrels in it, said Ann Alexander, the Natural Resources Defense Council attorney battling the project.
In a statement headlined "White House Poised to Carbon-Bomb Its Own Climate Progress," Alexander elaborated: "The Willow oil drilling project, proposed for Alaska's Western Slope, is a climate doomsday carbon bomb.
"What, you think that's an exaggeration? Then consider that Willow, the largest single drilling project proposed on federal land, will cause roughly 280 million metric tons of carbon dioxide equivalent emissions over the course of its lifetime."
That's the equivalent of putting two million more cars, and their carbon emissions, on U.S. roads every year during Willow's estimated 30 years of production, green groups say. It's also equivalent to the emissions of the entire country of Belgium.
"And consider as well the International Energy Agency concluded there are 'no new oil and gas fields approved for development in our pathway' to limiting warming to 1.5 degrees Celsius which is what's needed to forestall the most catastrophic effects of climate change—a stark mandate counseling against any new oil drilling projects, much less unprecedentedly gargantuan ones."
"Biden's presidential powers allow him to reject all new fossil fuel projects and declare a climate emergency that would ensure the survival of our communities and our planet. Instead, he is choosing to fatten the wallets of Oil CEOs by expanding fossil fuel infrastructure that will drive us further into climate chaos," said the 1,200-group coalition People vs. Fossil Fuels.
"Willow will catalyze oil and gas extraction in the Arctic for another 30 years, and lock in future expansion," said a local Native American environmental group, Sovereign Inupiat for a Living Arctic. "Fossil fuels are single-handedly the greatest contributor to the global climate emergency, especially in the Arctic.
"The true cost of Willow is the land and animals and people forced to breathe polluted air and drink polluted water. While out-of-state executives take in record profits, local residents are left to contend with the detrimental impacts" of oil drilling.
Progressive lawmakers were outraged, too.
"The Biden administration has committed to fighting climate change and advancing environmental justice," jointly tweeted Reps. Alexandria Ocasio-Cortez, D-N.Y., Raul Grijalva, D-Ariz., Jared Huffman, D-Calif., and Sen. Edward Markey, D-Mass. The "decision to approve the Willow Project fails to live up to those promises."
The Congressional Hispanic Caucus and some members of the Congressional Progressive Caucus see politics—presidential politics—behind Biden's Willow approval, his Trump-like tightening of which migrants can enter the U.S., and even his veto of Washington, D.C.'s rewrite of its century-old criminal code, which House Republicans claimed was soft on crime.
Those groups told the Washington Post they believe Biden is moving to "centrist" positions, anticipating another run against his rabid rightist predecessor, Donald Trump, or a Trump clone. The president, they said, believes he can co-opt the center by, in part, taking progressives for granted.
"Nobody on the Republican side is going to say 'thank you,'" to Biden on immigration or anything else, Progressive Caucus Chair Rep. Pramilla Jayapal, D-Wash., told the paper. So moving to the center "is not the right approach."