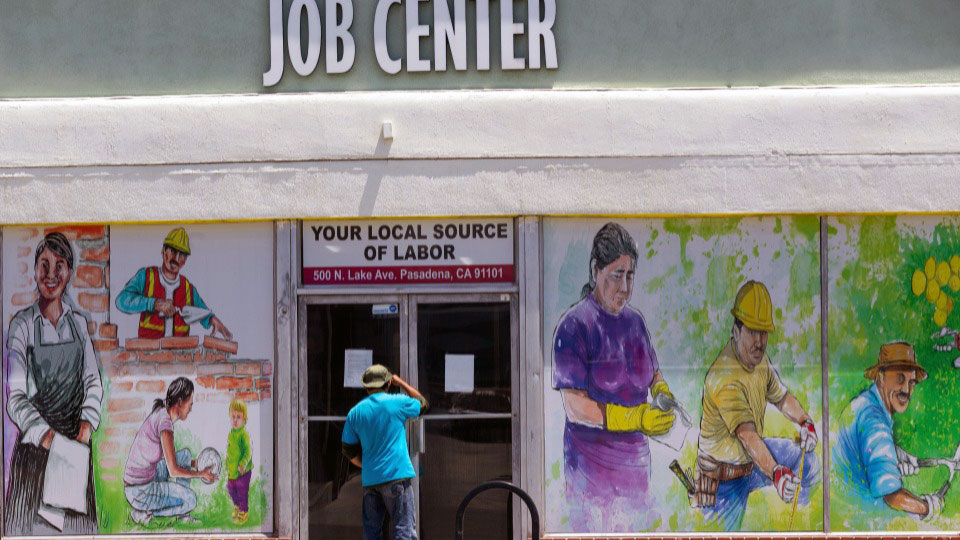 The Chamber of Commerce and the Republicans are seizing on what they say is a poor April jobs report to call for ending unemployment benefits they say are too generous. Their idea is that by heaping more pain and suffering on U.S. workers they will be forced to go back to work even if only to jobs that pay sub-human wages. The logical conclusion that this would be a good time for corporations and businesses to finally increase pay to living wage levels is one they want to avoid coming to at all costs.
Some 266,000 jobs were added in April, well below the one million expected, and March's employment number was revised downward by 78,000. While the growth was far below expectations, leisure and hospitality gained 331,000 jobs, a sign that increased demand and stimulus money has led to some gains in employment in that sector. Billions in federal aid went to small businesses a month ago, but the country has yet to see the positive effects that aid should have on employment.
The official unemployment rate increased in April to 6.1%, in large part due to workers beginning to return to the labor force in search of jobs. The actual rate was, of course, much higher.
The size of the labor force looking for jobs increased by 430,000 workers last month, the largest gain in half a year, according to the Economic Policy Institute. The jobless figures continue to show improvement, but the slowdown in that growth from March suggests not all is well.
Just over half a million workers (504,670) filed initial claims for state jobless benefits in the week ending April 24. That's down by 107,390 from the prior week—and far down from the 2.793 million who sought state jobless aid in the comparable week of 2020.
And there were 101,214 new applicants in the week ending April 24 for federal jobless aid—the $300 weekly checks to workers, such as gig workers and home health care aides—whom state unemployment systems exclude. That total, too, declined, by 20,200, in one week.
Still, the 16,157,024 who are already receiving state or federal jobless aid are 11.6% of all workers, and the number of people in the workforce, including those who have work and the jobless who seek it, is 8.2 million below its peak, just before the coronavirus-caused crash.
The claims by big business, the Chamber of Commerce, and employers generally that there is a labor shortage are actually false. The labor force is growing and the real problem is that wages are, as they have been for far too long, much lower than they should be. Correction of that imbalance, progressive and labor economists note, will be a major factor in solving the problem.
The figures that are really important are the ones that show employment is still down 8.2 million jobs from its pre-pandemic level in February 2020. But as EPI points out, if we include the likelihood that thousands of jobs would have been added each month over the last year without the pandemic recession, the jobs shortfall is more likely in the range of 9 and 11 million.
That, perhaps more than anything else, indicates that federal add-ons and supports to unemployment benefits must be continued and that the country needs to move full steam ahead on the $4 trillion recovery programs put forward by the Biden administration.
Biden pointed out on television Friday morning that the multi-trillion-dollar relief and stimulus programs are designed to work over a period of years, not in one month. He also emphasized that this is not the time to turn off vital relief, including expanded unemployment benefits—or any other aspects of his recovery program.
Adding to the necessity of continuing unemployment benefits is the jobless situation among Black workers. The Black unemployment rate rose officially to 9.7%, making Black workers the only racial and ethnic group (as a whole) to experience worsening metrics. Meanwhile, the white unemployment rate fell to 5.3%.
EPI underlines additional factors that must be considered when discussing jobs in America: In addition to the 9.8 million officially unemployed in April 2021, there are three more groups of economically hurt workers: those unemployed but misclassified as employed or not in the labor force (3.3 million), those who dropped out of the labor force (4.4 million), and those employed but experiencing a cut in pay and hours (4.6 million). Taken together, a minimum of 22.1 million people are still being economically hurt in the COVID downturn.
This story features data contributed by PAI