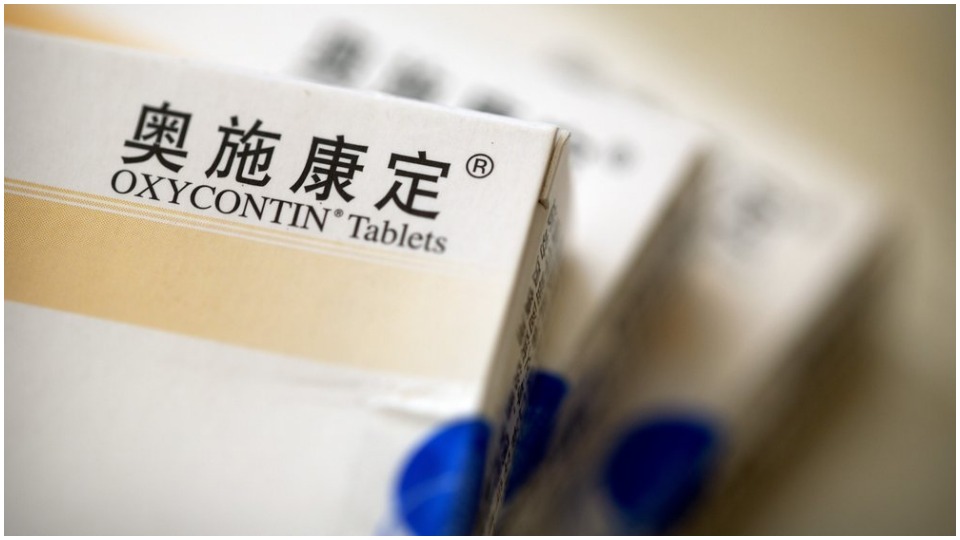 As the People's Republic of China's economy grows and integrates more fully into global commerce, so does the risk to its people's health. To meet the new demand for cancer and pain medications, China has had to harmonize its pharmaceutical regulatory structures with international ones and beef-up its investment in innovative biotech research and production.
But by opening up to western drug companies and streamlining the approval process for new drugs, the world's second largest pharmaceutical market is being used as a dumping ground for controversial drugs, posing a significant public health risk and opening old wounds dating back centuries.
Hospitals all over North America have pulled back their prescriptions for the popular painkiller OxyContin, after Purdue Pharma, owned by the billionaire Sackler family, was faced with a landslide of lawsuits on behalf of over 400,000 U.S. patients who died as a result of overdoses.
Millions more, many working-class Americans, have had their lives ruined by addiction to the prescription drug. But in China, big pharmaceutical conglomerates are just getting started and their sales are increasing exponentially.
Telling lies, pushing pills
In 2007, Purdue Pharma paid $634.5 million in penalties after the company's lawyers filed a guilty plea to federal charges of wrongly marketing OxyContin in the U.S. But the Sackler family, owners of both Purdue Pharma and its global affiliate, Mundipharma, have not given up. In fact, they have only intensified their sales of the controversial drug in countries like China.
According to a recent Associated Press investigation, Sackler's Chinese affiliate has been telling Chinese doctors that OxyContin is less addictive than other drugs on the market, falsifying documents and having sales personnel visit hospitals posing as doctors to gain access to patients. These are the very same misleading marketing techniques which resulted in federal charges being brought against Purdue for creating the deadliest opioid crisis in U.S. history.
The use of OxyContin by Chinese doctors has increased in recent years to the tune of more than 20%, according to the China Pharmaceutical Industry Association. A popular painkiller for cancer and post-surgical patients, prescriptions for OxyContin were twice that of growth in the overall pharmaceutical market in China since 2016.
Addiction was a serious political problem facing China during the 19th and early 20th centuries, thanks to British, French, and U.S. traders hell-bent on making as much profit as possible selling Turkish and Indian opium in China. As a result, Chinese drug regulations have historically been strict, but all that has changed in a relatively short period of time.
THE OPIOID CRISIS—A series from People's World writer John Bachtell:

Big Pharma companies are the "drug kingpins" of the opioid crisis
Two years ago, the Economist published a piece that rather ham-fistedly admitted "China and Britain see each other through a narcotic haze." This typically euphemistic turn of phrase contains within it a bloody history of Britain's war on China—to secure ports from which opium could be introduced to the rest of China. Hong Kong, among other ports, was conceded by the Chinese to the British as a direct result of the Opium Wars. Indeed, Hong Kong smolders today as a consequence of the British ruling class's predilection for making hasty profits at the expense of ordinary working people. Times have changed so little, and the victims of this systemic avarice are, as always, the people who can least afford it.
Great Britain was certainly not alone in its imperial drug-pushing in China. Among those illustrious names whose fortunes grew fatter off of selling opium to the Chinese included the grandfather of President Franklin D. Roosevelt and ancestors of former Secretary of State John Kerry, to name but two.
After the socialist revolution of 1949, the People's Republic of China sought to combat the addiction left over from western imperialism by attacking its roots—poverty, despair, and the lack of a progressive, scientific, social environment aimed at meeting human needs. Despite enormous challenges, a mass campaign against opiates mobilized the entire nation and virtually eradicated opium addiction by 1953. Sadly, the legacy of historic opium abuse continues to plague some 20 million Chinese outside the People's Republic.
Pharma companies' new frontier
Notwithstanding this checkered history of foreign drug-peddling and territorial infringement, in just a few years, big pharma sales in China have skyrocketed—with most drug manufacturers seeing 20% increases in quarterly sales. At the end of the first quarter of this year, Merck's sales in China increased by 58%, fueled by the HPV vaccine Gardasil and the immuno-oncology drug Keytruda. AstraZeneca's 28% increase, mostly propelled by its lung cancer drugs Iressa and Tagrisso, represented nearly a quarter of its first quarter global sales in 2019.
In 2017, the Chinese government rolled out a series of reforms to its drug regulations, including a strategic focus on developing low-cost, high-quality generics. In the past, medicines with expired patents have done well in the Chinese market, where local companies oftentimes manufacture low-quality generics.
To raise quality and lower prices, the Chinese government has implemented a new bidding process to maintain quality and price for key public hospitals, where most of these drugs are prescribed. However, huge pharma businesses are finding ways to turn the tender and regulatory processes to their own advantage. How big pharma's influence will play out in this new regulatory regime is still unclear, though the example of OxyContin's use in China is certainly not promising from a public health and safety standpoint.
Another decisive factor in determining China's relative independence from large western drug companies is its heavy investment in emerging technology like Artificial Intelligence (AI). AI stands to have an extraordinary impact on the development of medicine in general, with biotech and pharma at the bleeding edge of China's future strategy. As of 2019, China has significantly outstripped the U.S. in AI investment. According to China Money Network, the most important AI company in China happens to be iCarbonX, a genomics start-up based in Shenzhen.
Despite the forward-thinking approach of government health and regulatory planners, some public health officials in China are concerned about the most recent campaign of corruption by Mundipharma, which, combined with increasing social inequality, could lead to an opioid crisis similar to that experienced in the U.S.
As in its past experience with mass addiction, China's strength will be its commitment to lifting its people out of poverty and promoting social wellbeing. However, there are clearly forces, both foreign and domestic, which would like to see an end to the structures of working-class political power established by the 1949 revolution. Chinese leaders have recently demonstrated their emphasis on correcting social imbalances and contradictions by returning to China's core socialist values. The relative success or failure to strengthen socialism in China will be key to determining the extent to which drug abuse once again becomes a formidable social problem.