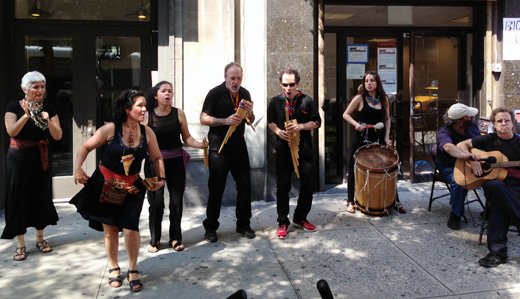 On June 21, musicians from around New York provided an opportunity to stop, relax and enjoy music on a beautiful day during the city's Make Music New York celebration.
Make Music New York is a series of live, free musical events that takes place on the Summer Solstice, the longest day of the year.
The celebration is based on France's "Fête de la Musique," a national musical holiday that began in 1982.
This year, Big Road Chelsea, a folk blues band, assembled a multi-cultural mix of performers across from the historic Chelsea Hotel. Band leaders Ricky Eisenberg and Alan Podber brought together the Highland Divas, Pork Chop Willie, Melissa Tong, and Los Hijos de la Gran Puna.
Los Hijos de la Gran Puna, who performed folk music from the Andes, were real crowd pleasers with their lively music and dance using their traditional wind (pan flute) and drum instruments.
Niall O'Leary and his Irish dance and music ensemble were another highlight, receiving hearty applause and appreciation.
Other musicians that participated in the day's events included: Big Road Blues Band with Ken Ficara, a New Age, singer-songwriter; Alan Gilbert and the Free Beer Brass Quintet; and Fuzzy Island a guitar picker in the style of Mississippi John Hurt.
Sasha Papernik, a Russian-American classical pianist, singer, and songwriter, was accompanied by an accordionist and Niall O'Leary. Papernik sang traditional Russian folk songs and her own compositions in English. The musician has presented her Russian-American interactive concert, "I Speak Music," at Lincoln Center's Meet the Artist series. She has also toured the country as a singer for Touchtunes Interactive Networks with recent engagements in Phoenix, Austin, and Las Vegas.
Make Music New York has become an international phenomenon, and takes place simultaneously in more than 514 cities around the world with over 1,000 concerts on streets, sidewalks, and parks across the five boroughs, a global celebration of music making. Funds for the event are raised from contributions and musicians are not paid.
Eisenberg and Podber run a multicultural coffee house at the Winston Unity Hall, 235 W. 23 St.,, on a semi monthly basis. Musicians are paid based on audience contributions.
For more information on the Coffee House events contact: podfour@aol.com or call:
802-829-8174
Photo: Los Hijos de la Gran Puna