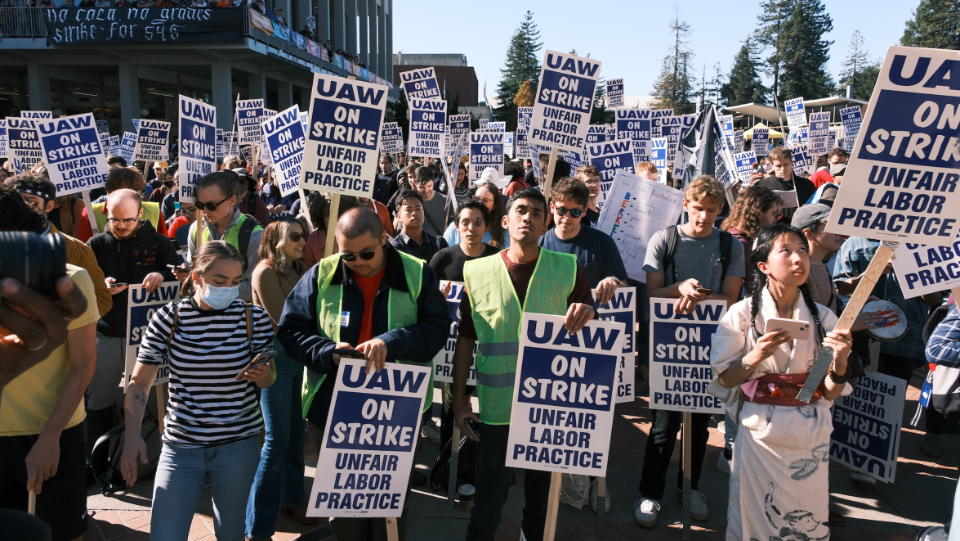 BERKELEY, Calif. (PAI)—Low pay in a high-cost state and labor law-breaking by bosses—what the union called "unlawful conduct thwarting progress" in bargaining—forced 48,000 University of California system student workers, members of system-wide Auto Workers Local 2865 and two other UAW locals, to strike. They walked starting Nov. 14, after a strike authorization vote passed 98%-2% among 36,558 voting student workers days before.
Besides the law-breaking, key issues for the student workers include low pay, lack of job security, no help for married students, and sexual harassment and discrimination which the university system refuses to confront.
Housing is a big issue, too. There is little on-campus housing, which forces students to pay 50% or more of their income for rent on and off campus. And a lack of "sustainable and affordable transportation," forces the students often to take to their cars for hours each day.
"We are fighting for a UC where first-generation scholars do not have to go into extreme debt so highly-paid administrators can live in publicly-funded mansions," Local 2865, which is leading the forced strike, said in reporting the vote.
"We are fighting for a UC in which workers are free from harassment and discrimination and earn enough money to live without excessive rent burden.
"We are fighting for a UC in which parents can raise their families without working second jobs, and everyone has access to sustainable and affordable transportation options. In short, we are fighting for a UC that works for its students and workers (Their emphasis)."
"Can someone tell me why my peers have to skip meds in order to make ends meet? Can someone tell me why my peers are attending funerals on zoom because they can't afford a plane ticket home?" Rikhav Shah, a student worker at UC's flagship campus in Berkeley asked at a mass outdoor rally in a video the unions posted on their website.
"I'm not going to have any money in my checking account at the end of the month," added Tre Garnett of UC Riverside. "The demands in our new contract" presentation "are to make sure we have our basic necessities covered." When the final speaker called for a show of hands to support the strike authorization, all went up amid a roar from the large crowd.
"Our union stands with our members in California as they fight for fairness and an equitable collective bargaining agreement," Auto Workers President Ray Curry said in a statement. "This strike is the largest in the nation, the biggest of the year, and the largest at any academic institution in history. We urge the University of California to stop their misconduct and bargain in good faith with their academic workers who perform critical work every day."
Besides the labor law-breaking—detailed in at least 23 charges filed with the California Public Employees Relations Board—low pay is the biggest problem the student workers face, especially when compared to professors they research for and bosses they face in bargaining.
That especially hurts because the student workers, including research assistants and teaching assistants, emphasize they're the ones who make the university system go. They also make the point that low pay and high turnover, due to short contracts, harms the university and its ability to gain grants and maintain its reputation as one of the nation's top research university systems. Longer TA and RA contracts are another student worker demand.
The workers demand a $54,000 per year minimum for all graduate workers, a $70,000 per year minimum for postdocs, a 14% salary increase for academic researchers, plus annual cost of living adjustments and experience-based increases.
California's high rents statewide, and lack of campus housing, aggravates the low-pay problem. The UAW reported on-campus housing is available for fewer than 10% of the post-doc students, researchers and TAs. And even that housing isn't cheap, forcing the student workers to take second jobs to make ends meet. The on-campus rent burden as a percentage of student worker stipends ranges from 52% at UC Irvine to double that—104%—at UC San Francisco.
Off-campus housing is also expensive, forcing students into substandard housing and/or commuting for hours roundtrip by car to their on campus jobs.
A 2022 union survey reported "92% of graduate workers and 61% of postdoctoral scholars are rent-burdened. Even worse, 40% of graduate workers report spending more than half of their income on rent." Federal standards say a family should pay no more than 30% of income for rent.
"Let us teach and research, and let us eat and live, too," the workers, in a detailed justification of their contract stands, declare.
Local 2865 and the other two locals already filed at least 23 counts of labor law-breaking, formally called unfair labor practices, with the California Public Employee Relations Board. Charges include unilaterally implementing changes regarding compensation, appointments, transit availability and bullying protections, or lack of them.
Other labor law-breaking charges are the bosses illegally "bypass the bargaining process by announcing changes and instituting policies outside of bargaining," refuse to give needed bargaining information to the workers and their unions, and direct dealing by surveying unit members about bargaining topics.