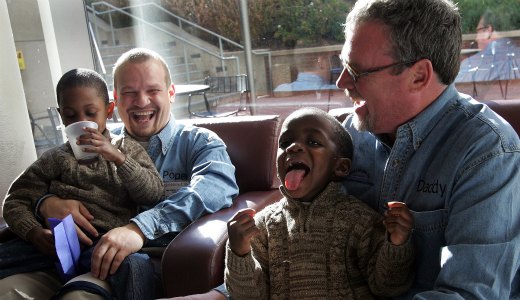 CHICAGO – Two Illinois state senators are trying to pass a measure that would allow religious adoption agencies to deny requests from same-sex couples in civil unions.
The move aims to amend the landmark legislation legalizing civil unions for gay and lesbian couples approved by the state legislature earlier this year and signed into law by Democratic Gov. Pat Quinn.
Opponents of the amendment, SB 1123, including civil and LGBT rights groups, say it's a direct assault on the new civil union law, which goes into effect June 1. The historic law makes Illinois one of about a dozen states that extend significant legal protections to same-sex couples.
If the amendment passes, opponents say, thousands of children will lose opportunities to be placed in loving homes due to a policy based on discrimination.
Sponsors of the amendment, Democratic State Sens. William Haine and David Koehler, argue religious groups should not be forced to place children with same-sex parents because it goes against their religious beliefs.
Rights activists, however, are disappointed in Koehler, who introduced the civil unions bill in the state senate but is now pushing the adoption amendment. Koehler, who has a lesbian daughter, had spoken passionately on the Senate floor in favor of civil unions.
Activists say proponents of the amendment are trying to derail the hard fought progress made recently for gay and lesbian rights. Same-sex adoptions have been legal in Illinois since a 1995 appellate court ruling, they note.
"We're basically looking at a bill that would write discrimination into state law, and that's never, never okay," said Anthony Martinez, executive director of the Civil Rights Agenda, to WLS News. Martinez notes the amendment is a major setback for the LGBTQ community and aims to deny same-sex couples their rights. It's unacceptable, he said.
The amendment contends that religious child welfare agencies "may decline an adoption of foster family home application" to a couple in a civil union "if acceptance of that application would constitute a violation of the organization's sincerely held religious beliefs."
Sen. Haine, who voted against the original civil unions bill, said religious groups he spoke to want to continue offering adoption and foster care services but do not want to approve applications that are "inconsistent" with their "right of conscience" and religious beliefs. He said that traditionally, such organizations place children in married households only.
Meanwhile, Illinois lawmakers are investigating whether religious agencies that receive public money to license foster care and adoptive parents are breaking anti-discrimination laws if they turn away potential parents who are openly gay.
If they are found in violation of the law, religious groups such as Lutheran Child and Family Services, Catholic Charities in five regions outside Chicago and the Evangelical Child and Family Agency will have to license openly gay foster parents or stand to lose millions of state dollars.
If the amendment is approved and signed by Gov. Quinn, religious agencies would refer couples in civil unions to other non-religious agencies.
However, activists, including attorneys with the American Civil Liberties Union, argue that since the religious groups receive funding from the state, they should be bound by the same rules. Other states that have adopted same-sex marriage, civil unions or domestic partnerships never needed a "discriminatory carve-out" for religious-based institutions, says the Illinois ACLU.
In a statement, the civil liberties group said the amendment is not only discriminatory, but also illegal and would violate a couple's equal protection rights under federal law. "SB 1123," the group said, "amends the Civil Union Act to allow religiously affiliated child welfare agencies to discriminate against parties to a civil union."
The ACLU argued that the federal equal protection clause bans the government from allowing private agencies to practice discrimination. Licensing foster parents is a state duty and, even if the state contracts out the duty, it must still be performed according to the relevant laws.
The state senate's executive committee is expected to take up the amendment today. The measure could come to a vote before the full senate as early as the afternoon or by the end of the week. Observers predict it will be a close vote.
Photo: Same sex couple, Samuel J. Delgado, left, and Mark T. Newton interact with their adoptive children, Kevin James Newton-Delgado, 3, left, and Steven Thomas Newton-Delgado, 2 after the adoption for Kevin was finalized at the Rutgers Law School in Newark, N.J, Saturday, Nov. 19, 2005. The New Jersey Department of Human Services Commissioners James M. Davy and the New Jersey Division of Youth and Family Services celebrated the six annual National Adoption Day by finalizing the adoptions of 103 foster children by 79 families. (AP Photo/ Jose F. Moreno)