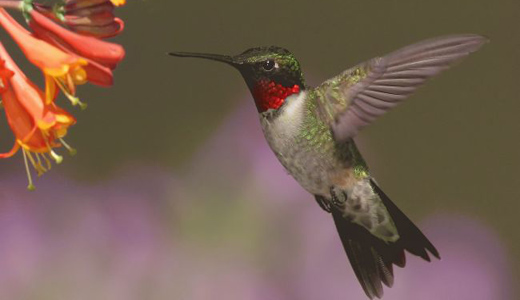 For some time, the bee population has been steadily declining worldwide, and this is most directly attributed to the negative impact of pesticides. Now, there's a lot of buzz around a recent study by Dutch researchers, which has found that the toxic chemicals we use are having a ripple effect farther up the food chain, causing insectivorous birds to rapidly decline in number.
The study was the collaborative effort of researchers with the Radboud University Institute of Water and Wetland Research, the Dutch Center for Field Ornithology, and Birdlife Netherlands. In a joint statement, the researchers declared, "Neonicotinoid insecticides have adverse effects on non-target invertebrate species. Invertebrates constitute a substantial part of the diet of many bird species during the breeding season and are indispensible for raising offspring. In the Netherlands," for example, "local bird population trends were significantly more negative in areas with higher surface-water concentrations of imidacloprid," a type of pesticide.
"At imidacloprid concentrations of more than 20 nanograms per liter, bird populations tended to decline by 3.5 percent on average, annually," they continued. The overall results of the study, they said, shows "that the impact of neonicotinoids on the natural environment is even more substantial than has recently been reported and is reminiscent of the effects of persistent pesticides in the past. Future legislation should take into account the potential cascading effects [of insecticides] on ecosystems."
Neonicotinoids are interesting in that their origins lie with two corporations already strongly linked with outright for-profit environmental destruction: Royal Dutch Shell and Bayer. These insecticides, which are chemically similar to nicotine, were first developed and used in the 1980s by the Shell, and in the 1990s by the German chemical and pharmaceutical company. In 2009, on the specific neonicotinoid called imidacloprid that the Dutch researchers referenced, Bayer made a profit of over one billion alone, according to the Journal of Agricultural and Food Chemistry.
There is, however, a loss occurring, albeit an ecological one, not a financial one. Such was the conclusion of the Task Force on Systemic Pesticides, which conducted another recent report on the matter. They explained, "Neonicotinoids persist for months and in some cases years, and environmental concentrations can build up. This effectively increases their toxicity by increasing the duration of exposure of non-target species. The effects of exposure [in wildlife] range from instant and lethal to chronic." Effects could include "altered feeding behavior and reduced food intake [in birds], reduced foraging in bees, and altered tunneling behavior in earthworms."
Dr. David Gibbons, head of the Center for Conservation Science at the Royal Society for the Protection of Birds, remarked, "This elegant and important study provides worrying evidence of negative impacts of neonicotinoid insecticides on birds. Usage of these pesticides has been particularly high in some parts of the Netherlands. Monitoring of pollution in soils and waterways is urgently required, as is further research into the effects of these insecticides on wildlife."
Photo: Insectivorous birds like hummingbirds (pictured) have largely declined in number as a result of various pesticides. These include, in particular, neonicotinoids and specifically imidacloprids, which have already been associated with the bee die-off known as colony collapse disorder. Terry Sohl/AP
Editor's note: There's no question that hummingbirds make use of plant nectar as a source of quick energy. But while they're visiting those flowers, they also eat tiny insects and spiders–both excellent sources of protein. In fact, some authorities think of hummingbirds as insectivorous birds that happen to also eat plant nectar