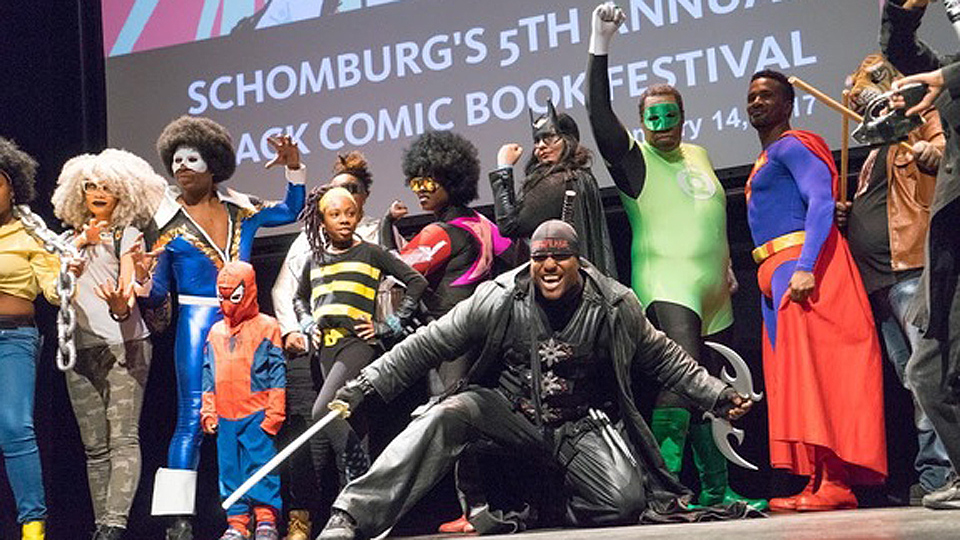 NEW YORK CITY — The Schomburg Center for Research in Black Culture has opened registration for its 6th Annual Black Comic Book Festival that will be held on January 12-13, 2018 at the Schomburg Center. Registration is free and open to the public and is available at schomburgcenter.eventbrite.com.
The 6th Annual Black Comic Book Festival will include a cosplay show, screenings, panels and discussion on topics including diversity and social justice in comics, black comics in digital spaces, black masculinity in comic books, and much more. In 2017, more than 12,000 participants visited the Schomburg over the two-day community event that connects comic readers, creators, bloggers, nerds, independent publishers, and collectors of all ages.
The upcoming festival will also feature exclusive content from Black Panther: Soul of a Machine, a graphic novel created by Lexus and Marvel, who partnered on the car featured in the upcoming Black Panther movie. Lexus is the presenting sponsor of the 6th Annual Black Comic Book Festival.
"Comics and graphic novels have long entertained and educated, and continue to have always had significant mass appeal in encouraging and improving literacy among readers of all ages," said Schomburg Center Director Kevin Young. "As a library, archive and cultural center dedicated to the global Black experience, the Schomburg is proud to be home of the Black Comic Book Festival, where the comix community can continue elevating discourse around comics as literature, and about diversity on and behind comic book pages."
"We're extremely excited to bring the comic book festival back to Harlem for its 6th year and to offer a program that excites and engages thousands of comix creators and fans from all over the world," said Jerry Craft, co-founder of the Black Comic Book Festival. "This is a program created and driven by the community, and its support continues to grow, showing that appetite for comix and creators of color is stronger than ever before."
Participants in this year's Black Comic Book Festival are encouraged to wear their favorite cosplay costumes, and to contribute to the Schomburg Center's growing collection of black independent comic books by bringing single copies of old or new titles from their home collection. All donations will become part of the Schomburg's permanent collection and will contribute to a unique and growing archive documenting comics and the black speculative arts movement.
The 6th Annual Black Comic Book Festival is presented by festival co-founders Jerry Craft (Mama's Boyz), John Jennings (Black Kirby /University of California-Riverside), Deirdre Hollman (Black Comics Collective), and Jonathan Gayles (White Scripts and Black Supermen /Georgia State University), and with generous support from Lexus.