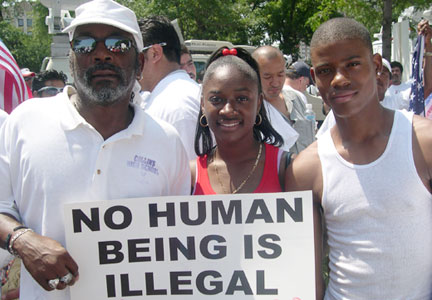 More than 1,000 labor, civil and immigrant rights activists met in Phoenix, Ariz., last week during the "We Are One" summit hosted by the NACCP. The historic conference was geared to fortify bonds between African American and Latino communities throughout the nation, with a focus on creating an economic agenda that bolsters both groups and strengthens all Americans.
"While we may come from different backgrounds, we all shape the American dream," said Benjamin Todd Jealous, president and CEO of the NAACP, in a statement. "The summit provides an opportunity to work together so we can transform our dream into reality for all Americans."
Dedrick Muhammad, senior director of NAACPs economic programs and executive director of the groups Financial Freedom Center said, "Throughout the history of the NAACP, we have always recognized that economic justice is at the foundation of social justice. We have come to Phoenix, Ariz. to strategize and learn from our civil rights and labor rights partners."
"We Are One" was hosted by a coalition of labor and human/civil rights organizations including the NAACP, National Council of La Raza, Labor Council for Latin American Advancement (LCLAA), Service Employees International Union, Council of Black Trade Unionists, Asian Pacific American Labor Alliance, the AFL-CIO, and several other notable groups.
"This summit is so important from many different aspects because it brings us together under one voice to say 'enough is enough,'" said Hector Sanchez, executive director of LCLAA. "We need to fight together for one common cause."
Sanchez said the summit was especially significant due to the fact it's taking place in Arizona, the state that passed SB 1070 , the controversial anti-immigrant law. He said he was impressed during opening remarks given by national and historic African American leaders that passionately denounced the recent wave of anti-immigrant laws passed by Republican state lawmakers across the U.S.
"They understand this is a working class issue and they are in total solidarity with the rights of undocumented workers," said Sanchez. "Their words were very inspirational particularly coming from a community that deeply understands the historic oppression and mistakes that the U.S. has made toward our communities."
The summit is especially important, said Sanchez, because the nation is so confused on the issue of immigration and people are facing the worst economic crisis since 1929.
"But we need to have hope," said Sanchez. He highlighted the recent recall of Russell Pearce, the Arizona Republican state senator who was the main architect of SB 1070. "And this shows that there is hope. When we are united, when we come together and when we show our power at the ballot box, we can get things done."
Sanchez pointed out his group is building a unity campaign to build bridges between Latinos and the African American community. "When it comes to social issues, we are really facing the same problems." Latino workers and Black workers face the same barriers and disparities such as the student drop out rates or record unemployment figures, he said.
Sanchez says he travels across the country talking to Latino workers. He said he is concerned, however, about low levels of motivation on the part of people to go out and vote in the 2012 elections.
"It's very dangerous," he said. "And now more than ever, when our communities are under attack, we need to be that much more active and involved in the electoral process in order to change the problems we face."
Republicans are moving to the extreme right and Democrats have been very mediocre when it comes to defending the working class and our national priorities, says Sanchez.
"So this is a very good time for working people to come together, especially minorities, to show we are united. It's time to create the conditions for change so we can set a new direction moving forward."
Almost every speaker at the summit has mentioned the Occupy Wall Street movement, said Sanchez. "It's an inspiration for everybody, an example that people are tired of the current conditions in which the 1 percent have everything while the 99 percent are left with crumbs."
"We hope this summit is the beginning of a new kind of partnership, a new conversation and a new type of solidarity among minorities and working people to take this partnership, inspiration and unity to the voting booths in 2012."
Participants at the summit discussed the importance of Black/Brown labor unity and broad based coalitions nationwide for social and economic justice. Various plenary sessions, panels and keynote luncheons about issues such as community mobilization, immigration, voters' rights, human rights, jobs, education, housing, and health care were featured. Congressman Raul Grijalva, D-Ariz., and the Rev. Jesse Jackson spoke. The conference concluded with a rally at the Occupy Phoenix settlement.
Photo: Pepe Lozano/PW.