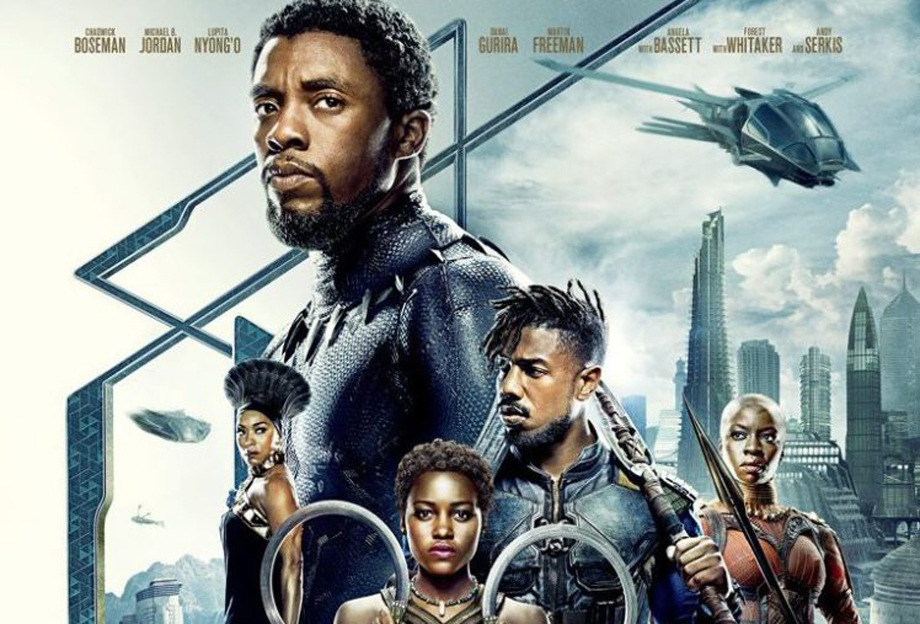 For the last several years, Black Panther fanatics have sat on their hands and waited for the forthcoming franchise to premiere worldwide. It was speculated after the burst of Marvel films that the King of Wakanda would make an appearance, and fans were finally awarded a preview of T'Challa in the multi-million dollar success of Captain America: Civil War. Breaking records for pre-ticket sales across the country, Black Panther was released this week to overwhelmingly positive reviews, scoring 98 percent on Rotten Tomatoes.
At its essence, however, Black Panther is more than another successful movie franchise, it is a black cultural phenomenon and a reflection of the necessity for representation in cinema. Starring an almost entirely black star-studded cast, with leads like Michael B Jordan (Fruitvale Station, The Fantastic Four, Creed) Lupita Amondi Nyong'o (Star Wars: The Force Awakens, 12 Years a Slave) and Danai Jekesai Gurira (The Walking Dead), the film is on track to break Marvel records, with a projected 165 mil opening weekend. Chadwick Boseman takes the honor of rocking the title of King T'Challa himself, a role he stresses is simply one focal point in an entire world that was created for the film.
In previous interviews Boseman has discussed the importance of remaining authentic to T'Challa's African roots (though Wakanda is not a real country). "We sort of established some things in Civil War," he said, "in terms of the dialect and accent and the culture — those things are carried on and now we have a movie where everyone is speaking with African accents and people are listening to it and loving it. And that's a beautiful thing."
Fans from across the world have expressed their support for the film's production and cast. "Blerds" — a self-coined nickname for 'black nerds' — have banded together for the premiere of the cultural hallmark, creating hashtags such as #WhatBlackPantherMeansToMe. Kayla Marie, of Black Girl Nerds, started the viral hashtag after she was inspired by a question she asked her 8-year-old son.
Black twitter responded accordingly, with an influx of tweets highlighting the social relevance of having black actors represented authentically, and its impact on black youth. This is something that even the cast of the Black Panther has spoken on. Boseman teared up during an interview in which he spoke about two terminally ill youth who were trying to "hang on" until the premiere of the movie. "Seeing how the movement has taken on a life of its own, I realize that they had anticipated something great."
Karama Horne, a.k.a. Theblerdgurl and Contributing Editor to SYFY Wire says along with the film's many visual qualities it also accurately captures the versatile nature of the black community. "For too long, mainstream media has only showed black people as homogenous in thought and taste," said Horne. "This movie actually demonstrates how layered and complicated we are."
Despite the immense pressure placed on Ryan Coogler, the director of Black Panther did not disappoint. From start to finish, Black Panther exceeds expectations set for the fim; from the direction, to the acting, to the detailed cinematography, the execution blows all of its Marvel predecessors out of the water. Surprisingly enough, the young director has only three films under his belt (Fruitvale Station, Creed, Black Panther) but rose to popularity in 2013 after the success of Fruitvale Station, which won the Grand Jury and Audience Awards at Sundance. Since then he has collaborated with Michael B. Jordan on Creed, and then yet again on the set of Black Panther. Coogler's attention to detail and directorial vision is nothing short of noteworthy, setting the bar high for the future of the franchise.
The film's writing paces the narrative perfectly, allowing the audience a glimpse into the development of the fictional "paradise" of Wakanda. Wakanda is a society made up of eighteen united tribes, which is strategically kept isolated from the outside world as a way defense against imperialist conquest. Wakanda's history indicates that it was struck with a meteorite made of a very valuable and rare sound-absorbing element; vibranium. This cosmological event not only made Wakanda rich, but also contributed to its increased technological advancement.
Much of Black Panther's central conflict revolves around whether or not Wakanda should share their advanced resources with outside nations. In the Marvel universe they have successfully hidden for centuries, camouflaging themselves as a "third world country." Wakanda's disguise is a fitting allegory to the way in which colonialist superpowers rarely acknowledge the beauty and value of black countries. Coogler's directorial vision is radical at its roots, though perfectly implicit in it's writing, and creates important political juxtapositions that allow room for rising conflict in the storyline.
The film does an excellent job at highlighting the strengths of individual tribes, and more specifically accentuates character development through it's meticulous script. Black women in particular are given a platform to demonstrate their talents and versatility, with Lupita Amondi Nyong'o, as Nakia (a Wakandan spy), and Danai Gurira as Okoye (leader of T'Challa's armed guard), both stealing the show in action-packed battle sequences. Not to be forgotten is breakout actress Letitia Wright, playing Shuri, T'Challa's younger sister and the leader of Wakanda's modern technology department. The fact that all three actresses are darker skinned black women, is not only paramount, but speaks to the deliberate casting choices made on set.
Erik Killmonger, played by Michael B. Jordan, is easily one of the best parts of the movie. He is an American black-ops soldier who was hired by the U.S. government to destabilize other governments, making the character nothing short of epic. Jordan is arguably one of the most prolific Marvel villians to date; he represents the raw humanity of a black man growing up in the projects without a father while maintaining the cold, callous, and calculated strategy of a soldier. Killmonger forces the audience to confront underlying themes of black masculinity and fatherhood, something that hasn't been explored in this capacity in Marvel before.
Honestly, Black Panther is more than any of us deserved. There is nothing that viewers haven't already said that isn't beautifully translated in the film. The societal weight of this movie speaks for itself; and as a non-black person of color I can only experience a fraction of what this signifies in the grander scheme of things. Black youth around the world will get to experience history in the making, and we are all lucky enough to be witness to it.
Joshua Evans, poet and Blerd enthusiast, spoke to the cultural significance of this moment in cinema, "somewhere, some seven-year-old child will see this film and instinctively walk away with a sense of their own royalty." There is no doubt that this will certainly shift the demand for more representation, but it will also remain emblematic of black resilience, power and the capacity to change the world with art. "They can't burn what this is," Evans concluded. "They can't stop what is happening."