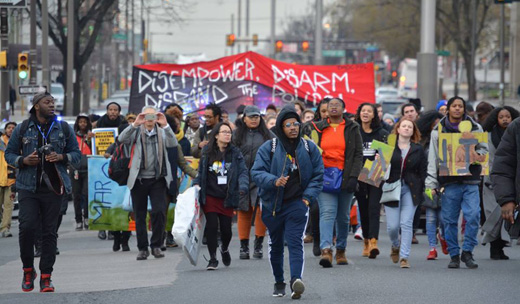 PHILADELPHIA – On Jan. 8- 10, a steering committee led by Dr. Anthony Monteiro, and including grassroots activists, organizers, educators, scholars, and faith leaders, convened a conference on the Black Radical Tradition. The title of the conference was "Reclaiming our Future: the Black Radical Tradition in our time."
The three-day conference, which took place on the campus of Temple University in North Philadelphia, was attended by hundreds of participants from places as far as Michigan, Virginia, and Boston. This powerful weekend began on Thursday, January 7 with a meeting featuring faith-based activists Rev. Renee McKenzie and Rev. Jeremiah Wright, Jr. of Chicago. Both religious leaders spoke about the need for morality in a "morally broken world." Other speakers of the evening included Pamela Lightsey, Obery Hendricks, and MOVE survivor Ramona Africa.
To officially kick off the conference, there was a "March for our Future," followed by a panel discussion entitled "The Moral Bankruptcy of Capitalism: The Black Radical Tradition as Socialist Alternative." This discussion was led by Dr. Cornel West of Princeton University and Dr. Anthony Monteiro.
Saturday's and Sunday's discussions, following the opening panel discussions and theme of the weekend also focused on the need to implement an alternative solution to capitalism and importance of stopping imperialism around the globe. Such panel discussions included "War, Peace and Global Justice: Resistance to the U.S. Empire", "Neoliberalism, Spatial, Domination and Gentrification: the Struggle to Resist the New Urban Strategy", "Black Women: In the Radical Tradition", "Challenging White Supremacy: The Black Radical View", "Police, Prisons, and the Neoliberal State", "Queer Resistance and the Legacy of the Black Radical Tradition", and the "Souls of Black Folk: Art, Culture and the Emancipation of Humanity."
The panelists, a who's who among activists included great minds such as Angela Y. Davis, Glen Ford, Pam Africa, Jamala Rogers, Margaret Stevens, Charlene Caruthers, Ewuare X. Osayande and Vijay Prishad who commented that "the Black Radical Tradition is an international tradition", followed by an acknowledgment of the huge contribution to the movement by Black Communists and the Communist Party, USA. Patricia Armstead, a moderator for one of the panel discussions, put it best when she stated: "Until we are free of capitalism, we HAVE to resist."
Photo: "March for Our Future" that preceded the conference. | Reclaiming Our Future Facebook page