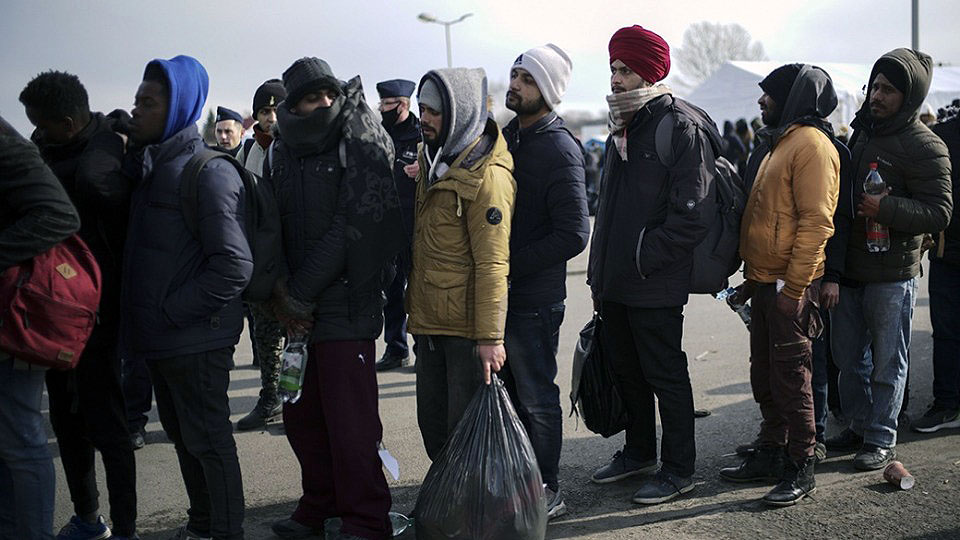 An international coalition of renowned human rights lawyers has launched an urgent appeal to the United Nations to act over "abominable" racism in Ukraine.
Africans living, working, and studying in Ukraine have been held up in that country by racist Ukrainian cops who have forced them to remain out in the cold, without food and shelter, in Western Ukraine locations near the borders of other European countries to which they have tried to flee.
Black people and other ethnic minorities fleeing Ukraine are facing "two wars"—one inflicted by the Russians and another over racial discrimination by Ukrainian officials, the new coalition said today.
Convened by U.S. lawyers Ben Crump and Jasmine Rand, who represented the family of George Floyd, the civil society coalition has petitioned the Office of the High Commissioner for Human Rights for the U.N. on behalf of refugees reportedly facing discrimination in Ukraine and near the borders of that country.
When the non-white refugees do reach the border they are reportedly being pushed to the end of the line and being beaten by Ukrainian cops as those police let white Ukrainians through with no problem
The coalition has urged the UN to call upon the Ukrainian government, its army, and its police to "treat all persons of African descent and other racial minorities with equity."
Announcing the appeal at an online press conference the coalition has also urged the U.N. to call for border countries to "admit persons of African descent and racial minorities fleeing the war at rates that are equal to other persons." There have been reports that Poland sends Black refugees to border crossings where officials make the refugees wait for days and that they send white Ukrainians to crossing points where the people move through quickly.
When Kurdish migrants tried to enter Poland from Belarus lately they were beaten by racist Polish cops who forced them back into forests where many froze to death. White Ukrainians, on the other hand, are met by people carrying blankets, boxes of food, and free rides to homes where they can shelter.
African citizens living in Ukraine have shared accounts of being blocked from leaving the war-torn country by Ukrainian soldiers, while white Ukrainians are prioritized.
Videos on social media have shown officials threatening to shoot groups of African students attempting to flee the country.
Crump told the conference: "When you see people turned away to be slaughtered because you thought they were more expendable because of the color of their skin—that is a crime in and of itself.
"That is a very dangerous slippery slope that we cannot allow to happen in 2022. If no one else wants to give them the respect of humanity, we declare their humanity. With every ounce of conviction, we have in our body declare and be unapologetic in defending Black life, Black liberty, anywhere on the face of this Earth."
Crump suggested the U.N. was not doing enough to raise the alarm on the "urgent matter."
Asked if the U.N. was "dragging its feet," Crump responded: "This is an urgent matter and they have the power to ring the alarm and for whatever reason, we don't think that alarm has been raised.
"How many more guns have to be put to the heads of descendants of African descent, told to get off the train or go to the back of the bus before the United Nations says this is an urgent matter?"
Members of the coalition also hit out at the "offensive" press coverage of the conflict, and urged the U.N. to call for the global media to stop using "comparisons of conflict that perpetuate racism and stereotypes."
The shocking treatment of African citizens has been condemned by several African nations, including Nigeria and Ghana. Rand rejected this and said the coalition believes that cases of racist discrimination are systematic and not individual incidents.
Prof. Rosalea Hamilton, the founding director of the Institute of Law and Economics in Jamaica, said that one Jamaican student in Ukraine had reported having a "gun pointed at his head" to force him to leave a train, delaying his exit from the country.
Jamaican Member of Parliament G. Anthony Hylton, a member of the coalition said this is abominable. "We want the United Nations to hold accountable those governments who either through their policies or practices are encouraging discrimination."
The coalition includes Carlos Moore, president of the National Bar Association in the U.S., which represents 65,000 lawyers and judges of color, as well as several British figures, including Windrush lawyer Jacqueline McKenzie and anti-racism campaigner Zita Holbourne.
Almost one million people have fled Ukraine since the start of the Russian invasion, the UN says. Most are white Ukrainians but there are thousands of students and migrant workers in Ukraine from Africa and Asia who also want to escape.
Chinegwu Mbagwu, a 24-year-old doctor from Nigeria who has saved the lives of gravely ill white Ukrainian children, spent two days freezing and starving in Western Ukraine near the Polish border as Ukrainian guards blocked her from entering Poland. She was among many others treated the same way.
"The Ukrainian border guards were not letting us through," she told the New York Times in a phone interview, her voice trembling. "They were beating us with sticks and tearing off our jackets. They slapped us and pushed us to the end of lines that were more than a mile long. It was awful."
Africans are also being barred from boarding trains in some Ukrainian cities.
The African Union described this as a "violation of international law."
The doctor said: "There was no shelter from the cold. It snowed. There was no food, water, or place to rest. I was hallucinating from sleep deprivation.
Estimates by the International Organization of Migration is that there are almost 500,000 non-white residents in Ukraine and that some 6,000 have managed to leave the country thus far. The country has 40,000,000 million people.