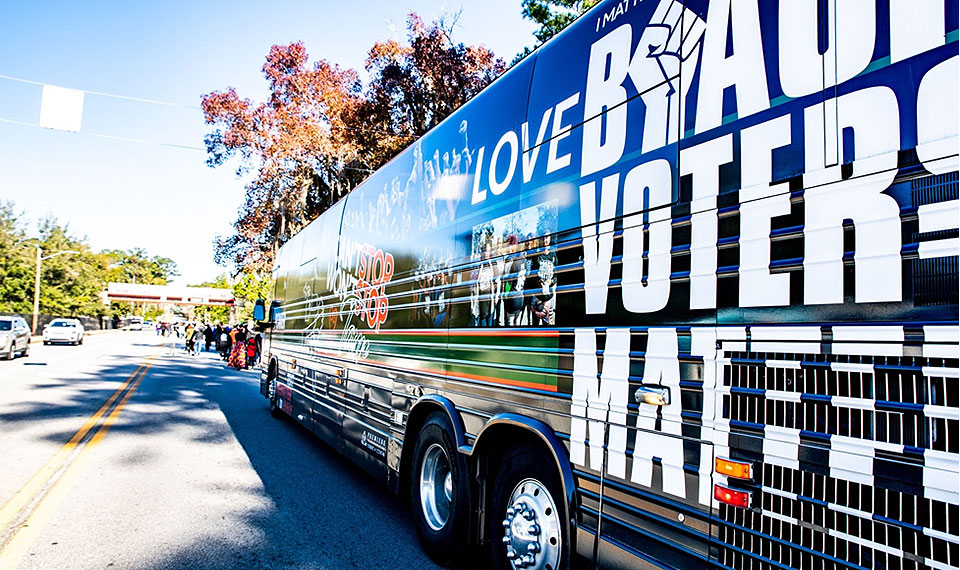 LAS VEGAS—Somehow, and deliberately, it is fitting that a nationwide Freedom March cross-country bus caravan, led by Black Voters Matter and the UNITE HERE union, would start for D.C. from the deepest area of the Deep South on Juneteenth.
The unhappy problem it's meant to tackle is to educate and mobilize Black voters—and pressure federal lawmakers—to resist and overcome resurgent white racism, nationalism, and voter repression. That's the same racism and repression the original Freedom Riders battled 60 years ago.
"We're not new to this. We're true to this," says Unite Here President D Taylor, whose union is majority workers of color.
"Workers have always had to fight to protect our right to vote. We'll rise up again like we've done before because when we do, we win."
Freedom in general and voting rights, in particular, is the point of the Juneteenth holiday marked yearly in 48 states and D.C. It denotes the day, June 19, 1865, when the last group of Blacks to be freed from U.S. slavers' exploitation, in Galveston, Texas, learned of their emancipation, which had flowed from President Abraham Lincoln's Emancipation Proclamation two and a half years before.
The caravan's buses will start from Jackson, Miss., and Birmingham, Ala., on the 60th anniversary of the start of the original Freedom Rides into the South.
Those Freedom Ride buses were loaded with Black and white college students and adults headed for Southern states to stage peaceful protests and sit-ins demanding an end to segregation in businesses, housing, restaurants, hotels, and transportation.
Hopefully, in this caravan, none of those buses will be burned. Their destination: D.C., on June 26, with intermediate stops in Nashville, Atlanta, Columbia, S.C., Raleigh, N.C., Charleston, W. Va., and Richmond, Va.—the old Confederacy's capital—on the way.
"Sixty years after the original Freedom Rides, Black Americans are still facing significant barriers at the polls," said Cliff Albright, co-founder of Black Voters Matter. "Legislation in Georgia, Florida, and dozens of other states threatens to further disenfranchise our communities and rob us of our power.
"We are launching the Freedom Rides for Voting Rights to build on the legacy on the original Freedom Rides and continue to fight those same systems of racism, segregation, and voter suppression that are impacting our communities today."
"The original Freedom Rides did not only send a message to state and local leaders; They were also a demand for federal leadership on the issues and challenges impacting Black communities," added BVM co-founder LaTosha Brown.
This caravan demands federal action, too: Senate passage of the For The People Act (HR1/S1) and the John Lewis Voting Rights Advancement Act (HR4), along with statehood and full congressional representation for the 700,000-plus residents of D.C., a majority of whom are people of color. That's become a voting rights cause, as well.
Taylor announced Unite Here will marshal 1,500 of its members and allies, from 15 cities nationwide, on other buses to meet the BVM buses and join the caravan trundling through the South. The Working Families Party also backs the Juneteenth Freedom Ride caravan, though it did not issue a statement.
"Unite Here hospitality workers made huge sacrifices to get out the vote and take back our country for the people," Taylor said, an indirect reference to the union hiring tens of thousands of its own members—all made jobless by 90%-plus hotel and restaurant unemployment due to the coronavirus pandemic—to go door-to-door, physically distanced and anti-virus-masked, to get out the vote in key 2020 swing states such as Pennsylvania, Arizona, and Georgia.
And in yet another throwback to the days of Jim Crow, the South, now deep red and controlled by Republicans catering to white nationalists, is reverting to its racist voting practices.
"We won't stand by and let racist voter suppression laws move us backwards. We are committed to protecting our democracy so it is representative for all people, not just a privileged few," Taylor declared.
The bus caravan is a big event marking Juneteenth, but not the only one. Several states and D.C. observe it statewide. Most others mark it in ceremonies. The two exceptions are South Dakota and Hawaii. Illinois Gov. J.B. Pritzker will sign legislation making it a state holiday. And, reversing course from last year, Chicago Mayor Lori Lightfoot said June 19 will be a city holiday, too, starting in 2022.
The federal government may fall into line, too, at least as far as the holiday goes. The legislation is another matter: Right-wing Senate Republicans, marshaled by leader Mitch McConnell, R-Ky., vow to filibuster the For The People Act, the John Lewis Act, and the D.C. statehood act to death.
But the evenly split Senate voted, by voice, on June 15, to make Juneteenth a federal holiday, and the measure now goes to the Democratic-run U.S. House. The House approved the holiday last year, in the prior Congress. But AP reported that when senators tried to OK it then by unanimous consent—meaning it goes through unless one solon says "I object"—right-wing Trumpite Sen. Ron Johnson, R-Wis., objected. After a year of mass marches by millions against endemic U.S. racism, Johnson shut up.
And BVM isn't just marshaling the bus caravan to D.C. No sooner had the white-nationalist GOP majority in Florida's legislature passed one of the nation's most restrictive anti-voter laws this year and Trump toady GOP Gov. Ron DeSantis signed it than the group sued in federal court to stop its implementation.
"Every bill to suppress votes, criminalize protests, and weaken Black power is a reminder of the enduring history of slavery in this country. But we are launching this Freedom Ride for Voting Rights on Juneteenth alongside local and national partners to show voters, communities, and elected officials of how far we've come and remind them what Black power can do," Brown and Albright explained.