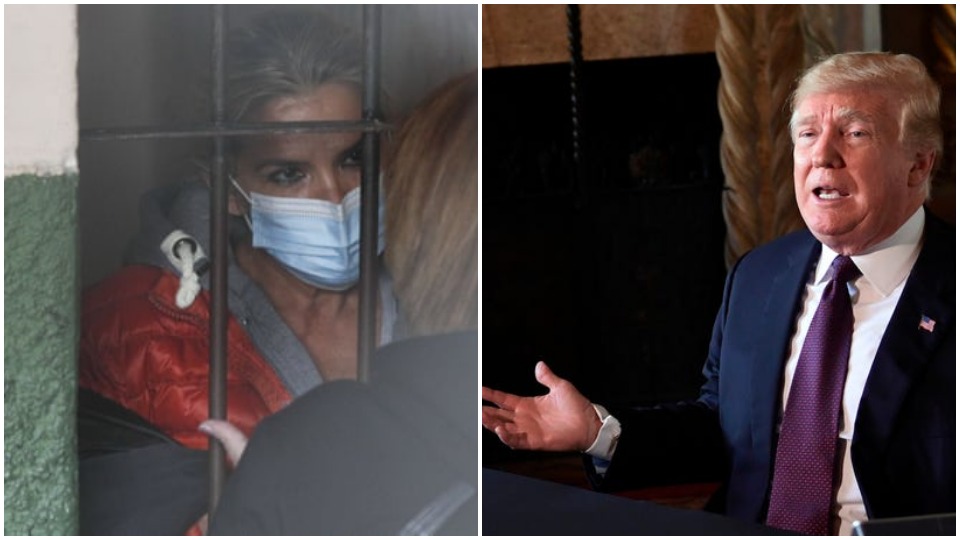 This is a tale of two countries—Bolivia and the United States—both beset by fascist lies triggering the loss of life to right-wing violence. For one nation, it is the time of pursuing justice. For the other, it is a time of waiting for such a pursuit to begin.
Between these two nations, there are great similarities and of course great differences. As of late, the actions of Bolivia have marked the most glaring difference—the willingness to go after those who have committed crimes against the country.
Moreover, Bolivia is a majority Indigenous country with an Indigenous government marked by a legal system that knows how to deal with political criminals. In that country, Indigenous justice is now at hand.
But let's first give an overview of the similarities. In November 2019, the Indigenous president of Bolivia, Evo Morales, was overthrown in a U.S.-backed coup and had to flee the country. Jeanine Áñez a right-wing Senate politician, illegally took power with the support of the country's security forces, the military, and the police. She proclaimed herself "interim president."
The coup was triggered by allegations of fraud following Morales winning a fourth term in elections. These allegations were found to be baseless by multiple investigations, including one by the Massachusetts Institute of Technology's Election and Science Lab.
In the U.S., on Jan. 6, 2021, former President Donald Trump gave a speech inciting a racist, fascist mob carrying weaponry and Confederate flags to storm the U.S. Capitol in Washington. Six people died, including a Capitol Police officer, in Trump's insurrection. The objective of the insurrectionists was to stop the certification of Joe Biden's victory as president. The whole affair was triggered by Trump's non-stop allegations of fraud following his losing the election to Biden. These allegations were, like those against Morales in Bolivia, found to be baseless. The Trump-inspired insurrection in January was nothing less than an attempted coup.
Both politicians, Áñez and Trump, are fascists who hold extreme racist, anti-Indigenous sentiments—Áñez perhaps more openly and rabidly so, as indicated by her medieval pronouncements. Long before becoming the figurehead of the coup regime, she was already making the vilest pronouncements against Indigenous people. In a tweet of June 20, 2013, the future interim president railed with a post against Native culture on the eve of an annual Aymara celebration with the following rant: "How dare they celebrate Aymara New Year? You Satanists, nobody replaces God!"
The Aymara are the descendants of one of the brilliant classical Indigenous civilizations of antiquity with a long history of resistance to the 16th-century Spanish invasion, which continued with rebellions into the 19th century. Ousted president Morales is Aymara.
On Oct. 5, 2019, just days before the coup was unleashed, Áñez referred to Morales as "a pathetic Native person who is clinging to power."
Here is the paramount difference between the two coup leaders, though: Áñez has been arrested and is in jail under preventative custody, but Trump is still free.
Áñez was arrested along with a number of her government ministers on March 13 and charged with terrorism, sedition, and conspiracy in relation to the coup as she replaced Morales. She has been jailed on six-months pretrial detention as the prosecutor said Áñez posed a flight risk. The court agreed.
Since her arrest, four new charges have been filed by the justice ministry. Áñez is now charged with issuing unconstitutional presidential decrees, failing to fulfill her duties, crimes against public health, and discrimination.
These same charges would fit Trump hand-in-glove, in particular the crimes against public health, given the blatant lies he told in reference to the pandemic which resulted in the deaths of tens of thousands. With Trump, there could also be added crimes against humanity in regard to the inhuman treatment of migrants (they were held in concentration camps), at the southern border, particularly the atrocious holding of children in cages.
U.S. sets stage for imperialist criticism
The Western press has for the most part portrayed the detention of Áñez as a violation of the judicial process. But as an attorney, I can say it is perfectly reasonable to incarcerate an accused defendant who poses a flight risk pending an investigation. Some of the other ministers for whom arrest warrants have been issued for their involvement in the coup have already fled to the U.S., Colombia, or Brazil.
The U.S. government, up to its old dirty tricks, recently issued a statement by way of Biden's Secretary of State Anthony Blinken, who jabbered, "The Bolivian government should release detained former officials." Blinken says Washington is "deeply concerned" by what he called "growing signs of anti-democratic behavior" and politicization of the legal system of Bolivia.
The U.S. made no mention of "anti-democratic behavior" when the Bolivian coup was launched in 2019 and dozens of Indigenous citizens were slaughtered by the military and police under Áñez's control. She even issued a directive granting impunity for the use of force by the security troops tasked with dealing with political protesters. Still, the U.S. was silent.
The arrests and detentions now taking place are not revenge, but the pursuit of justice. But the U.S wants to criticize the Bolivian people's government for taking action against the coup outlaws. This is indicative of the usual imperialist intervention that takes as its first step an attempt to distort the facts and, in this instance, the legal process. This is a typical disinformation campaign, but the world has changed from the days of "gunboat diplomacy" and brazen invasions.
U.S. should follow Bolivia's example
Rather than targeting and criticizing Bolivia, the U.S. should actually be following its example prosecuting political offenders such as Trump and his co-conspirators. There have been arrests of some of the insurrectionists who stormed the Capitol on Jan. 6, but Trump himself has not been brought to justice, so far. He still runs around free as a bird.
As with Áñez, he should be charged with terrorism, sedition, and conspiracy. His crimes are no less than hers. His accomplices likewise should be brought to justice and punished and placed in preventative custody. The fascists must be met head on.
In the Áñez case, a member of the Indigenous-dominated political party Movement for Socialism (MAS) filed the complaint against the former interim president. The country's public prosecutor, upon receiving the complaint, issued arrest warrants for Áñez and her company of fascists. The prosecutor has furnished assurances that the letter of the law is being followed. The U.S. should follow the same paradigm in dealing with Trump.
His aides and family members also need to be held to account. The voters are eager for the prosecution of Trump, more so it seems than Biden. It has been said by several pollsters that many Biden voters were motivated less by passionate support for him than by a determination to remove Trump from office. Many Democratic voters feel that letting Trump remain unpunished would only encourage similar White House behavior in the future or, worse yet, a return to political office by the ex-president. There is a general and strong sentiment among Biden voters and also more than a few rank-and-file Republicans that Trump needs to pay. Lack of punishment would set a very dangerous precedent for the future.
Biden must not be wary of pursuing the enemies of democracy. The fascists and racists must be brought to justice; if not, they will only become bolder. Washington demands Bolivia release Áñez, but the question that should be asked of Washington is: Why is Trump not in custody?
Even out of office, Trump continues to broadcast provocative allegations of election fraud, the same lies that triggered the Jan. 6 insurrection. In response to the April 2 passing of Capitol Police officer Billy Evans in another attack on the Capitol, Trump, instead of offering condolences, callously reiterated his Big Lie that "there was massive fraud in the 2020 presidential election."
There is no indication that the latest Capitol incident had anything to do with the election, though, rending the Trump statement divorced from reality and another "cheap trick" to perpetuate his false claims.
Incredibly, Trump continues with his inane attempts to foment doubt about the election. The latest came on Easter Sunday when he issued a statement ranting once again about the vote being "rigged." He must be brought to the bar of justice for the good of the country. He owes a debt to democracy that is long overdue. Trumpism is a cancer that must be surgically removed from the body politic of the nation.
The compassion of Indigenous women
As for Áñez, I must relate to the very poignant writing sent to her by Indigenous women's rights defender Cecilia Sola, who witnessed atrocities committed against the Indigenous when Áñez held the reins of government. The guilty must atone for their crimes. The people of a democracy are owed a debt of justice. Sola writes:
Don't be afraid, Jeanine
They will not beat you
They will not shave your head until your scalp bleeds,
with your hands tied behind your back
They will not drag you through the streets,
after throwing red paint on you, for the scorn and amusement of your enemies
Those Indigenous women that you despised and persecuted would not allow it.
You were detained and imprisoned with no human rights infringed upon
You were taken to a women's prison,
with access to a legal defense, and before the world's eyes
You have denied being an Indigenous woman
and you have declared yourself Aryan, blonde, and superior to those people whom you sent to hunt
But you must not be afraid
They, we, are not like you.
This shows the immense, poignant humanity of Indigenous people, in particular of Indigenous women. The passages read as if they were sent to an estranged relative who has sadly chosen to take the wrong side of history. Regardless of which side of history we choose, we are all the victims of a ruthless, merciless imperialism.
But justice, indeed Indigenous justice, shall and must be pursued. Áñez, like Trump, has blood on her hands, and neither deserves any mercy, only punishment to the fullest extent of the law. This, again, begs the question: When will Trump and company get their just deserts?
As with all op-eds published by People's World, this article reflects the opinions of its author.