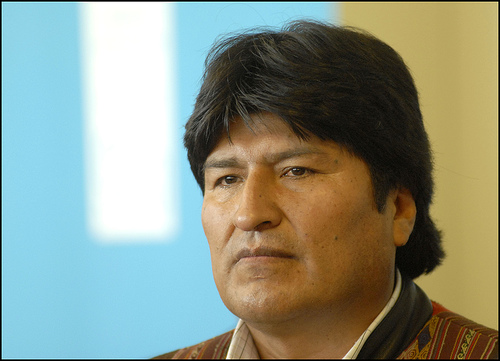 "The colonial state died. The new pluri-national, autonomous, and solidarity-based state is being born," asserted President Evo Morales at his inauguration January 22, after being elected along with Vice President Alvaro Garcia Linera to a new five year term. Morales made a pledge to "liberation heroes" rather than to a deity. A giant portrait of martyred indigenous hero Túpac Katari served as backdrop to the festivities.
Bolivia's first indigenous president won re-election in December with a 64 percent plurality. In previous elections he defeated a recall referendum in 2008 with 67 percent of the vote, and won his election as president in December 2005 with 53.7 percent. Divisions of race, class and wealth made these stunning victories all the more remarkable.
Under the new constitution approved last year by a 62 percent majority vote, the "Bolivian Republic" became the "pluri-national and communitarian Bolivian state." Congress was renamed the Pluri-national Legislative Assembly. Sixty percent of Bolivians are indigenous and belong to one of 36 indigenous nations.
The new administration benefits from Bolivia's present economic strength, due largely to the natural gas industry having been nationalized in 2006. From 2005 through 2009, foreign currency reserves grew from $1.7 billion to $8.6 billion, foreign debt fell from $4.9 billion to $2.6 billion, tax collections rose from $2.2 billion annually to $4.3 billion, and GDP growth exceeded four percent each year until last year's drop to 3.7 percent. The 2009 rate of inflation was 0.26 percent.
In a two hour inauguration speech, Morales established priorities. They included fighting corruption, promising judicial reform and improved indigenous legal systems, further agrarian reform measures, and legislation on regional autonomy. Victory in December gave Morales' Movement toward Socialism party (MAS) control of both legislative chambers. The opposition's previous hold on Congress had blocked approval of 100 laws promoted by MAS.
Morales' mention of extending nationalization of hydrocarbon resources elicited wild applause. High military commanders on hand clapped in response to his call for weaning young soldiers away from capitalism.
Extolling socialism, Vice President Álvaro García Linera warned the process will take "years, decades, or centuries." He tried to reconcile ecological and communitarian values with national economic dependency on mining and natural gas extraction. For the "global demon that is empire," he said, "we need another globalization, that of the peoples."
Later at press conferences, rural development minister Nemesia Chacollo promised increased agricultural production and attention to food sovereignty, while health minster Sonia Polo denounced privatization of public services. Other officials emphasized industrialization as an adjunct to natural resources exploitation. They highlighted manufacture of steel, cement and paper products; production of copper and lithium; and dairy processing.
Equal division between male and female members of the new cabinet represented one milestone in gender equality, Ana María Romero becoming Senate president, another. Inter Press Service' Franz Chavez explained that "The major changes seen in Bolivia over the last four years are largely due to the strength and drive of women."
Morales and Garcia Linera complement each other. According to MAS Senator Adolfo Mendoza, the president epitomizes change, the primacy of social movements, and Bolivian prominence as an international role model. The vice president, a former academician, author, guerrilla fighter, and political prisoner, performs the "rearguard" action of instilling an amalgam of Marxist and indigenous ideology into practical politics. The president oversees implementation of pluri-national governance, while Garcia Linera attends to "communitarian socialism."
Morales gained international visibility following the recent Copenhagen Climate Summit, widely regarded as failing to deal with threats to human survival. In response, Morales will be hosting an international conference on climate change set for Cochabamba in April.
On inauguration day, Morales insisted upon harmony between governmental action and nature. Speaking to indigenous peoples everywhere, he declared, "We have the responsibility to save the world." The day before, Morales was anointed as the political and spiritual leader of the world's indigenous people. Ceremonies took place near Lake Titicaca amidst ruins at a pre-Inca center of Tiwanakota culture.
Mexican economist Ana Esther Ceceña has high hopes for a "Bolivian people mobilized and aware" with "enormous responsibility."
"Will it be Bolivia," she asked, "offering the key for launching that new era of humanity, one of living well, with no capitalism?"
Photo: Bolivian President Evo Morales http://www.flickr.com/photos/alainbachellier/ / CC BY-NC-ND 2.0