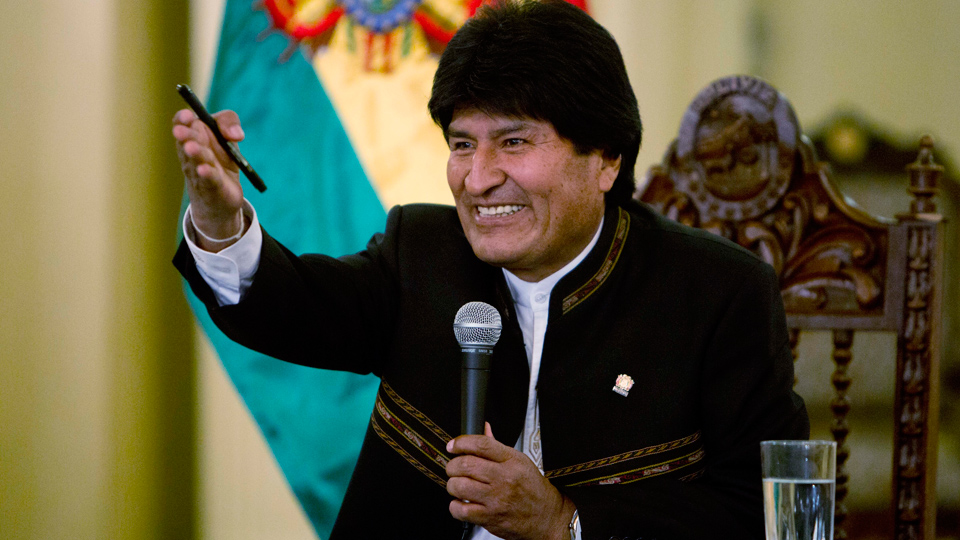 Bolivia's socialist President Evo Morales will seek a way to run again in 2019 despite constitutional barriers preventing him from doing so, his Movement for Socialism (MAS) resolved at the weekend.
Morales – the first indigenous president in Bolivia's history – was first elected in 2005 and has won re-election twice, but narrowly lost a referendum earlier this year on amending the constitution to allow him to run again.
But he remains popular, with an approval rating of 51.3 per cent, according to recent polls, a rating Vice-President Álvaro García Linera said came despite "the most virulent and aggressive media campaign in Bolivia's political history" against him.
Morales's governments have revolutionized Bolivia, investing in public services, raising the minimum wage by more than any other Latin American country, according to the International Labour Organization, cutting extreme poverty by half, and eliminating more than half of child malnutrition.
Under his leadership, Bolivia has also become the first country to enshrine rights for the planet, including an obligation on the government to maintain clean air and drinking water as well as respect the diversity of life forms and sustainability of ecosystems.
His MAS, Bolivia's ruling party, voted unanimously on Saturday that he should lead the party to the polls again in 2019. It is not yet clear how he will overcome constitutional provisions that look likely to block his path to re-election.
A number of possible options have been suggested, including his stepping down early (the constitution only restricts consecutive terms), gathering the signatures of a fifth or more of the electoral roll, or approaching the Constitutional Court or Legislative Assembly to devise a new mechanism.
"We are going to defeat the right. I have a lot of confidence in our social movement.
"We have a great responsibility to future generations – our children, our grandchildren," Morales said at the MAS conference.
So far, Bolivia has resisted the wave of right-wing reaction that has put left-wing Latin American governments on the back foot.
Neoliberal Mauricio Macri won the Argentinian presidency in 2015, while a coup in Brazil replaced elected Workers Party president Dilma Rousseff with the unelected right-winger Michel Temer in August.
In Venezuela, the opposition won control of parliament in 2015 and has repeatedly sought to unseat socialist President Nicolas Maduro since.
This article originally appeared in the British daily, Morning Star.