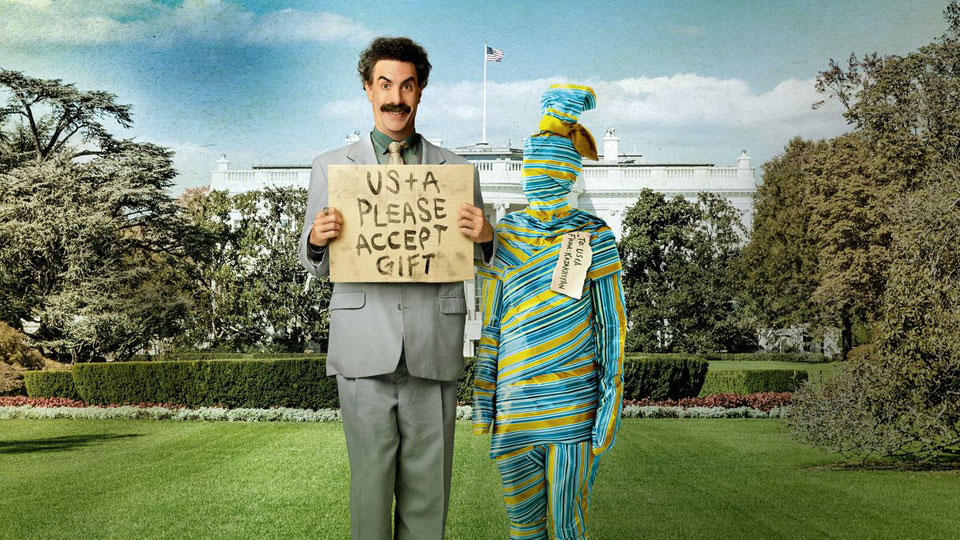 Note: This review contains spoilers.
Many readers may be familiar with the original Borat (2006) film, starring comedian Sacha Baron Cohen's controversial fictitious character, Borat, a reporter from Kazakhstan who travels to the U.S. to learn about America. Those who have seen Baron Cohen's work know that his Borat character is anti-Semitic, homophobic, and misogynist, so be aware that much of the dialogue could be triggering.
Borat speaks in a deadpan manner, seeming to suggest that he celebrates extreme anti-Semitism and misogyny. In the film's defense, though, Borat's character acts in this way in order to deliberately expose the oppressive nature of mainstream conservative political and social discourse in the U.S. In fact, Baron Cohen is a Jewish man who speaks in Hebrew when he presents his oppressive views.
In the sequel, Borat Subsequent Moviefilm: Delivery of Prodigious Bribe to American Regime for Make Benefit Once Glorious Nation of Kazakhstan, we once again see Borat traveling to the U.S. This time, he is planning on giving his (apparently) 15-year-old daughter (Maria Bakalova) as a present to Vice President Mike Pence in order to improve his country's standing with U.S. rulers. Indeed, he even made it onto the floor of this year's Conservative Political Action Conference (CPAC), in an attempt to give his daughter to Pence! His daughter spoke of her dream of becoming the "next Queen Melania (Trump)."
What makes the film most hilarious (and discouraging) is the utter honesty that is revealed by the reactionary people encountered. Borat's daughter meets with women coaches to learn how to be a "sugarbaby" or a "debutante." The instructors teach her to be submissive to a prospective husband. In the film, there is a clear depiction of the reactionary and misogynist nature of conservative political culture. The duo also visits a conservative-run "Crisis Pregnancy Center." Despite the name, the center only performs counseling against a woman having an abortion. This holds to be the case even in circumstances of incest, because, as the counselor asserts, "God doesn't make accidents." The film also talks about the fact that social media is often rife with fascists.
Owing to the fact that the film was made in 2020, the COVID-19 pandemic was prominently featured. Following the example of Trump, right-wing characters interviewed by Borat call COVID-19 the "Chinese virus." Those featured indicated that they thought that "the Democrats" were more of a threat to the U.S. than coronavirus. Borat also addresses the right-wing controversy around Dr. Anthony Fauci and the phenomenon of the so-called "Karen." When Borat attended a Republican rally, he ultimately met up with "QAnon" believers and even came up with some "conspiracy theories" of his own. It was also very disturbing to see some at the rally actually giving stiff-armed fascist salutes.
One aspect of the film that has generated a lot of anticipation is the fact that former New York mayor and Trump attorney Rudy Giuliani is featured. Trump's chief crony finds himself in a compromising position with Borat's supposed daughter. Readers may wish to examine the movie for themselves in order to gain their own perspective on the Giuliani incident. All is not what it may appear on the surface in this particular case. Since its beginning, many years ago, the Borat character has been known for "pranking" people and putting them in awkward or compromising positions.
It should also be said that, if readers appreciate the satirical nature of the film, it can actually be fairly entertaining. Having said that, however, the original film stirred quite a backlash among people from Kazakhstan. The nation is presented as quite oppressive and as a real backwater. This film is not different from the first in this aspect. There are also still some critics who say that, while Baron Cohen lampoons and ridicules racists, there are still racial/national stereotypes and cultural prejudices that go unchallenged in his humorous stylings.
This "mockumentary" comedy is directed by Jason Woliner in his feature directorial debut. The trailer can be seen here. It is available on Prime Video.