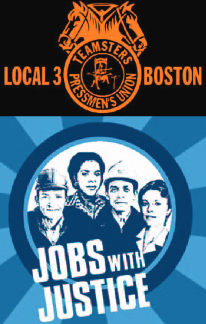 BOSTON (PAI) – Demonstrating the importance of community outreach, Graphic Communications Conference/IBT Local 3-N in Boston has worked successfully with the local Jobs With Justice branch, elected officials and faith-based organizations to halt the threatened deportation of a Salvadoran GCC/IBT press operator.
"This is why it is important as union leaders to have coalitions in your area," Local 3-N President Stephen Sullivan said after their efforts succeeded late last year. "It's easy to be isolated" on various issues "but everything ties together – minimum wage issues, immigration issues, everything."
Sullivan said the coordinated effort on behalf of the 49 year-old unionist, who does not want his name published, "represented a victory on an important cause" and blocked a miscarriage of justice.
"He had played by the rules, paid taxes, and was a model citizen but was being deported on a technicality" until the union and its allies stepped in to defend him, Sullivan said.
The immigrant worker fled El Salvador in 1990 to avoid the right-wing violence then sweeping his country. He was granted employment authorization in the U.S. after applying for political asylum.
His petition was denied years later, but his former attorney failed to update paperwork intended to provide him temporary residency while appealing the ruling. Last year, immigration officials contacted the press operator and told to buy a plane ticket to El Salvador and leave by Aug.1, on less than a month's notice.
Sullivan was "shocked" when told that "one of our own" – an admirable employee who worked his way upwards through the ranks for more than 20 years to become a journeyman press operator – was in jeopardy.
"He played by the rules, worked hard, had never been in trouble and felt he was contributing to America. He is a low-keyed, quiet, respectful person you would want as your neighbor," Sullivan added. The local quickly rallied support for him.
"Facing insurmountable odds, I knew we needed to mobilize, educate and most importantly we needed action on his behalf," the union leader said. F With assistance from Jobs With Justice, the Massachusetts AFL-CIO, Rep. Jim McGovern, D-Mass., Massachusetts Democratic State Rep. Mary O'Keefe and religious and community groups, Local 3-N helped the worker fight the deportation order.
Community members wrote letters on the worker's behalf, as did his employer. The Teamsters blasted out an online petition and collected several hundred signatures supporting his campaign to remain. The effort paid off. "We stopped deportation," Sullivan said.
At a hearing later last year, the federal government granted the press operator "temporary protective status." That lets him stay in the U.S. and at his newspaper job for another year.
It's also hopefully a step towards his citizenship, Sullivan said. And Local 3-N isn't through. "We are going to advocate on his behalf until he's here permanently," Sullivan says.
The worker's new attorney, Madeleine Moreno of Worcester, Mass., said the worker is grateful for Local 3-N's intervention. Without it, she added, immigration authorities "would have executed the order and he would have been removed from the United States."
Sullivan, whose parents were Irish immigrants to the U.S., said immigration, "is a hot-button issue" for many Americans, but unionists "must stand up for what's right."
The Salvadoran press operator, once feeling abandoned and without hope, now knows union members take care of their own, Sullivan said. "He may have no blood relations in the United States, but he has thousands of brothers and sisters," Sullivan adds.
Photo: Teamster.org