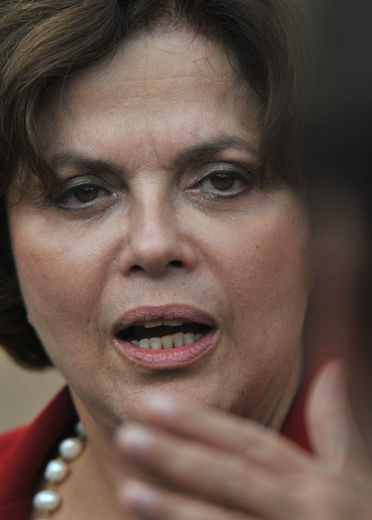 At its national congress in February, the Workers' Party acclaimed President Luiz Inácio Lula da Silva's endorsement of Dilma Rousseff as the Party's presidential candidate for elections in October. Party leader José Eduardo Dutra told 1300 delegates that Rousseff is "deeply and absolutely committed [to} the continuity of the policies of Lula," who presently enjoys 75-80 percent public approval ratings. He is constitutionally limited to two terms.
In his remarks, Lula emphasized Rousseff's history of militancy, management skills and dedication to national economic development. He highlighted her persistence in policy implementation and in "resolving problems of the population."
Rousseff herself promised to continue the social, economic, environmental, energy, and foreign policies of the Lula government. Promising once more to form a coalition government, she called for "appropriate public policies" over total reliance on market forces. An economist, Rousseff has never run for elective office. Aspiring to become Brazil's first woman head of state, she observed that while "Some grant that women make up half of those in heaven, [but] for us, we want half here on the earth, with full equality or rights, salaries, and opportunities."
As the 1970's dawned, Rousseff, of upper middle class origins, had joined Marxist oriented armed struggle against Brazil's U.S. supported dictatorship. She suffered imprisonment and torture.
Rousseff served as municipal treasury secretary in Porto Alegre in 1985. Later, she twice headed the Ministry of Energy for the Rio Grande do Sul state government. In 2000, she left the Democratic Labor Party for the Workers Party and served as Minister of Mines and Energy in Lula's first term. Rousseff became Lula's Chief of Staff two year's later in a government reshuffle triggered by a corruption scandal. In 2006, she planned and launched the Growth Acceleration Program, under which $200 billion were invested in infrastructure projects. TeleSur described the latter as "an ambitious plan … that gave her much visibility."
A year ago, Rousseff underwent treatment for lymphoma. Known as a workaholic, she has concentrated on technical aspects of energy and economics policies.
Rouseff's likely opponent on the right will be the José Serra, the current governor of São Paulo state. The U.S. educated Serra gained prominence as Minister of Planning and as Minister of Health during the presidency of neo-liberal partisan Fernando Cardoso. The candidacy of Maria Silva for the Green Party is expected to take 10 percent of leftist voters away from the Workers' Party. The former rubber tapper, militant environmental activist, and senator resigned as Lula's environmental minister in opposition to his government's support for hydroelectric dams, biofuels, and genetically modified crops.
In March, the Communist Party of Brazil endorsed Dilma Rousseff's candidacy. Allied to the Workers' Party since 1989, the Party has held government posts since 2003. Its statement affirmed, "There is no middle ground in this political clash. The result will either guarantee the continuity of the political cycle that president Lula started or backpedal with those who ruined Brazil." At issue, according to the Party document, is national development, increased production, adequate pay for labor, and improved living standards. The Communist Party reiterated its commitment to "unity in the democratic, patriotic and popular fields." The Party looks forward to Brazil "becoming one of the most progressive, strong and influential nations of the world."
Rousseff's future on the world stage is unclear. Already, according to Uruguayan analyst Raul Zibechi, "Brazil is now a big league player." Three Brazilian banks are among the world's ten largest. The country's oil and uranium reserves are huge. It boasts giant multi-national corporations.
Zibechi thinks the threat of Brazil is forcing the United States "to redesign its foreign policy," specifically by provoking conflicts on Brazil's borders – and China's too – so as to distract and to divert from upward trajectories. President Lula da Silva has schooled the people's movement in Brazil, the Workers' Party at its head, and perhaps Dilma Rousseff, in how to respond.
It's a response with the "Brazilian smile," says Ecuadorian analyst Guillaume Long. Visiting Brazil recently, Secretary of State Clinton got the smile and three negatives. No, Brazil would not discourage Iran from developing nuclear power, would not help return Honduras to the Organization of the American States, and would not take on supervision over Venezuela.
Photo: The Chief of Staff of the Presidency of Brazil, Dilma Rousseff.. Fabio Rodrigues Pozzebom/ABr, courtesy Wikimedia Commons, cc by 2.5