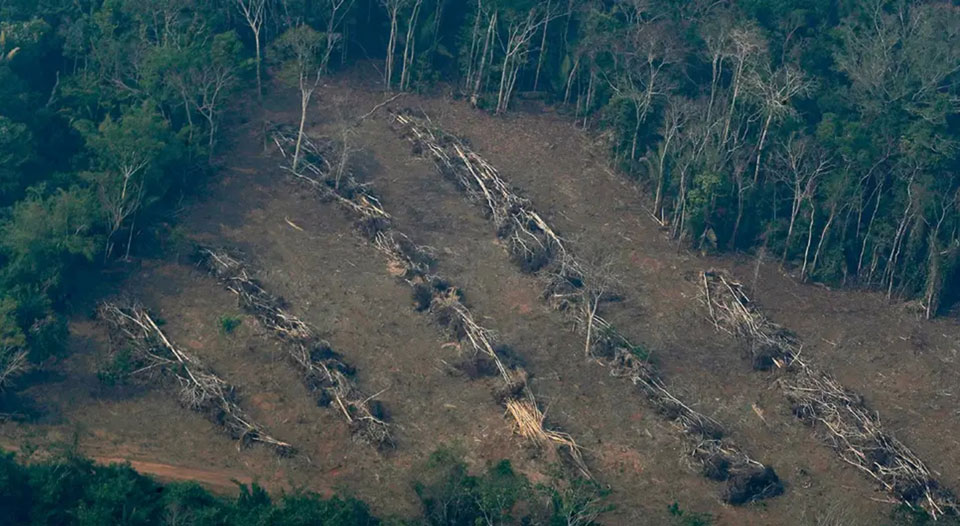 Deforestation in the Brazilian Amazon during the first three months of 2022 has increased by 64 percent compared to the same time period last year, Brazil's National Institute for Space Research (INPE) said in a new report.
That's a record increase in deforestation for January through March since data collection began in 2015. The report, released Friday, came the same week that the Intergovernmental Panel on Climate Change warned that world leaders are currently not doing enough to reduce global warming to 1.5 degrees Celsius above pre-industrial levels.
"Brazil is an example of what the UN climate report is saying when referring to governments not taking the necessary actions," Greenpeace Brazil forest campaigner Cristiane Mazzetti told CNN. "We have a government that goes deliberately against the necessary steps to limit climate change."
Tropical forests like the Amazon are essential for combating the impacts of the climate crisis. A study published last month found that the world would be more than one degree hotter than it is now if all the world's tropical forests were cut down. Further, another recent report found that protecting Indigenous lands in four forest countries including Brazil was essential for helping these countries meet their climate commitments.
However, since gaining office in 2019, right-wing Brazilian President Jair Bolsonaro has moved in the opposite direction. He has weakened protections for the environment and Indigenous rights, and deforestation in the country is now three times higher than it would need to be if the country wanted to meet its climate commitments under the Paris agreement.
The latest INPE findings follow two months of record deforestation in January and February, Reuters reported at the time. During the first three months of 2022, 363 square miles were cleared, according to CNN. That's an area almost the size of Dallas, Texas, and up from the 221 square miles cleared last year.
The new record is especially worrying because Brazil is currently in its rainy season when logging is less common and farmers don't clear land with fire, Al Jazeera reported.
"The fact that we are already at a record high and actually [seeing] numbers that are usually to be expected mid-year – when it's drier and it's actually easier to access the forest and do some damage – is indeed worrying," Federal University of Minas Gerais environmental management professor Raoni Rajao told Al Jazeera.
Most deforestation in Brazil is driven by agriculture, as the country is the world's leading exporter of beef and soy. Scientists are concerned that, if the deforestation continues, the forest will reach a tipping point after which it loses the ability to generate its own rain and transforms into grassland.
"Even in the areas far away from the agricultural frontier, we're starting to see the forest drying up and also become more prone to fires," Rajao told Al Jazeera.
The new data indicates that the country may see record deforestation in 2022 overall, Agence France-Presse reported.
The report comes as Indigenous people are in the middle of a 10-day protest in the capital of Brasilia against new legislation proposed by Bolsonaro that would open Indigenous lands to mining and farming, Al Jazeera reported further.
This article was reposted from Ecowatch.