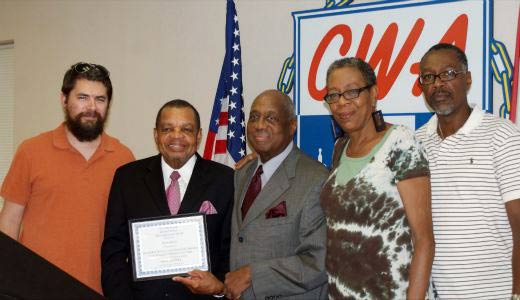 ST. LOUIS – "We are going to take back what they stole from us," Robin Acree, executive director of Mexico, Missouri, based GRO-Grassroots Organizing told union members, community activist, faith and political leaders here at the 19th annual Hershel Walker Peace and Justice Awards Breakfast.
The annual breakfast is organized in honor of Hershel Walker, a lifelong member of the Communist Party USA, trade union leader and community activist, who was tragically killed in a car-wreck in 1991. Walker was on his way to deliver petitions to help save 4,000 jobs at the local Chrysler plant when a drunk-driver struck his car. (Story continues after video)
"We have to be united," Acree continued. "Faith, labor, community, we have to get organized."
This year's Breakfast awardees included Shannon Duffy, business manager of the St. Louis Newspaper Guild; Bernie Hayes, WGNU radio talk-show host and author of The Death of Black Radio; and John Ebeling, first vice president of the Greater St. Louis Central Labor Council, vice president of the Communications Workers of America Local 6300.
The breakfast, held on Saturday, July 9, is usually held in early May, as close to May 1 as possible. However, this year, organizers wanted to hold the event closer to July 4. As Tony Pecinovsky, Missouri / Kansas People's World Bureau Chief, said, "We need to reclaim July 4 from the right wing. We are the real patriots. We want to make our country better."
The Breakfast was attended by members of the St. Louis Coalition of Black Trade Unionists, the Communications Workers of America Local 6300, the CWA city council, St. Louis Jobs with Justice, the American Postal Workers' Union, Workers' United, the St. Louis Newspaper Guild, GRO-Grassroots Organizing and other organizations.
Towards the end of her remarks, Agree added, "If you got, give it! This is a fundraiser." The 19th Annual Hershel Walker Awards Breakfast raised over $7,000 for the People's World.
Photo: From left to right: Tony Pecinovsky, Lew Moye, Bernie Hayes, Zenobia Thompson and Mark Esters. By Aaron Burnett, St. Louis Jobs with Justice/PW