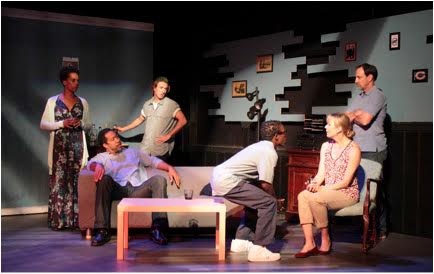 LOS ANGELES – Race. Class. Proliferation of guns. Prison. Family dynamics. PTSD. Police shooting of unarmed black men. Gentrification. All are on display in the flawed but often forceful six-character play "Breathe," set in Chicago and now at the Greenway Court Theatre in Los Angeles.
Giving no hint of having been written 15 years ago, this is actually the world premiere production of the play, although it first appeared in some form at the Lark Theatre in New York City. Director Levy Lee Simon, who heard the script at the Lark, writes, "The play embodies everything theatre should be about and I have been surprised that over the years no professional theatre company was brave enough to produce it."
In the first scene, theatergoers are introduced to two 17-year-olds, Andre (black, the vivid Kamahl Naiqui) and Casey (white, an emotional Dutch Hofstetter), as they spar for dominance in their shared prison cell in a one-sided joust over control of their meager territory. Casey is the new inmate just entering his cell for the first time, with Andre, the resident already occupying the cramped space sparsely furnished with only a bunk bed and a referred-to but unseen toilet.
Audience assumptions about race and prison culture are piqued at the outset, only to be challenged as the depths of the story and their social implications evolve around these two characters and their families.
The youngsters' spirited recitation of Def Jam style poetry at heightened moments of mental focus throughout the play is a riveting stylistic component. These exuberant flights of elevated speech confer a powerful, unexpected grace onto these two integral players, evoking audience appreciation and applause even when their rapidly spoken words cannot always be ascertained given the less than perfect acoustics.
The other four characters are the boys' two sets of parents. In a series of flashback scenes we are gradually filled in on the parallel backstories in these two families, one African American, the other white, and how in each case guns appear, to be implicated in terrible, senseless murders that almost defy explanation. Except that in America today we know so well both how gun violence has become glorified, and how arbitrary its consequences. Each gunshot fired is a wakeup call to bad trouble in the land.
Both these families are "respectable" – one is a policeman and his professional wife (Walter Cox and Carrie Madsen), the other a construction worker with a college degree and his social worker wife (John Marshall Jones and Lyn Michele Ross). Yet in each case there are profound empty spaces where feelings go unexpressed, questions go unasked much less answered, fears go unaddressed, and aspirations go awry. The suffocating environments, so different, but yielding such similar outcomes, produce the common complaint "I can't breathe." It seems like just about everyone in the cast says or shows this at some point. (Was this in the original or did the author recently rewrite his script after the Eric Garner incident on Staten Island universalized that expression?)
To spotlight the universality of family experience under conditions of great stress, a striking scene takes place: Both sets of parents are seen positioned respectively at stage right and stage left speaking the exact same dialogue as they struggle through dark clouds of recrimination and guilt. In subtle commentary on the scene's dramatic tension, the viewer can hardly miss the picture of the forgiving Jesus hanging from the wall in each couple's living room – one Jesus is black, the other white.
One of Casey's prison rants in the presence of and to a degree directed at his on-the-surface unprejudiced mom is a recitation of all the sins of America, a quick history lesson that sounds like he just put down a text by Howard Zinn. Is this the author speaking? If it's genuinely Casey, it's left unexplained where he acquired this radical interpretation. Lefties in the audience will eat it up. Just as the rhetoric of freedom and democracy has turned sour in America, the adults we see on stage have done their jobs but failed their families.
Redemption – if that's what audiences seek – comes slow and scant, meted out parsimoniously and in unequal portions. "Breathe" is an energetic modern American tragedy lit by some magical ensemble work, in which the apology "sorry" is pitifully bereft of significance.
Remaining performances are all at 8 p.m. on Weds. 9/30, Mon. 10/5, Weds. 10/7, Thurs. 10/8, Fri. 10/9, Weds. 10/14, Thurs. 10/15, Fri. 10/16, Weds. 10/21, Thurs. 10/22, and Fri. 10/23.
The Greenway Court Theatre is located at 544 N. Fairfax Blvd., Los Angeles 90036. For tickets: www.greenwaycourt.org or 323-673-0544.
Photo: L to R: Lyn Michele Ross, John Marshall Jones, Dutch Hofstetter, Kamahl Naiqui, Carrie Madsen, Walter Cox.