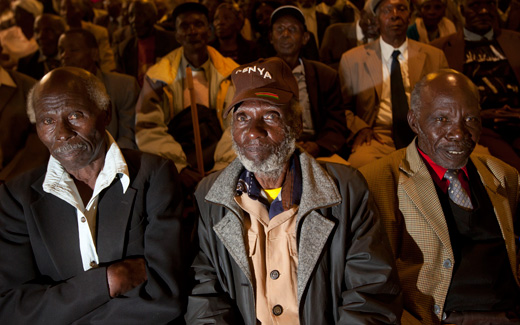 LONDON – British Foreign Secretary William Hague stopped short of issuing an apology last week to the elderly Kenyans tortured by British colonial forces during the Mau Mau uprising.
The Mau Mau movement emerged in central Kenya during the 1950s to get back seized land and push for an end to colonial rule. Supporters were detained in camps and thousands were tortured, maimed or executed.
Hague told the House of Commons June 6 that the government had reached a full and final settlement with solicitors of 5,228 claimants totaling $31 million.
The government would also support the construction of a memorial in Kenya's capital Nairobi to the victims of torture and ill-treatment during the colonial era.
But he said the British government continued to deny liability for what happened during the uprising.
Shadow foreign secretary Douglas Alexander said Labour supported the government.
However left Labour MP Jeremy Corbyn said it was strange of the government to offer compensation but to deny any formal responsibility.
"I'm a bit surprised," he said, adding: "This is a very strange result, to offer compensation and a settlement for Leigh Day and at the same time deny liability."
Corbyn pointed out that many MPs in the 1950s raised the issue in Parliament at the time, praising the Kenyans for their "tenacity" in seeking justice.
"When we deny rights and justice, when we deny democracy, when we practice concentration camps, it reduces our ability to criticize anybody else for that fundamental denial of human rights, and I think this is a lesson that needs to be learnt not just in Kenya but in other colonial wars as well where equal brutality was used by British forces," he said.
Hague said there was no inconsistency in recognizing the suffering endured by many of the victims while continuing to deny liability.
Originally posted at Morning Star; currency converted to U.S. dollars.
Photo: Veterans of Kenya's Mau Mau uprising await the press conference announcing a settlement in their legal case against the British government, in Nairobi, Kenya, June 6, 2013. (AP/Ben Curtis)