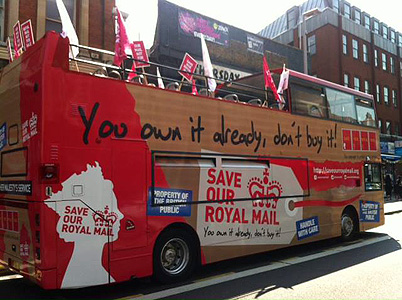 LONDON – There's a big bus trundling around London this week, manned by British postal workers – and they're not doing it for fun or to show sights to tourists.
Instead, the bus is the latest way the 203,500-member Communications Workers Union declares its opposition to Conservative Prime Minister David Cameron's scheme to privatize the United Kingdom's postal service, the Royal Mail.
Cameron unveiled his privatization plan in Parliament on July 10, where his combined coalition of Tories and Liberal Democrats rules Britain in an uneasy coalition government. The CWU promptly blasted it. But Cameron had been telegraphing his intentions for weeks and the union was already campaigning against privatization.
Privatizing the Royal Mail is just the latest such plan in Britain. The bus system was privatized and the Tories occasionally float ideas about privatizing health care.
Privatizing public services is a common worldwide theme of big business, the right wing and conservative parties and politicians, including Britain's Tories and the U.S. GOP. Privatization is often directed at unionized services, to try to break unions, and to lower workers' living standards.
One difference is that, unlike the U.S. Postal Service, the Royal Mail is profitable. Cameron seized on that to argue the agency would do even better if it's privatized.
The CWU replies privatization would let corporate executives cut jobs and kill universal service – echoes of arguments U.S. postal unions use against the job-cutting service eliminations U.S. Postal Service executives propose. Those execs also hail from the corporate sector. U.S. unions have yet to comment on the British privatization.
The bus tour repeatedly circumnavigating London is the union's latest attempt to take the cause public, after 96 percent of 110,000 voting union members, in a ballot that CWU sponsored, rejected the Tories' Royal Mail privatization plan.
"No-one has yet asked postal workers what they think about privatization," said CWU General Secretary Billy Hayes, the union's top officer. "The workforce does not support the government or Royal Mail on selling the company. This company is flourishing in public ownership as the recent doubling of profits proves. It's becoming less clear what this policy is about. Why privatize this profitable company?
"This is a strong message to take forward action in each area to improve the working lives of postal workers and protect the services and jobs which customers and communities value," Hayes said. "Royal Mail is not a financial basket case and they know privatization is only benefitting vested interests," said his deputy, Dave Ward.
Photo: CWU's Save Our Royal Mail Facebook page.