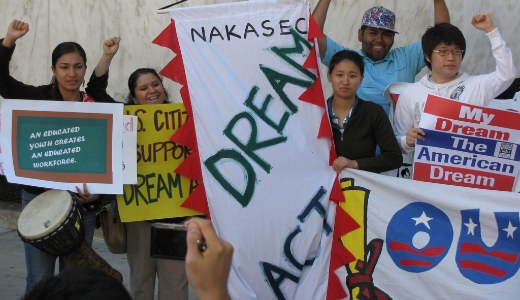 With comprehensive immigration appearing less and less likely during the lame duck session of Congress, many are pushing for passage of the DREAM Act this month as an important partial measure. Supporters of the law include a broad coalition spanning from the left to the right, including the labor movement, immigration reform advocates, non-partisan students' organizations and the Obama administration, as well as self-identified conservatives.
Speaking on a media conference call organized by Conservatives for Comprehensive Immigration Reform, Monday, Nov. 29, Secretary of Education Arne Duncan urged passage of the bill, which would provide an estimated 65,000 immigrant youth with the opportunity to access higher education and a path to legal status through public service.
"I just think for our young people, for our country, for our country's economy, we desperately need to pass the DREAM Act," Duncan told reporters. "I don't think we can afford to wait."
In addition to being an important Obama administration agenda item, passage of the bill has personal significance for Duncan. He said it stems from his days as CEO of Chicago Public Schools when he watched hardworking young people complete high school with good grades and great potential, but then be denied access to college because of their immigration status. "These are great young people, absolute assets to their communities and to the country who have nowhere to go," he said.
Partisanship and ideology have no role in getting the DREAM Act passed, Duncan explained. Speaking of his own efforts to lobby members of Congress for passage, he said, "I try to make this very human to them. I try to talk to them about some of the students I've worked with, what they were overcoming in their own lives. This has to be bipartisan. We have to take the politics out of it."
"We have to educate our way to a better economy," he continued. "We have to find ways to expand educational opportunities, not deny it."
He stated that the administration is working hard, pressing members of Congress this week for passage of this bipartisan bill, including the 11 Republican members of the Senate who have endorsed or co-sponsored the bill in the past. "I simply see no reason why it can't have bipartisan support today," Duncan added.
Former Bush administration Commerce Secretary Carlos M. Gutierrez said, "This is as much a human issue as it is an economic issue."
Gutierrez noted that passage of the DREAM Act shouldn't be a substitute for comprehensive reform. "This needs to be positioned as a first step in a comprehensive solution," he said. "We need to keep that bigger picture in mind."
Notably, conservative support for the DREAM Act has met with hardline resistance in the Republican Party. Sen. Jeff Sessions, R-Ala., for example, misleadingly stated that the DREAM Act would provide amnesty to criminals and would overlook fraud and abuse by non-citizens.
Despite the obvious fact that the bill would provide a path to legal status for immigrant youth who are in the circumstances they are in by no choice of their own, other Republican Party leaders and media mouthpieces like Glenn Beck have chosen instead to promote fear and hatred of immigrants.
The United States Student Association urged its members and supporters to pressure Congress to pass the law. In a recent e-mail, the USSA provided online tools for writing letters to the editor, signing a national petition and blogging in favor of passage. The group also provided a telephone hotline directly to members of Congress in both houses.
AFL-CIO President Richard Trumka called on Congress to pass the law. "Now is the time to pass the DREAM act and give hope to our nation's youth," he said. "Every year, thousands of students graduate from high school and are barred from serving in the military or attending college – solely because of their immigration status."
Image: Korean Resource Center // CC BY-SA 2.0