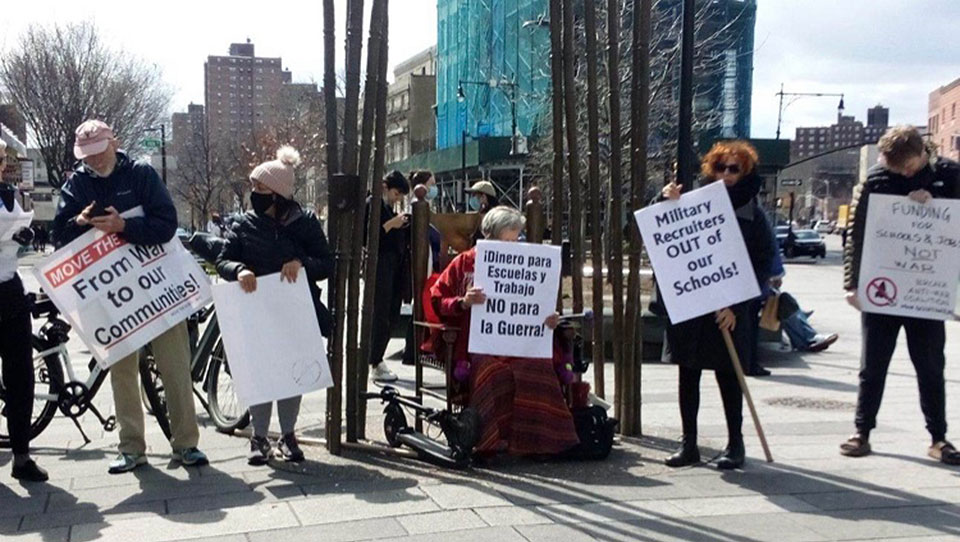 BRONX, New York – A crowd that gathered recently at a busy intersection in the Bronx, New York City's poorest borough, made it clear that they are not happy with President Biden's $750 billion military budget, which actually surpasses $800 billion when you count money for the military hidden elsewhere in the multi-trillion-dollar overall budget Biden has submitted to Congress. Worse yet, both Republicans and Democrats, competing to look like champions of Ukraine, are falling over one another as they attempt to add even more money for more weapons to that budget.
The recently-founded Bronx Anti War coalition, a Community based peace group, held an event on March 26th at 149th street and 3rd avenue, in the Bronx. The group was founded with the intention of reinvesting the military budget into human needs in the Bronx.
On the street were groups representing everyone from activists committed to anti-imperialism to veterans, activists in national campaigns for economic and political justice, and even local city officials including members of About Face, Veterans for Peace, Move the Money Campaign, and the Kristin Jordan Campaign. Present too was the Puerto Rican anti-war poet, Mariposa María Teresa Fernández.
Military and community needs are not compatible
They made it clear that the military budget takes vital resources away from the people in the Bronx, a borough where profit trumps the needs of the majority Brown and Black working class. This process is reflected in the borough's high unemployment, poorer healthcare, higher evictions, and environmental racism, all compounded by a pandemic that has intensified each of the problems (as a result of cutting off healthcare and teaching jobs during the pandemic) and higher rates of planned evictions than any other borough before and during the pandemic.
The scourge of environmental racism is reflected in the rampant cases of asthma resulting from the dumping of toxic wastes by manufacturers in the borough.
In addition, the police are criticized by many for what is seen as their repressive role in carrying out an approach to crime that ignores almost all of its underlying causes.
Combine all of these problems with the military budget, coalition members say, and you can understand why they are taking action.
Even the location of their rally underlined this assessment The location of the rally was only a block from one of the largest military recruitment centers in the city, the South Bronx Recruitment Center. The military takes advantage of high unemployment and other problems in communities to lure people in where they often become part of repressive operations overseas.
Schools in the Bronx and elsewhere, of course, play a prominent role within the Military Industrial Complex, not only allowing military recruiters to enter the school grounds but telling students that the military is a good option to "leave the Bronx " for better opportunities. A teacher in the coalition, Richie Merino, talked about the false choice being presented to students.
"I believe the people of the South Bronx are some of the most oppressed people in this country," Merino said." In my hallways, I constantly see military recruiters roaming our hallways. I see them in the guidance and advising offices, trying to convince students that 'maybe college isn't for you, maybe you're not gonna get a job in this economy, maybe going to the military is the right path for you.
"This is based on selling them a false bill of goods. I've heard a lot of these conversations where they literally tell students 'isn't the South Bronx such a shitty place to live, don't you want to get out of here, wouldn't you want to make your family proud by getting out of the South Bronx, getting a better life somewhere else, isn't that what you want?"
While working-class residents are lured in with promises of free education and while they risk their lives to receive an education free of debt, weapons companies such as Raytheon and Boeing accumulate their profits. War profits spiral for a small number of capitalists with defense deals while leaving regular people to die for imperialist needs.
In 2001 shares of Raytheon stock that sold for $10,000 sell now for more than $43,000. Lockheed Martin stock that was worth $10,000 in 2001 is worth almost $134,000 today. Boeing stock in 2001 was worth $10,000 and today is valued at almost $108,000. While their stocks have gone up by 900 to 1,000 percent, some 30% of Bronx residents continue to be food insecure.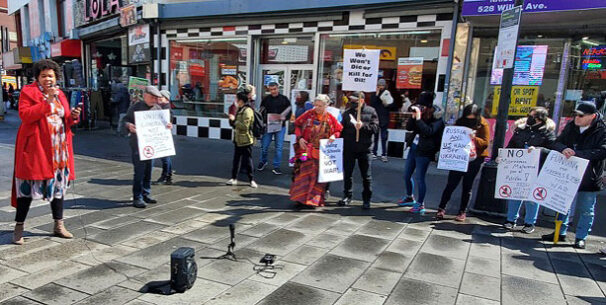 New York City Council member Kristin Jordan spoke to the need for "radical love" and "community justice," emphasizing the role of "people power."
"People power! We must continue this fight, locally and internationally for working people, to fight for peace and freedom across the globe," she declared. "War will not get us there, only collective organizing and people power will. We don't need more NATO bases in Eastern Europe, we need a foreign policy which is based on peace and reparations."
Don't need a bloated military budget
"We don't need funding, nationally, for a bloated military budget, any more than we need funding, locally, for a bloated police budget. We need funding for universal healthcare, mental health, housing, sanitation, green energy, and education. As a city councilwoman, I am fighting this battle locally but fighting against an austerity budget, at a time when we actually have a surplus."
The Bronx Anti War Coalition handed out a list of its printed demands including military recruiters out of school, counselors, not more police, money for community centers, money for after-school funding, refunding and reinvesting in the New York City Housing Authority, money for public transit, money for permanent housing and rental relief and substance abuse prevention, more funding for the Veterans Administration, jobs training and guaranteed employment, and reparations for the Black and Indigenous communities.
The website of the Bronx Community Coalition is listed as BxAntiWar.org, please reach out if you have any questions or would like to get involved.