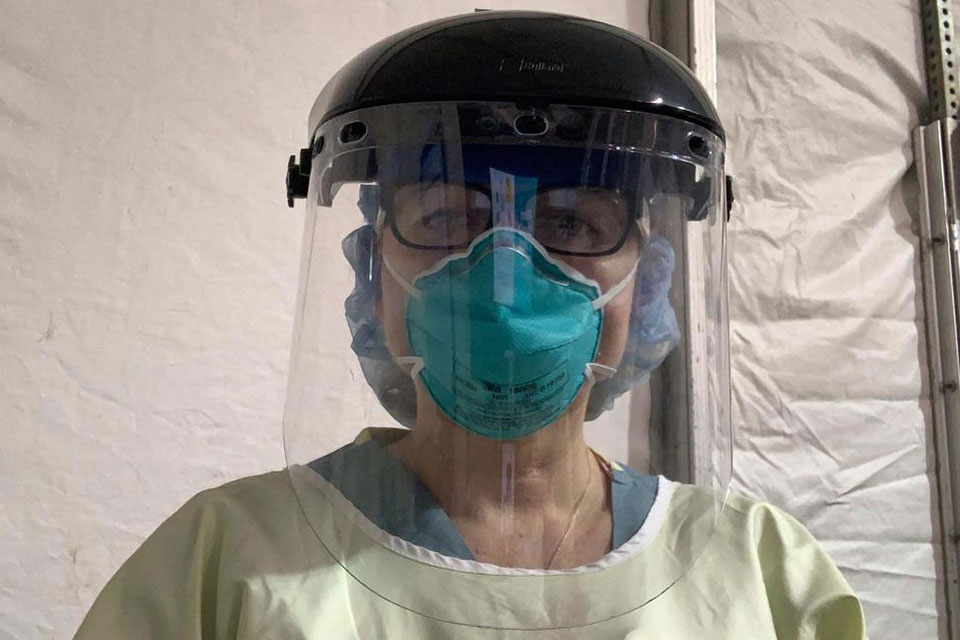 NEW YORK – When Howard Sandau, a critical care nurse in Brooklyn, walked into the Intensive Care Unit at his hospital in March to treat his first coronavirus victim, the man was wearing a mask – and he wasn't.
And that lack of masks for the nation's nurses and other critical care providers, as well as other essential workers, has been common and continuing ever since that March day.
"By the end of the week, our entire ICU was full of COVID-19 patients," he said, using the official name for the coronavirus. "At one point we had more than 100."
"And our hospital started conserving N95 masks," the vital tool health care workers need, along with respirators, to protect themselves from getting sick.
The outrage over the lack of personal protective equipment (PPE) led Sandau, a member of the United Federation of Teachers, other active-duty nurses and leaders of their unions, to speak out – loudly – at an April 21 telepress conference, and to let the nation know where the blame lay.
It's not with their states' governors or agencies. It's with their bosses, the GOP Trump administration, or both. And it costs lives, including nurses' lives, they declared.
Only by raising hell, publicly, can they get both bosses and Trump to move, they explained.
"We've had members die from this virus," said AFGE President Everett Kelley. "We've had several members filing lawsuits against their employers because they have no transparency" about when and where they'll get protective gear, added Teachers (AFT) President Randi Weingarten. "Or when it'll run out."
The workers and their unions, including AFT, National Nurses United, AFGE, the Machinists, the Office and Professional Employees and the Professional and Technical Engineers, are conducting a strong campaign for more PPE, particularly the N95 masks and respirators nurses need, along with gloves and hazmat suits, to treat the hundreds of thousands of coronavirus sufferers, without getting ill themselves.
But dozens of nurses, union and non-union, have fallen ill from COVID-19 exposure anyway, and at least 50 have died – among the 855,525 people ill from it in the U.S., and 47,992 dead as of 10 am on April 23.
Nurses love treating patients and caring for people, "but we didn't go into this profession to sacrifice our lives for no reason," said Cathy Kennedy, RN, an NNU vice-president and 40-year nurse at the Kaiser Permanente Hospital in Roseville, Calif.
The nurses and other health care workers are in danger due to a multitude of employer inactions, combined with the refusal of the GOP Trump administration to invoke the Defense Production Act and force U.S. manufacturers to supply them with protective gear.
And not only are bosses not listening to their workers, but neither is the Trump regime, especially at the Department of Veterans Affairs, which runs the nation's largest health care system. The lead union for its workers, AFGE, had to file a massive formal "unsafe working conditions" complaint, covering all VA hospitals, with the Occupational Safety and Health Administration the week before.
"Only last week, our managers told us to use surgical masks," which are much less effective, because her hospital was out of N95 masks, said Barbara Gale, RN, of AFGE Local 3669 at the Minneapolis VA Medical Center. "And they told us that when the straps break, to reattach them with staples."
"It makes no sense why these employers are not being held responsible for not providing safe patient care," added Juan Munoz, a respiratory therapist at the Santa Clara regional hospital and an IFPTE member.
But it's not just the bosses who are to blame, the nurses and union leaders said.
"Our position is that they" – Trump and bosses – "aren't doing nearly enough," said NNU Executive Director Bonnie Castillo. Her union spent part of the week in "virtual lobbying" of senators, by teleconference, to get more money for PPE and for hospitals to buy it. They've also filed OSHA complaints and agitated against Trumpites who run the VA and who deny nurses and other medical personnel their equipment,
"We've marched in to demand (hospital) administrators release the PPE they have locked in their offices," she said.
Trump himself is in denial or worse on the lack of gear, while his regime often blocks shipments of gear states bought overseas, such as masks and coronavirus testing kits. Gov. J.B. Pritzker, D-Ill., resorted to secret flights from Chicago to China and back to deliver a million items of testing gear the state bought. Other governors got items from Korea and Vietnam.
Instead, Trump sent out Vice President Mike Pence to a Machinists-unionized plant in Wisconsin to praise the workers for making respirators for patients — without answering questions about where more of them, or protective gear, will come from. "We need fewer photo-ops and more action," IAM Health Care Director Matt Garza commented.
Like free stuff? So do we. Here at People's World, we believe strongly in the mission of keeping the labor and democratic movements informed so they are prepared for the struggle. But we need your help. While our content is free for readers (something we are proud of) it takes money — a lot of it — to produce and cover the stories you see in our pages. Only you, our readers and supporters, can keep us going. Only you can make sure we keep the news that matters free of paywalls and advertisements. If you enjoy reading People's World and the stories we bring you, support our work by becoming a $5 monthly sustainer today.