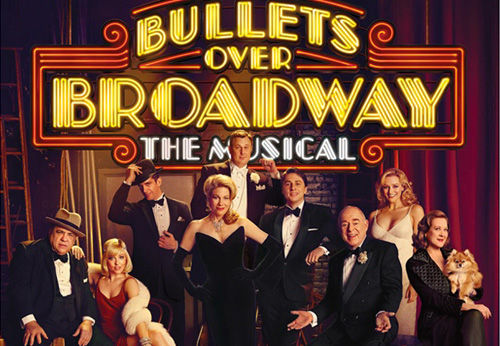 So, a Marxist walks into a theater to watch a fluffy new musical set in the 1930s – and leaves with a big wide smile across his face. Not just for the great singing and even more fantastic choreography that light up this L.A. iteration of Woody Allen's "Bullets over Broadway" on its first national tour, but also for the implicit critique of commercialism that is the American way in all things – and also in the theater.
The set-up is the classic 1930s nerdy, neurotic, guilt-ridden, angst-driven New York Jewish playwright David Shayne (Michael Williams) – a genius in his own mind who is but one more example on a long list of avatars of the auteur himself (Mr. Allen) – who secures backing for his new play only from Mob boss Nick Valenti (Michael Corvino), on condition that Shayne cast Valenti's girlfriend, Olive (Jemma Jane), a Broadway hoofer and the very model of an airheaded floozy with no talent except to annoy one and all (audience included) with her only intermittently comprehensible Jersey locution delivered with a high-pitched twang and exaggerated overacting.
A seasoned theatergoer will immediately place "Bullets" alongside "Guys and Dolls" with its lovable O.G. gamblers and lowlifes, or perhaps "City of Angels," with its jazzy, noir score, or "The Producers," with its portrait-by-stiletto of theatrical ventures as a venal occupation.
After her long, lewd and suggestive hot dog scene ("I want a hot dog for my roll"), and after we are introduced to the pet dog owned cloyingly by Eden Brent (Rachel Bahler), a supporting character in Shayne's play, we hear the line, "This is a dog-eat-dog world. You have to make a few compromises." Cheech (Jeff Brooks), the tough whom Nick assigns to watch Olive at all times, turns out to have quite a good head on his shoulders apart from his highly developed sharpshooter's aim with a gun. He asks, "Morality? What's that mean? Public opinion?"
This is the subtle art of Woody Allen at work: to embed into a story, punctuated at every turn by the percussive tattoo of pistols and assault weapons, some wise and sad truths about life and art. He himself has been accorded the witch-hunt treatment on "morality" charges, after all.
The score is fresh and bouncy, all songs derived from the period and arranged for every possible permutation of soloists and the generous ensemble (John Mezzio seems to be responsible for the choice of material). We hear the familiar, such as "They Go Wild, Simply Wild, Over Me" and "Up a Lazy River" and "Tain't Nobody's Bizness If I Do," and rarer tunes such as "Blues My Naughty Sweetie Gives to Me" and "(I'll Be Glad When You're Dead) You Rascal You." But each finds a new resonance set into this gangland fantasy that brings together high and low art, sublime aspiration and yes, those ol' debbil compromises. With each reprise these new meanings probe ever deeper into recesses of significance you never in your life imagined those songs contained.
As an example of the layering of meaning in "Bullets," the actress Helen Sinclair (Emma Stratton), whom Shayne desires as his lead, sings a big number, "There's a Broken Heart for Every Light on Broadway." Despite her past status as a diva of the Broadway boards, and despite her chance now for a comeback in a principal role in a pathbreaking new play, Sinclair is also a broken heart in her own way – a committed alcoholic reduced to consuming lighter fluid and paint thinner (it's Prohibition time), and a serial failure at love, always falling for the artist instead of the man. But more universally, how many dancers, actors, singers, and writers got off the bus or train in New York over how many years, with gleaming lights in their eyes and dreams of fame in their hearts, only to become poorly paid foot soldiers of this great industry with precarious work at best and life in a tawdry rooming house, forever awaiting that big break from Mr. Producer?
Late in the action, when the dust settles and the characters' fates are drawn, this same Ms. Sinclair tells us, "It's no crime to be a total mediocrity." In other words, no, not every aspiring young person will set the world on fire, but isn't there a place in this world for the rest of us who perform an honest job and just want to live out a decent, fulfilling life?
The Marxist playwright Bertolt Brecht, often in collaboration with composer Kurt Weill, featured American gangsters to represent the apotheosis of capitalism. The predations of Mafiosi (of any ethnicity) – involving liquor, drugs, weapons, gambling, prostitution, horses, real estate, territory, city politics and power – were nothing, they implied! Compare that to the global crimes of Big Oil, the capitalist fixation with military intervention, colonialism and neocolonialism, tinpot dictators propped up in dozens of poor nations, rape of the Earth for raw materials, mass hunger and illiteracy, enormous "odious debt" and similar assaults against humanity. Gangsterism was but the local and much smaller-time expression of those larger phenomena.
In modern times Kander and Ebb's musical "Chicago" took this Brechtian idea to its American apogee: Who could experience this show and not come away with a dark understanding of the elevation of corruption and vice as the actual norm in this country, as opposed to the grade-school civics – and all that jazz – that we were taught?
The original film "Bullets Over Broadway" starredJohn Cusack, Chazz Palminteri, Jennifer Tilly, and Dianne Wiest, who won Best Supporting Actress for her performance. The musical adaptation played on Broadway in 2014 for 156 performances and 33 previews. In Los Angeles it's playing at the Pantages Theatre, one of those classic urban Roaring Twenties Hollywood baroque deco-dent style venues that happily has come back from its zombie days as a shoddy movie house.
The American musical tries for the most part not to send ticket buyers home with the depressing message that there's no hope or justice in the world. Even if overall the takeaway is tragic (a "West Side Story," for instance), there is the beauty of catharsis if it's not too bathetic. "Bullets Over Broadway" will not strike most theatergoers as a penetrating examination of the sins of capitalism – and don't take me wrong, it isn't, and isn't meant to be. But studded throughout are thought-provoking insights not just about the nature of art but about what kind of art our society produces and consumes. One thing you can count on: There's always a money trail, and it ain't always pretty.
Everyone on stage is simply divine in this fast-moving production, directed and choreographed by the brilliant Susan Stroman, that ticks along like the proverbial clockwork. One complaint, however, in this era of #oscarssowhite: In a cast of 27, couldn't they have found (judging from their photos in the program) more than one (count 'em, 1) person of color among the chorines? Was this perhaps a necessary compromise?
"Bullets Over Broadway" runs at the Hollywood Pantages Theatre, 6233 Hollywood Blvd., Los Angeles, CA, through January 24. For ticket information call: 323-468-1770. The touring production schedule can be found here.