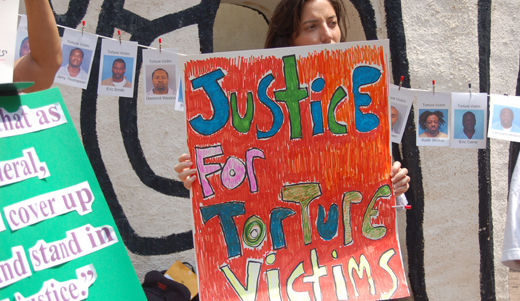 CHICAGO — While the circus trial of disgraced former Governor Rod Blagojevich has garnered the headlines, another more important trial is underway.
Former Chicago Police Lieutenant Jon Burge, who directed the torture of over 100 African American men in police custody over a two-decade period, is on trial for perjury and obstruction of justice.
Burge, who was arrested in 2008, is accused of lying to special prosecutors from the office of District Attorney Patrick Fitzgerald during an investigation in 2006. The statue of limitations on the torture had run out.
Early testimony by witnesses has confirmed Burge's presence during the torture and his bragging about it. If convicted, Burge faces 45 years in prison.
Burge and other police officers have been accused of torturing at least 110 African Americans into forced confessions in the Area 2 police district from 1972-1991. Police violence and racism is deeply embedded in the police department to this day.
Many of the torture victims spent decades in prison and 10 were even sentenced to death. At least one, Andrew Wilson, died in prison in 2007.
It took years of persistent complaints, lawsuits and lobbying before authorities acted, and by that time the statute of limitations on the torture had passed. The City of Chicago spent tens of millions of dollars stubbornly defending Burge and compensating victims of police abuse over the years.
The torture consisted of brutal beatings, kicking, ruptured testicles, near suffocation with plastic bags and the use of electric shock to the genitals.
One of the victims was Melvin Jones. He told the Chicago Daily Defender he was tortured over a four-day period in 1982, "I was arrested at my home and taken to Area 2. Lt. Burge was there at the time," said Jones. "I was asked about homicides I knew nothing about. When I told them I didn't know what they were talking about, Lt. Burge hit me with a gun. About five or six hours later, Burge came back into the room with a little cigar-type box. It was a homemade electric device."
Jones was convicted of a homicide he never confessed to and spent seven years in prison before being retried and found not guilty. Released in 1989, Jones is currently homeless.
Mark Clements spent 28 years in prison after he was tortured into confessing he set a fire that killed four people. Clements was repeatedly beaten and struck in the genitals. It wasn't until the National Alliance Against Racist and Political Repression and the Innocence Project took up his case that he was finally exonerated. Today, he is executive director of the Campaign to End the Death Penalty.
Another witness, Diane Panos, testified she got into a heated argument with Burge after he stated the defendants "had no rights," and two of the suspects got what they deserved.
The newly formed Illinois Coalition Against Torture, community leaders and elected officials including Alderman Ed Smith have called for reopening the cases of the 23 men who are still in prison who claimed their confessions were forced from the torture.
The coalition delivered a letter to Mayor Richard M. Daley asking that he direct the Cook County states attorney to open hearings on the cases. Daley was states attorney during the time much of the torture took place. By all accounts he was aware of it and by his inaction actually aided in covering it up. In fact, Daley prosecuted 85% of the cases where confessions were gotten from torture.
"We need a cross section of the city to speak out. If only the Black community does, then it makes it seem like it's just a Black problem," said torture victim Darrel Cannon. "It goes beyond a Black problem. This problem is injustice period. Injustice has no color."
Photo: Pepe Lozano/PW