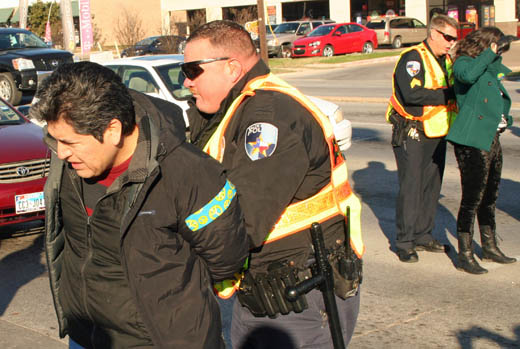 DALLAS – Walmart workers striking for higher wages here have added the element of song to their picketing, marching and chanting.
And for the words for the songs they sang at their protests here Nov. 29 they borrowed some Langston Hughes poetry:
"The only thing I ever did right/ Was the day I decided to strike/ Keep your eyes on the prize/ Hold on/ Hold on.
"I'll be buried in my grave/ Before I'll be a Walmart slave.
"Keep your eyes on the prize/ Hold on/ Hold on."
The Walmart employees in the Dallas area are adding support for their organizing drive with every public event, and there are lots of public events throughout North Texas. Our local part of the 1,500 actions that occurred across the country Nov. 29 was a picket, rally, and civil disobedience action at the Walmart at 12300 Lake June Road in Balch Springs. The suburb abuts Dallas on its east.
Walmart workers were backed by the Dallas AFL-CIO, the United Auto Workers, the Communications Workers of America, the United Food and Commercial Workers, the International Association of Machinists, and the Teamsters. Religious leaders, Jobs with Justice, the Workers Defense Project, and a great many unaffiliated activists joined in.
Meggan McKinley, 21, a Walmart worker, talked about low wages and uncertainty on her job. She said she was standing up for "all the Walmart workers who are too scared to be here today."
After a short rally, selected activists, including Meggan, picked up letters that spell out "For Respect" and spread themselves out across Lake June Road. Then they stopped, and so did traffic for a mile either way. Balch Springs police were waiting and it wasn't long before young Meggan and 12 others were in handcuffs. They spent the next 6 hours in the local jail.
Photo: Jim Lane/PW