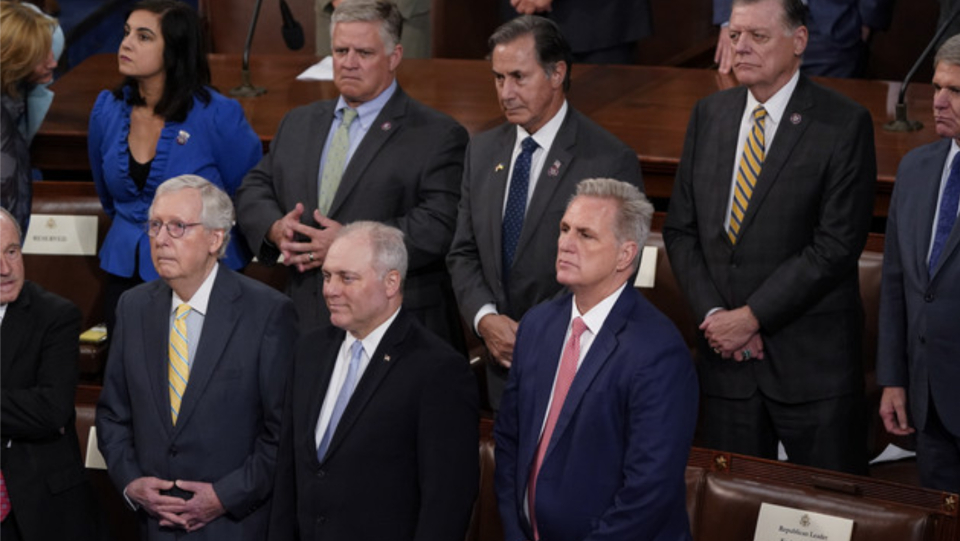 As we approach the midterm elections, it's time to "look under the hood" and see what the Republicans are promising the American people if they gain control of both houses of Congress.
Warning: What you'll see isn't pretty.
It's actually an all-out program to reverse the gains of the working class over the last 90 years as well as a threat to democracy as we know it.
What follows is a listing, by no means complete, of campaign promises and policies enunciated by various figures gleaned from a variety of sources.
House Minority Leader Kevin McCarthy has proposed a "Commitment to America," reminiscent of Newt Gingrich's "Contract With On America" of 1994. In it, Republicans promise to:
—Increase the Pentagon budget
—Pass a nationwide ban on abortion
—Extend or make permanent the Trump tax cuts enacted in 2017 and set to expire in 2025. These tax cuts have added more than $3 trillion to the national debt.
—Enact cuts to Social Security and Medicare with a goal of either privatizing these programs or eliminating them altogether. Sen. Ron Johnson, R-Wisc., wants to "review" Social Security and Medicare every five years, or even every year. If in any year the programs don't have enough votes to re-authorize them, they would be eliminated.
—Raise the eligibility age for Medicare to 67 and for Social Security to 70.
—Carry out a series of "investigations" on a variety of issues. For example: impeach President Biden and/or members of his cabinet; Hunter Biden; the withdrawal from Afghanistan, among others. They would "investigate" and use their "oversight" power to probe anything they can think up so as to tie the administration in knots.
—Repeal sections of the Inflation Reduction Act that provide $80 billion to increase staff for the Internal Revenue Service (IRS) who would go after unpaid income taxes, primarily from the wealthy.
—Attack transgender Americans. House Speaker wannabe Kevin McCarthy plans to "defend fairness by ensuring that only women can compete in women's sports." To do this, he plans to consider the Protection of Women and Girls in Sports Act.
— "Advance the Parents' Bill of Rights," legislation introduced last year in response to "woke" ideologies. The bill also "(1) directs local educational agencies to publicly post the curriculum for each elementary and secondary school grade level; and (2) requires schools to notify parents and guardians of their rights, including the right to review the school's curriculum and budget."
—Focus on increasing "domestic energy production," in other words, drilling for fossil fuels.
—Provide recruitment and retention bonuses to local police departments, hire over 200,000 police officers nationwide, as well look into the policies of selected district attorneys (read:  progressive DAs.)
—Restart Trump's border wall and reverse all Biden immigration policies. In the area of impeachment, they would bring up charges against Secretary of Homeland Security Alejandro Mayorkas.
—Put in place a spending cap on domestic programs by refusing to raise the national debt ceiling (and causing the first default in U.S. history.)
—Require work requirements for applicants seeking welfare help.
Also of interest is the "American Rescue Plan" proposed by Florida Republican Sen. Rick Scott. Though it received some pushback from Mitch McConnell, it could be the foundation of Republican legislation. Among its proposals:
—Have students recite the Pledge of Allegiance every day, "inspire patriotism and stop teaching the revisionist history of the radical left; our kids will learn about the wisdom of the U.S. Constitution, the Bill of Rights, and the founding fathers. Public schools will focus on the 3 R's, not indoctrinate children with critical race theory or any other political ideology." Basically, it would mean keeping the true history of slavery out of school textbooks and classrooms.
— "We are going to eliminate racial politics in America." Translation: No more affirmative action or discussion of racism in public policy.
—"[S]top Socialism [which is] un-American and always leads to poverty and oppression. We will stop it." Meaning stepping up attacks on social programs and anti-communist propaganda.
—"Men are men, women are women, and unborn babies are babies. We believe in science." No trans rights; no abortion rights.
—"We will protect the integrity of American Democracy and stop left-wing efforts to rig elections." Basically, Republicans will try to make sure they can steal votes and overturn results any time they lose.
—"Religious Liberty and Big Tech: Americans will be free to welcome God into all aspects of our lives, and we will stop all government efforts to deny our religious freedom and freedom of speech." More sops to the fundamentalist voter base that the GOP continuously courts.
These ideas are dangerous to a democratic America. While in the minority, Rick Scott can be dismissed as an extremist. In the majority, who knows what could happen. And if the Republicans take the Senate, they will do everything they can to block President Joe Biden's judicial appointments. This is one power granted to the Senate under the Constitution which is an important concern today. If the Democrats lose their majority, the chances of any liberal or progressive judges winning confirmation will go out the window.
The stakes cannot be higher than they are this year. It is imperative to do all we can to prevent the Republicans from more deeply entrenching themselves in power. This is true not only on the federal level, but at the state and local levels, too.
Many of the laws passed in Republican-dominated states, such as those suppressing the vote, outlawing abortion, and twisting education curricula to their ends, will be pushed at the national level.
Truthfully, the list of things the Republicans want to do if they become the majority in Congress is longer than we have space for.
These are reasons why every voter should vote against the Republican Party. We must work with neighbors, co-workers, local coalitions, and national groups to ensure the largest turnout at the polls. Let's hope that we wake up the morning after Election Day and can celebrate a victory over hate and inhumanity.
As with all op-eds published by People's World, this article reflects the opinions of its author.